This is why you gotta stick with a nice Motel 6.
A young couple (Kate Beckinsale and Luke Wilson) stranded at an isolated hotel with a lone desk clerk (Frank Whaley) are shocked to find that their room is wired with video equipment — but their anger turns to terror when they realize that they could become the star attractions in a snuff film. As the two struggle to escape, they find evidence that the murderous filmmakers have been producing these twisted movies for years.
In the beginning, the film first feels like a bit of 'Psycho', with the very dramatic music and colorful, big credits but as soon as the couple gets to the motel, it turns out to be something like 'Halloween'. This change in pace would sometimes destroy certain films but for Vacancy, it only makes it a little bit better mainly due to director Nimród Antal's tension-fueled hand.
The film is downright dirty but there is barely any gore which is cool to see with any horror film but the scares here are what really works because you have no idea exactly what's going to happen next and there aren't too many jump-scares as much as they are just little shocks here and there. I also liked how Antal always kept the film going, never really stopping for some sweet and melodramatic moments as most horror films try to do, so they can give their characters some depth.
The plot here as well feels as if these guys didn't even sit-down and think about it, which is a good thing and at the same time a bad thing. The reason it's good because it gives me this 70′s B-movie feel where everything is all grimy and dirty, and the scares are small but effective. But at the same time, it's bad because the characters still fall for the same dumb stuff that almost every other character does as well. Many moments in this film, I thought were incredibly stupid because they kept on doing the same thing over and over again, and I felt like if I had been in this situation I think I would have known how to get myself out there safely.
The obvious holes are also here as well. I didn't understand why the killers/owners of this motel would leave their snuff films lying in the same room for somebody else to see and be less surprised when all of the crazy ish starts to happen. There was also another problem I had with this film like how these baddies got in and out of the rooms: climbing through a tunnel full of rats. Never made much sense, as do many other parts with this flick too.
It's weird to actually see two stars such as Luke Wilson and Kate Beckinsale take up two roles like this, but they do a very good job as David and Amy Fox. Both of them are pretty good with what they do here and although the script doesn't really try too hard to build them up (except for a dead child angle, which seems totally forced), they both play up the "couple with problems" act very well. The real star of this very small cast though is actually Frank Whaley as Mason, the motel owner. You can tell he has a little bit of Norman Bates in him but with a funnier and wittier side to him as well. Every time Whaley was on the screen, I had these little chills and it's just a true showing of a very good small-time actor.
Consensus: The direction is very tense, and the scares work in a B-movie horror kind of way, but Vacancy has problems with it's numerous plot problems and a very cheap way of keeping the story going, without giving us any real resolution.
5.5/10=Rental!!
Reason why classics, should just be kept as that.
This remake of the 1960 shocker stars Anne Heche as Marion Crane, who makes a fateful stop at the Bates Motel — run by mama's boy Norman Bates (Vince Vaughn) — after embezzling $400,000. When Marion fails to show up for work, her disappearance triggers an investigation by her lover (Viggo Mortensen), her sister (Julianne Moore) and a private eye (William H. Macy) … who discover that Norman has a morbid secret.
Everybody knows Alfred Hitchcock's original 1960 classic. They all know the shower scene, the twist ending, and most of all, Norman Bates. So you think it would take a mad man to try and do something with that, and remake it. Well Gus Van Sant just is that mad man.
Director Gus Van Sant I think is trying to experiment here, and see what it is he can actually do with a remake like this. But the problem is, there's nothing much he can do. This is a shot-for-shot remake, with a couple of changes here and there, and it's filmed in color. The colors I liked, but the problem is that he doesn't do much different here, than what was already done in the original. The score is practically the same, as well as the script, so what the hell is the point of this remake?
I think the answer to that was an experiment. Van Sant wants to see if you can actually remake a classic, and put it in the modern world, but still keep it the same, and it having the same effect. I'll give Van Sant points for at least grabbing his balls, going out there, and messing with a classic like he did. However, the problem is that this just isn't anything new. It's the same film, same twists, same dialogue, basically same everything. And I wish I could say it was enjoyable, but it really wasn't cause I could easily just pop in the original, and have a better time. Why? Cause it's the original, and nothing beats that. Sorry Gus.
The acting is alright to say the least. Anne Heche is OK in this film, but doesn't do much to her character, that hasn't been done before. Viggo Mortensen is actually a lot more creepier than I expected, so although he tried, I couldn't really take him as this regular, ordinary dude. Julianne Moore is very good in a couple of scenes that she has, as well as William H. Macy, who demands the screen every time he is on. Vince Vaughn is actually surprisingly good here as Norman Bates, the only problem is that he is playing Norman Bates. I think that the only reason he doesn't do as great as he could have was because Anthony Perkins perfected it so well. In another film, Vaughn could easily pull this role off, but the problem is that he's trying to do the same thing that Perkins did, and he gets a bad rep. But Vince is equally as creepy, and does the best job out of the whole cast.
Consensus: Van Sant tries to remake this 1960 classic, but fails, because nothing is new here, it's all the same with a few changes, so it all just seems pointless. Further proof as to why certain people should leave classics, be classics.
2/10=SomeOleBullShitt!!!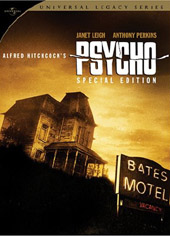 Truly the definitive horror film that will never get old.
When larcenous real estate clerk Marion Crane (Janet Leigh) goes on the lam with a wad of cash and hopes of starting a new life, she ends up at the notorious Bates Motel, where twitchy manager Norman Bates (Anthony Perkins) cares for his housebound mother. The place seems quirky but fine … until Marion decides to take a shower.
What could possibly be said about Psycho that hasn't been said before? It certainly must be one of the most famous movies of all time. Having heard so much about it, I really doubted if the movie could live up to my expectations. Amazingly, it actually exceeded my expectations.
Psycho is basically a horror film that was the first to ever come out, and it might as well be one of the greatest. I'm not a huge fan of those gore-fest films with over excessive nudity, blood, and violence. So because this film was basically made back in the 60′s there really is none of what we get nowadays with these horror films.
The one amazing thing about Psycho that not many other films do is that it really is a timeless film that really has aged perfectly. It isn't corny nor is it dumb now that we look at it, it is still a great thrilling horror film.
Alfred Hitchcock really is one of the greatest director's of all-time. I'm not talking in the horror genre, I'm talking of all film. He uses these camera angles and looks during each scenes to really have us capture the essence that something just isn't right. The famous shower scene that almost everyone knows is great, and really is worth, just to see.
Anthony Perkins shines in this film as the creepiest mo fo in the whole film as Norman Bates. He creates one of the first great creepy characters on film, and he actually does make this person seem creepy as he talks more and more.
Consensus: Alfred Hitchcock shows he is the greatest director of all-time with Psycho. A film that has aged really well, and is an amazing watch of how much it's influence in the horror genre that we see all today is in.
10/10=Full Pricee!!