A film Chris Farley will be remembered for, forever. R.I.P. bro
Party animal Tommy Callahan (Chris Farley) is a few cans short of a six-pack. But when the family business starts tanking, it's up to Tommy and number-cruncher Richard Hayden (David Spade) to save the day.
The film is always remembered as a cult classic, that finds its way onto television every once and awhile, and it's a film I always catch myself watching, but not fully.
The comedy here is too slapstick for me. I like it when people get knocked in the face with something, or breaks, when it's used in the right context, but here it just seems too lead-on. We get constant slapstick happenings, and its just to bring out some cheap laughs, and didn't have me laughing all that much really. Also, there is way too many fat, and dumb jokes that just got annoying, and at times really mean. I didn't laugh at them although I could have, cause I just found them cruel after awhile.
However, despite the slapstick, this film still does have a lot of funny stuff going for it. It's not trying to go for an award, or trying to make people cry, their just trying to have a good time, and make people have belly laughs by the end of the movie.
The best thing the film has going for it is the chemistry between David Spade and Chris Farley. They are both complete opposites but its great to see how these two actual real-life friends, put their comedic timings together, to make an irresistibly funny on-screen duo. The best thing is the Farley-esque schtick, and the wonderful self-deprecating comedic lines and excellent physical comedy that Farley could throw out. His rotund boyish physical appearance just adds to the mix. There is also some funny side performances from people like Rob Lowe, Bo Derek, and the best of the best, Dan Aykroyd, who no matter what you put him, can always be somewhat funny.
Consensus: Tommy Boy isn't great, and it isn't striving to be anything pure and amazing, but it has a great on-screen duo of Farley and Spade, that produce a fun time, with some good laughs.
7/10=Rental!!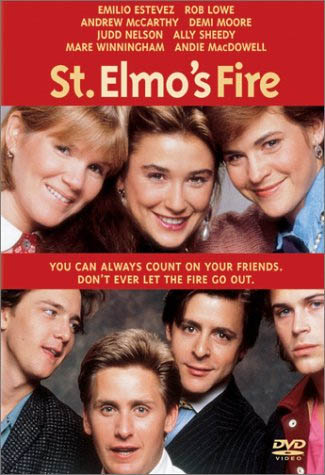 This film actually could have used some elmo to brighten things up.
Best friends and recent Georgetown grads Jules (Demi Moore), Billy (Rob Lowe), Wendy (Mare Winningham), Alex (Judd Nelson), Leslie (Ally Sheedy) and Kevin (Andrew McCarthy) struggle with the newfound responsibilities of life in the real world in this classic Brat Pack drama from director Joel Schumacher. The group copes with drug addiction, infidelity, unrequited love and restlessness in between visits to their favorite college bar, St. Elmo's.
There was a time when I looked upon this movie as my all-time favorite, a film that helped me define who and what I was. Well, that has changed as I've grown older and (hopefully) wiser, but I still have a fondness for this film.
I liked how Joel Schumacher kept this whole film intact without getting it too out of hand. It tells each story as the characters progress, and we understand the situations they go through and what they are doing in their lives as it goes on. The themes of love, life, and addiction all come into play in this film and although I think the love part was used too much, most of the themes were shown very well.
I think the film could have been a bit better with a lighter tone as it did at times. The screenplay is very well-written with a lot of of wit and drama but there are times where the drama just shut me out from this movie because it was kind of annoying.
This is not just a movie about the 80s or about life after college, it is a story about any group of men and women who are closely linked to each other's lives for any period of time. No matter what brought you together, times will always change, those days will always end and the clarity of hindsight is never what you're feeling at the time. But it's the small decisions that make big changes.
The cast is pretty good since they are all so young but I didn't sense a whole connection of everyone in the group, or maybe only a couple. Demi Moore is very good here and shows off her acting chops very early in her career here as the slut, I guess you could call her. Judd Nelson also does the second best job here and has some very heart-breaking scenes by the end of the film that really do pay-off. Rob Lowe I didn't like and thought was way too much of an asshole to actually like, because he treated everybody like crap and expected not to get it back in return.
Consensus: St. Elmo's Fire is a nice and sweet coming-of-age film, that has good performances, and a simple direction from Schumacher, but doesn't get past its ultra dramatic appearance, and will throw some viewers off.
7/10=Rental!!!