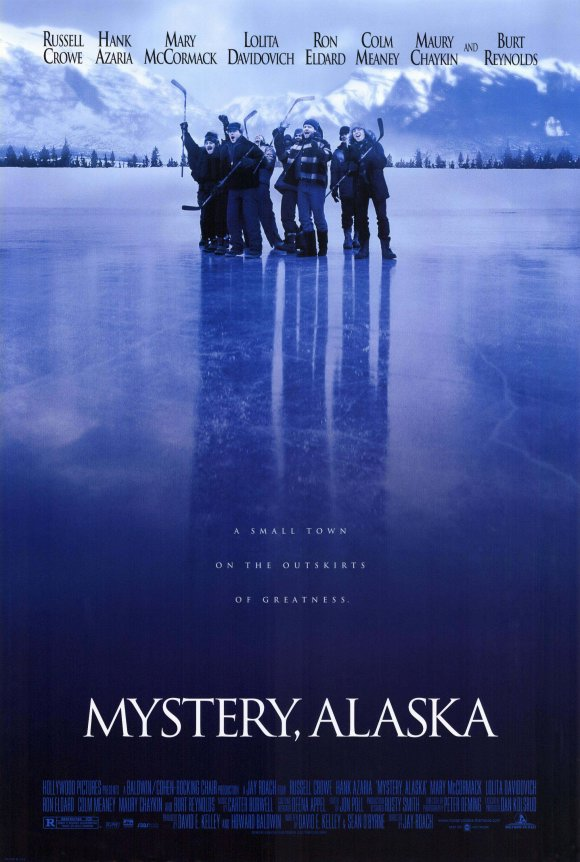 The New York Rangers clearly have better things to do. Like watch paint dry.
In the small town of Mystery, Alaska, hockey is king. It's everywhere you look and, quite frankly, it's all anyone cares about. That's why, when it turns out that the New York Rangers actually want to fly out there for a total publicity stunt, not only does the town take it as serious as a heart-attack, but the hockey team themselves are as prepped-up and as excited as anybody else in the town. Problem is, they now have to sort through their own personal problems to get their heads in-check for the big game. There's John Biebe (Russell Crowe), the town sheriff who, at one point, was the captain of the hockey team, but due to his slowness, was given the boot; there's Charlie (Hank Azaria), a hot-shot producer from New York who once went out John's wife (Mary McCormack) and now seems to miss his lovely, little hometown; there's Stevie Weeks (Ryan Northcott), who wants to have sex with his girlfriend, but can't actually seem to get the act done; there's Skank Marden (Ron Eldard), who has sex with practically every woman in town, including the mayor (Colm Feore)'s wife (Lolita Davidovich); and then, there's Judge Walter Burns (Burt Reynolds), who doesn't really care for hockey, but just might once this game gets going.
There's a lot going on in Mystery, Alaska, however, none of it ever seems to involve the actual playing of hockey. Which, for some people, will be a huge deal-breaker. For those expecting a sports flick with plenty of swearing, fighting, heart, humor and hockey in the same vein as Slap Shot, well, go the other way. Instead of actually getting a movie that's as dedicated to the sport as it states it is, we get more of a inside look into the lives of these various characters, as they not only try to wade through their problems, but also try to find ways to make themselves the best hockey players that they can be for the big game.
The big game, which, mind you, is highly unlikely to ever occur in the real world, regardless of how many reasons you try to toss in.
But honestly, the fact that this plot is unbelievable to a fault, is the least of its problem. That it wants to be a melodramatic character-study, but is in no way, dramatic, or ever interesting, already proves to the point that maybe more scenes of hockey being played would have helped out. But director Jay Roach and writers David E. Kelley and Sean O'Byrne, never seem to be all that interested in ever portraying the sport; more or less, it wants to see just what the dudes who play the sport are up to. And truly, I'm all for this – however, the writing is neither strong, nor compelling enough to make me see why we needed a movie so dedicated to finding more out about these characters.
Not to mention that the characters, for the most part, spend the majority of the movie going on and on about the loads of amounts of sex they had, and that's about it. Ron Eldard's character is made out to be the biggest horn-dog in the whole town and while his subplot is supposed to pack some sort of dramatic-weight, it never actually does because we don't care about him, the people he's banging, or the kind of effect it has when those said people he's banging, get caught by their significant other. Same goes for whatever Russell Crowe's character is going through; we're made to think it's some sort of mid-life crisis, but all of a sudden, turns into a possible extramarital love affair, or whatever.
After awhile, it gets to a point where you'll wonder: Where's all the damn hockey!
And then, eventually, the hockey does come up. Problem is, it's towards the end, which means that you have to wade through the meandering and plodding initial 90 minutes, just to get there. Even then, though, it's already too late to where we don't care which team wins or loses, we just want it to be over so we can go home and play NHL 16 or whatever the cool hockey game the kids play nowadays.
Which is to say that Mystery, Alaska, despite the solid cast on-hand, doesn't do any of them justice. 1999 was a pretty weird time for Russell Crowe's career, as the Insider had yet to come out and Hollywood didn't quite know what to do with him. Therefore, we get a pretty dull performance from him as this small-town sheriff who can't seem to turn that frown of his upside down. Not to mention that once Hank Azaria's character comes into town, now we have to listen to numerous spousal disputes between he and Mary McCormack's character; neither of whom, are actually ever interesting to hear, because we don't know who these characters are, nor do we really give a hoot if they're together or not by the end.
And everybody else pretty much suffers the same fate as Crowe, McCormack and Azaria. Burt Reynolds, even after coming hot off from an Oscar nomination for Boogie Nights, seems like he's just going through the motions as the older, yet wiser man of the town who likes to dispose of his knowledge whenever the moment seems necessary. It's a boring role for Reynolds and quite frankly, he doesn't do a nice job of hiding his own snoozes. Same goes for Colm Meaney and Lolita Davidovich who, like McCormack's and Crowe's characters, are left to just have marital problems and honestly, it's hard to care at all.
All we want to see is more hockey, the actual New York Rangers (who never actually show up, because they were obviously smart enough), and somebody getting the absolute crap beaten out of them. Just like an actual hockey game.
Except with those, we don't really care about what their personal lives are like.
Consensus: Even though there's a great cast on the bench for Mystery, Alaska, none of them are given anything credible to work with, nor do they ever actually get to play as much hockey as everything about this movie may suggest.
2 / 10
Photos Courtesy of: A Movie A Day, Every Day, Sorry, Never Heard of It!