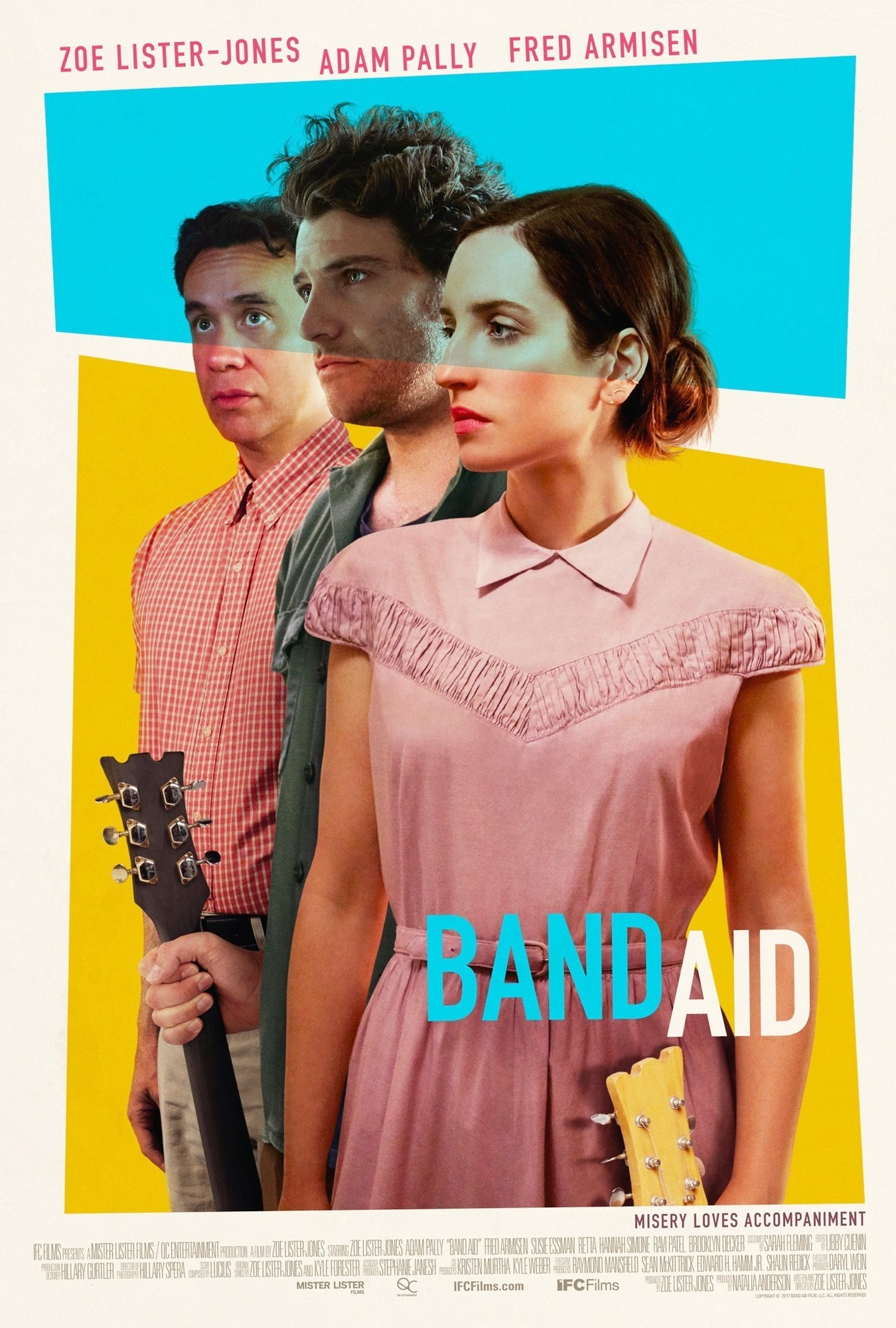 Who says music can't save lives?!?
Ben (Adam Pally) and Anna (Zoe Lister-Jones) have been married for quite some time, but from what it seems like, they may not totally last. They can't stop fighting about whatever is on their mind, nor do they ever seem to have any enjoyable times together. That all begins to change, however, when they both realize that maybe, just maybe, they can use their skills as musicians as a way to cope and mend the fences between them two and hell, maybe even use it as therapy. But to start working on that all, they need to get a band together, which then eventually adds neighbor Dave (Fred Armisen) who, despite being a little weird, means well and is there to not just help the band out on the drums, but to help both Ben and Anna out, too. But with the songs working and coming together in a solidly-catchy fashion, does that mean that everything's all peachy-kin for the couple? Or, are they back to their usual screaming and fighting-bouts that seem to come out of nowhere and end up at about the same place?
For awhile, Band Aid seems like it's going to be one of these kitschy, awfully cutesy movies about a bunch of young, happenin' hipsters getting together, forming a band, and performing even kitschier, cuter songs about love, life, and well, sex. But then, writer/director/producer/star Zoe Lister-Jones throws us a curve-ball and keeps the focus on the characters, their relationships, and just what's at the core of everything that's going on. Sure, the catchy music is there to be used a device to help us navigate through the story, but really, it's about this relationship, no matter what.
And yes, it actually works.
In fact, it works almost too much. Lister-Jones has a knack for writing smart, honest dialogue that doesn't feel like it's trying too hard to be raw and gritty, but just make us think a little bit. The fights these two have, while sometimes long and over-winding, are also entertaining and interesting to listen to, because they feel like the kinds of arguments actual, real people would have. You could almost go so far as to say it's all "relatable", but I feel as if that's already a given; it's the kind of movie that makes you love these characters because you identify with them, but also hate them for the same exact reason, and in return, hate yourself.
It's the kind of writing that isn't flashy, but real and it's what kept me so interested in Band Aid. Even when it seemed like some of these characters were a little too insufferable and the whole music-angle was a bit too obvious of a way to show us, the world, that the cast can ACTUALLY PLAY THEIR INSTRUMENTS, the dialogue kept drawing me back in. It actually goes towards some very dark and sad places, and while for any lesser writer or director, it would be a severe misstep, it actually comes together and works here; the songs themselves may be poppy, light and awfully catchy, but behind them are painfully hurtful feelings of anguish and depression that don't ever seem to go away, no matter how many choruses are sung about them.
Just makes you want to pick up the guitar and start beltin' out some tunes yourself, eh?
Anyway, yeah, Lister-Jones is incredibly talented behind the camera, but is also equally just as talented in front of it. She's a smart director to not keep the focus solely on her character, but it also makes you want to see more of her; she has this kind of presence where she seems like the smartest person in the room, what with her perfect deadpan, but also isn't afraid to get vulnerable here, showing us some slight weaknesses to a strong persona. Her chemistry with Pally also helps, because they not only work as a couple who seem to be in love, but also as a couple who can't seem to stop hurting the hell out of one another with their non-stop insults. Even Fred Armisen shows up here and plays what could have been an awfully conventional and one-note character, actually turns out to be rather sweet and kind, even if, yeah, he's a bit creepy.
There's more to every character here and it's just like the way it is in life.
Consensus: Band Aid may present itself as another "let's make a band"-sub-genre of kitschy indies, but actually prefers to dig deep into its characters and relationship at the center of its well-acted ensemble.
7 / 10
Photos Courtesy of: Indiewire