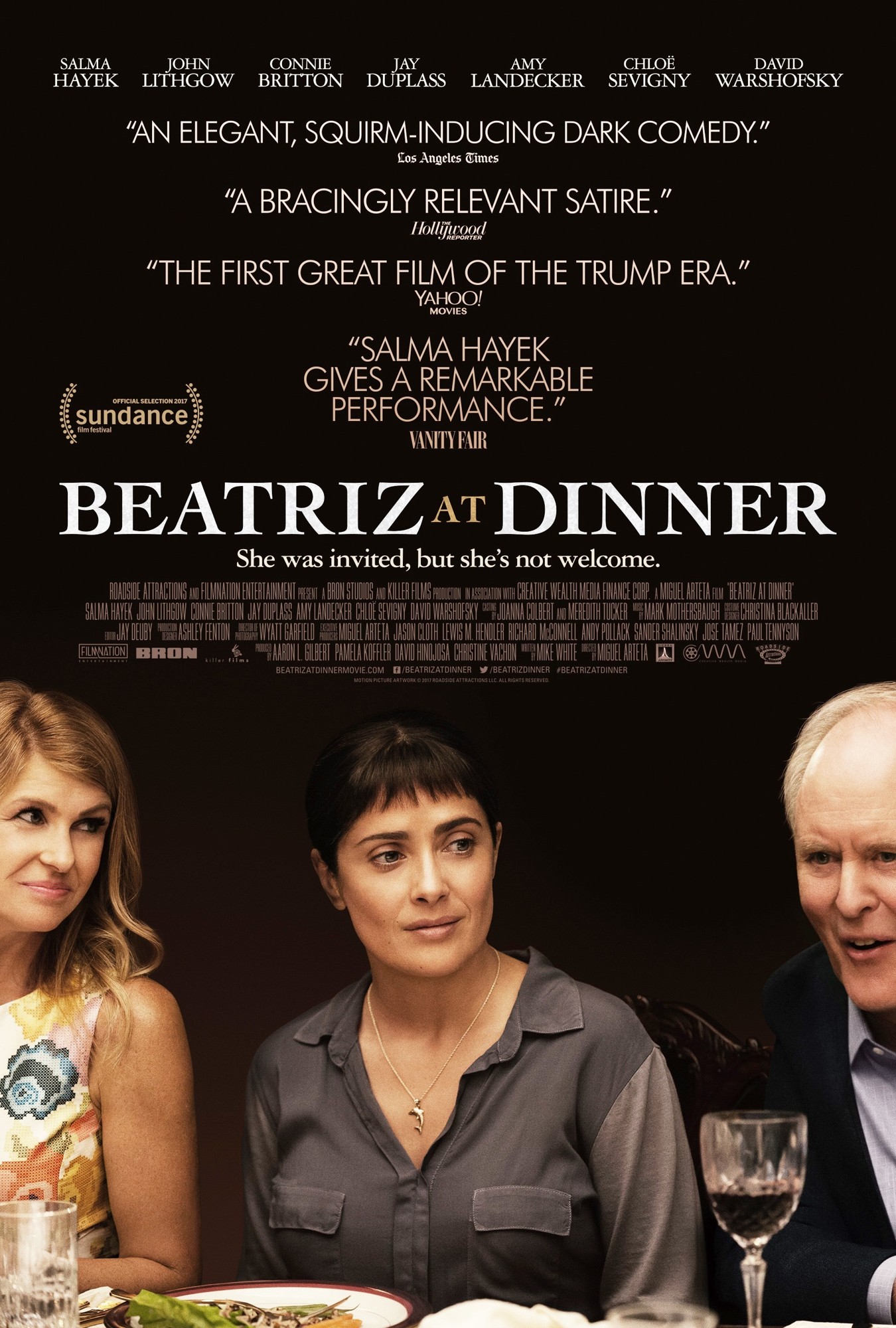 Never invite the help for dinner. That's rule #120 for the upper-class.
Beatriz (Salma Hayek) is a masseuse who has a great deal of clients. One just so happens to be Kathy (Connie Britton), the mother of a girl that Beatriz not only helped, but befriended many years before. Now, Beatriz works her magic on Kathy and in a way, they consider themselves as "friends". Others may see it differently, but they talk a lot and get to know one another so well that they basically might as well just be friends. Or at least, something like it. Anyway, Beatriz is in a funk one day when, because of the awful day she tells Kathy about, Kathy decides to invite her to a dinner they are having a little bit later. Kathy's doing this out of the kindness of her own heart, but her husband (David Warshofsky) isn't too happy about it; for him, this is a business-dinner and not a very social one, meaning that having someone like Beatriz around may be odd. However, Kathy insists and she gets her way, leaving Beatriz to spend the night in the house, at the table, talking with the guests, drinking wine, and eating all sorts of lovely meals. But little does she know that one of the guests (John Lithgow) is quite the pompous ass that literally stands against everything she is for.
Everything that Beatriz at Dinner is attempting to say, or at least, get across, I whole-heartedly agree with and stand by. In today's day and age, with the political-climate we currently have going on, it's great to see a movie stand up to these sorts of fat-cat, bigwigs of the upper-class that constantly seem to be getting away with filthy, bloody murder. But what Beatriz at Dinner does well and at least gets across, is that it shows us that these people are, as you'd expect, human. They may have looser morals and heavier wallets, but they are no doubt, humans, and in a way, that makes them scary.
The fat-cat, bigwig of the upper-class here in Beatriz at Dinner is played by John Lithgow and as usual, he totally immerses himself in the role. He's compelling, powerful, takes over any room he's in, seems like he always has something arrogant to say, and oh yeah, is quite menacing when he wants to be. But he's also humane and feels like a real person – the kind you wouldn't want to call "a friend", but the guy you could see yourself sitting and having a drink with, only because he seems like a good time when he isn't talking about big-game hunting or knocking down trees. But through Mike White's script and Miguel Arteta's direction, we see someone who does have a soul and a heart, as black as they may be, and because of that, they are hard to look away from and because of that, easier to indict and point the finger at.
Issue is, that's all the movie has going for it.
Which isn't to say that Beatriz at Dinner doesn't have other fine qualities to it, other than shaming the rich and powerful; it can be, at times, quite funny and interesting, if only because we want to know more and more about these characters. As usual with Arteta's movies, he's not afraid to simmer everything down to where we aren't getting constant jokes, every few seconds, but instead, moments to relax and focus on the finer things in comedies such as these, like characters and what's to them. Of course, White knows what he's doing with a script like this when it comes to writing comedy and nailing down perfectly the kind of awkwardness that would be had in a certain situation such as this.
But if anything, the real problem is that it feels unfinished. The movie, for being nearly 80 minutes, feels like it's missing maybe a few too many reels, especially near the end. The dinner party comes around and why it takes up the bulk of the movie, it still feels rushed and not as if everything fully came together. Some of the humor in these scenes works and there's a lot of hinting at something deeper going beyond the surface, but nope, the movie just sort of backs away and continues on with way too many ham-fisted points about current-day society.
Once again, I totally agree with what it has to say, but there's a better way to go about it than here.
And also, if there's a main problem here, it's Beatriz herself. While it's nice that we get a movie where the Latin-American masseuse is the lead protagonist, it also doesn't help that she's kind of a type, too. Beatriz, whenever is necessary for her and not really understanding the conversation going on around her, constantly chimes in and rambles on and on about stories from her native-land, goats, and well, mother nature itself. It's basically one-joke, stretched way too long and it hurts because we know that there's more to this character than just waxing on and interrupting conversations. Hayek is fine in the role, but yeah, even she feels like she may have been stuck with something that isn't exactly a win-win for her, in the end.
Consensus: Regardless of what, or who, it speaks about and against, Beatriz at Dinner still feels like it's missing some pieces to fully keep a cohesive, smart and subtle dramedy, even despite a good cast to help out.
5 / 10
Photos Courtesy of: Killer Films