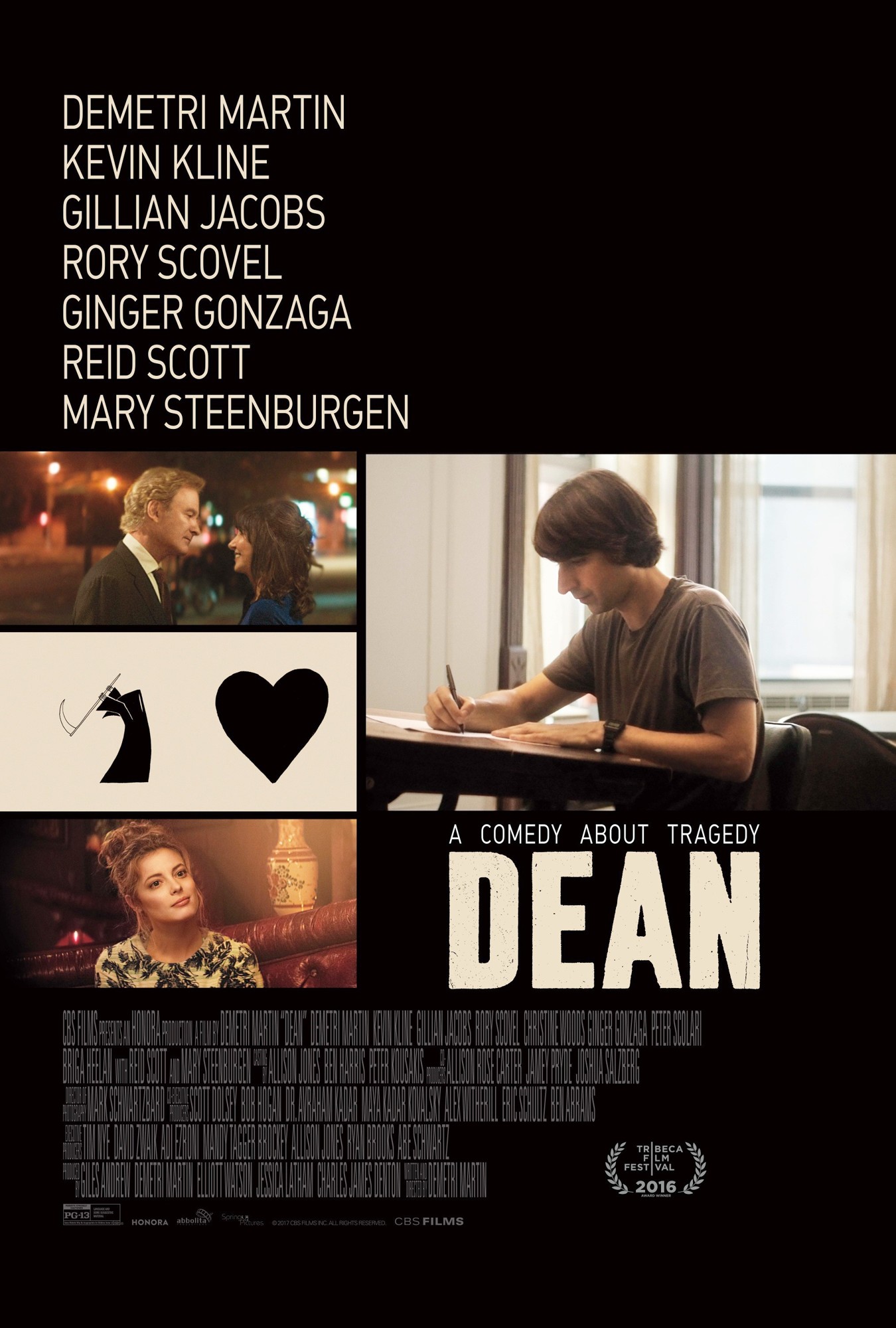 Go home. Then leave.
Dean (Demetri Martin) is an NY illustrator who needs a little bit of inspiration in his life. So what better way to find it then when your mom dies and your dad is basically depressed? Well, that's what happens to Dean when, suddenly, his mom dies and he has to leave his sheltered, lovely little life in NY, and head back home to the sunny and hot L.A. While there, Dean reconnects with old friends and family; friends still seem like they're not doing much with his life, whereas his family, like his father (Kevin Kline), seem stuck, too. And you know what? So is Dean! That's why, when he meets the sexy and mysterious Nicky (Gillian Jacobs), he immediately hits it off with her and starts to see something of a future with her. Meanwhile, his dad is finding a possible soul-mate in his real-estate agent (Mary Steenburgen), who may also be the right recipe to help get him out of his funk. Are both going to get better and start to realize that there's more to life than just sulking around and being freakin' miserable all of the time?
Dean is a lot of different styles and trademarks that other writer/directors have pulled-off before and much better, too. It's a little bit of Wes Anderson, a smidge of Woody Allen, and oh yeah, a whole lot of Zach Braff. It's an odd concoction, which sort of works, but also seems like writer/director/star Demetri Martin liked what he saw a bit too much and just decided to pick and choose what he wanted to work with?
I don't know. Actually, what I do know is that it sort of works, but also doesn't feel all that terribly original. Sort of like Martin himself who, despite having such a cult-following for his alternative and whimsical brand of stand-up, just never quite connected with me. He felt too twee and a little too of-himself to quite work for me, but hey, that's me and stuff like that doesn't matter.
I just want to let the world know that I am not a Demetri Martin fan. Now that it's out in the open, I hope that we can both move on and get along cordially.
But it's odd because it seems like you really have to be an absolute adoring fan of Martin's to really like Dean, or what he's doing in it. He's literally the star of this thing, through and through, playing a rather unlikable and whiny character that feels real and honest, but by the same token, can tend to get a bit annoying. While Dean himself may not be all that interesting, to me, seeing just where this character went along for his journey of self-discovery and the people he hung around, was more than enough to keep me interested. Martin is fine in the lead role, but once again, your tolerance of him may vary on how you feel exactly for this character.
The real saving-grace of Dean is, thankfully, the supporting-cast who all seem like they did this sort of as a labor-of-love, what with all of the big, talented names attached. Gillian Jacobs, while her character seems absolutely like a type, gets by in showing a nice deal of chemistry with Martin; Rory Scovel plays Eric, Dean's best buddy who is a bit weird, but also endearing enough to work; Kevin Kline is fine as Dean's dad, but honestly, feels like he was thrown in there because he had some free-time and wanted to be a nice guy to Martin; and yeah, the same goes for Steenburgen.
In fact, the much better movie here in Dean, actually, isn't about Dean at all.
It's about his dad trying to get a firmer grasp on the rest of his life, move on, find love again, and figure out where to go from here. But the subplot's never as fully developed as it ought to be; we go through very long stretches of the movie without even a glimpse of what Kline's character is up to, but instead, are stuck watching Martin's Dean. It's a shame, too, because Steenburgen and Kline do seem to have genuine chemistry here and their scenes together, while definitely minor and rushed, do have a bit of sweetness attached to them that the rest of the movie, honestly, is missing.
But still, it all depends on how you feel for Demetri Martin.
Consensus: As far as indies go, Dean's pretty conventional and safe, but the ensemble is fine enough to help you pass the time along and enjoy what's in front of you.
6 / 10
Photos Courtesy of: CBS Films