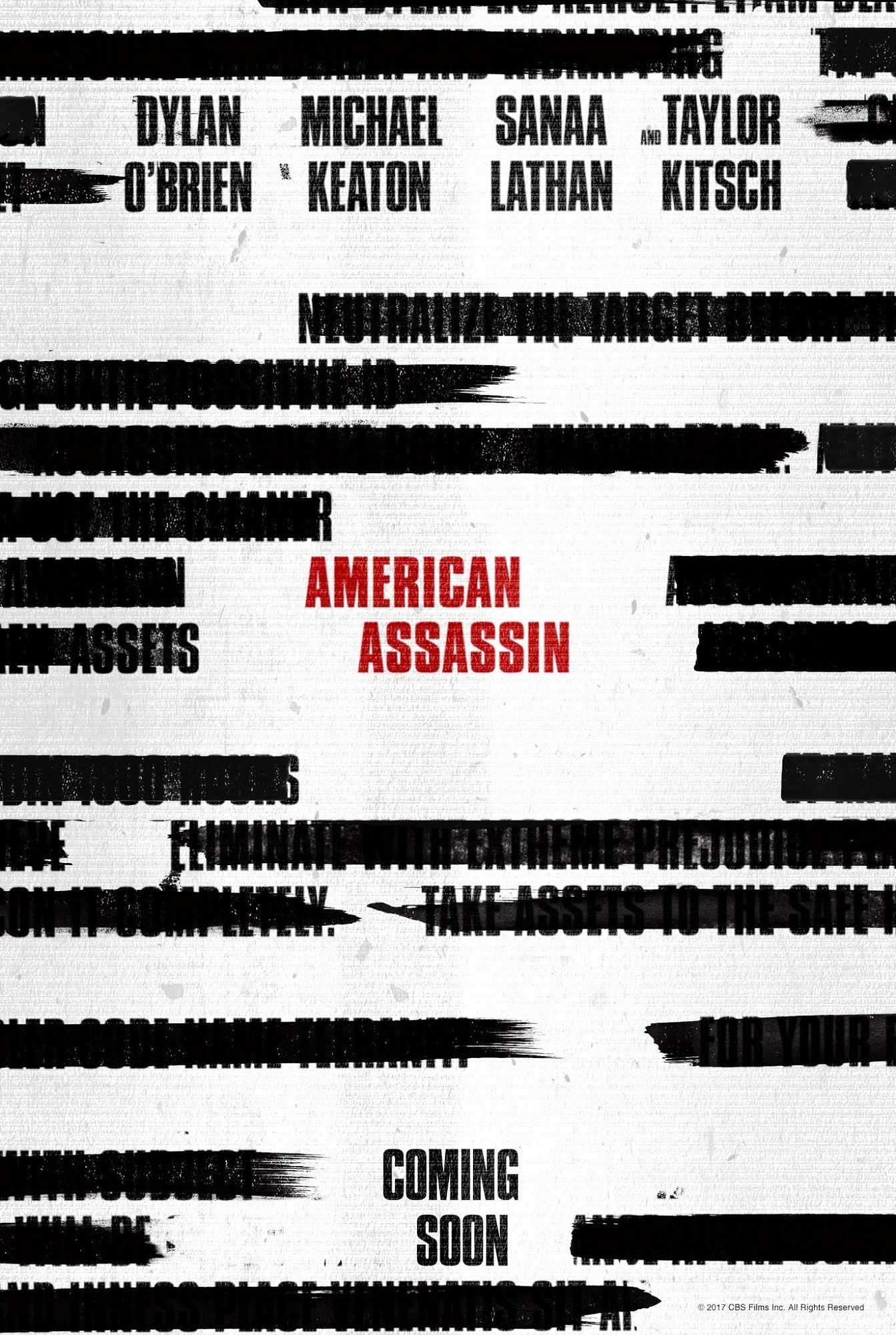 American Assassin
After a devastating terrorist attack kills the woman of his dreams, Mitch Rapp (Dylan O'Brien) is pulled into a dark, unrelenting world of tracking these terrorists down and getting his own sort of revenge. But just as soon as he gets close enough to do so, he's whisked away by the CIA who, having tracked all of Mitch's actions in the past year or so since the attack, like what they see and feel as if they can use it to their own advantage. However, Mitch is a bit of a hot-head and while he has the skills to shoot a gun and kick all sorts of ass, he needs to know how to control his temper so that missions can be completed, without any issues whatsoever. That's when Mitch is sent to an isolated boot-camp, headed by Stan Hurley (Michael Keaton), a former Marine who is quite the ass-kicker himself. Together, Stan and Mitch track down a terrorist (Taylor Kitsch), who has plans of starting a global war, but once again, it all comes down to whether or not Mitch can control himself, when the push comes to the shove.
The first 40 minutes or so of American Assassin are actually pretty good. Director Michael Cuesta, who, oddly enough, has made quite the name for himself in small, rather disturbing indies, doesn't really speed things up, as much as he lets it all play out in front of our own eyes, in a very mannered-way. In a way, that makes the violence all the more shocking and graphic. Sure, having an R-rating attached certainly helps things, but rather than seeming like an action set-piece in a big-budgeted movie, American Assassin's action, in the first-half at least, feels like it's going for something colder, darker, and deeper, than just blood, guts and terrorists doing bad thing.
Then, it all goes away.
At about the half-way mark, the movie then realizes we need a mission, we need a story, and oh yeah, we need some sort of conflict that isn't just Mitch and Stan constantly dick-measuring – there needs to be a baddie, a reason, and oh yeah, way more action. When this happens, American Assassin eventually turns into a very dumb, over-the-top, and surprisingly safe action-thriller that wants to keep on being dark and meaningful, but is just too silly for its own good. It's as if Cuesta may have gotten thrown out of the director's chair about halfway through production when the powers that be eventually realized he wasn't making the Bourne rip-off they so desperately wanted.
Cause even in something like Bourne, at least the politics of that movie, while challenging, at least feel fully realized. The action happens for a reason and while it is no doubt played-up for thrills and chills, it still comes from a very dark, realistic place, in a world where these sorts of things happen each and every day. In American Assassin, the politics are way too troubling and one-sided, almost to the point of where I wonder whether it was made before, or after Trump got elected.
In other words, it's so jingoistic that it borders on xenophobic.
Then again, the villain is a disillusioned and paranoid former-soldier from the South, so I guess that kind of saves it? I'm not sure, actually. What I am sure of is that for the final hour or so, American Assassin gets pretty rote and well, boring. It's action isn't all that exciting, it's script continues to get sillier, and yeah, we see where it's always going. The first-half had at least some surprises and excitement to it, because it felt a little fresh, but once that goes out the window, we're back to crazy action-sequences that you can see perfectly fine, but do you really want to?
The only real saving-grace above this all is Michael Keaton, who feels like he's way too good for the material and may have signed-up for something else entirely. Still, as the strict and mean Stan Hurley, Keaton gets a lot of mileage out of being the angriest and possibly, toughest guy in the room, despite himself being quite tiny and over 60-years-of-age. Still, it's a testament to the kind of actor Keaton is, because he helps this thing move, probably when it shouldn't.
As for Dylan O'Brien? Yeah, the verdict's still out on him.
It's not that I see him as dull, either, it's just that the material he's given here either doesn't give him enough room to stretch, or he himself doesn't know how to take this character. He's jacked and handsome, but when you get down to it, there's still this kid-like vulnerability to him that doesn't quite register and makes this character feel like Jr. Bourne.
But hey, as long as he doesn't get injured again, at least he's got the Maze Runner to fall back on, right?
They still make those, right? Somebody help me.
Consensus: Despite a very promising start, American Assassin soon turns into a full-blown action-thriller, that's never as fun, or as smart as it clearly wanted to be.
5 / 10
Photos Courtesy of: Aceshowbiz