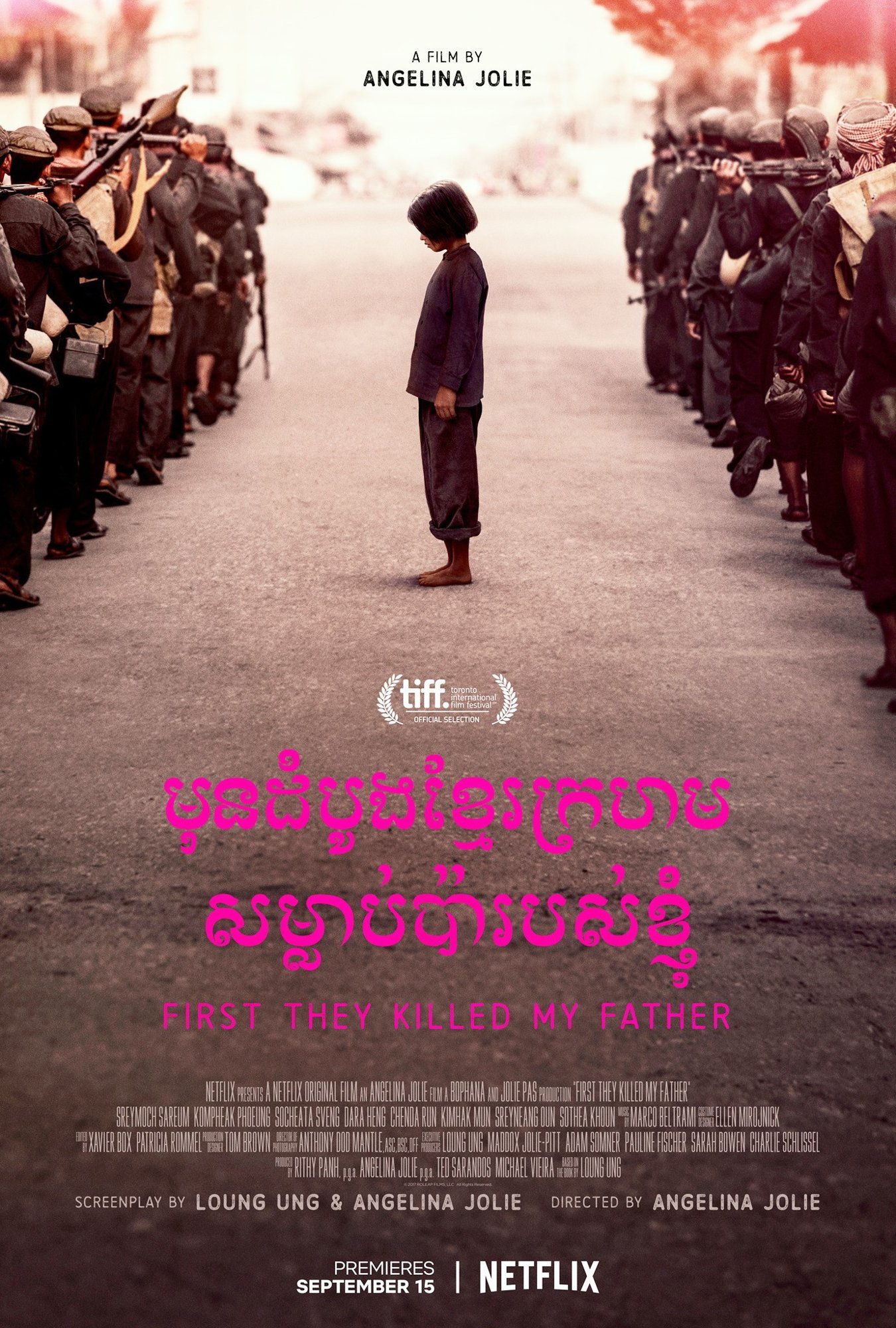 What a world we live in.
Loung Ung (Sareum Srey Moch) is just like any other 5-year-old girl. She loves her Ma (Sveng Socheata), her Pa (Phoeung Kompheak), and the rest of her family. Her father's a government worker, so of course they live a relatively cushy, pain-free life where they get to have all sorts of food and watch all the TV they want. It's a pretty nice life for a five-year-old, but it all changes when the Khmer Rouge assumes power over Cambodia in 1975 and forces Loung and her family out on the streets. For the next year, Loung's life will consist of travelling to camps across the country, where they will be interned and forced to work, follow rules, and do whatever those with all of the power say they have to do. Loung has no clue what's going on, nor should she; however, her family does and it's why she ends up getting split-up with all of them, and sent to a child soldier camp. There, she learns the gruesome art of killing and all of the fun tricks and trades that come with it. But Loung wants her family back and she's absolutely determined to find them, wherever there may be. But in Cambodia, at this point in time, danger lurked everywhere you looked.
First They Killed My Father is probably the best movie Angelina Jolie has directed so far. Granted, that's not saying a whole lot, but it still proves that there truly is some talent and skill underneath all of that obvious ambition and passion fully on-display. Whereas her past three movies have all felt like she had something to say and didn't quite know how to get it out onto the screen, or better yet, what to even do with it, First They Killed My Father shows Jolie getting her point across, but in the most simple way possible:
By just letting the story play-out, exactly as it would for a five-year-old like Loung.
And that's the actual beauty of First They Killed My Father – everything we see, hear, feel, is all through the eyes, ears, and gaze of Loung. In this sense, the movie almost feels like a dream, constantly swishing and swooshing from one event, to the other, but it's effective. It gives us a human look and feel on the true brutality of the Cambodian Genocide, but doesn't ever feel like it's dramatizing it; it feels like we are in her head and because of that, it's hard not to look away.
And yes, for the first hour or so, First They Killed My Father is a small, somewhat quiet, and incredibly subtle picture about a very large, very disastrous, and very disturbing part of our planet's history. Jolie doesn't seem to be in any particular rush to tell this story, or get any point across – she just tells the story, like it's meant to be told, without her getting in the way and ruining everything. That seems to have been the problem with mostly all of Jolie's flicks, as she constantly finds herself somehow getting in lost in translation, or not really knowing how to make certain stuff work, but this time around, she's got it down well enough to where it registers and never lets us forget that, oh yeah, she's quite talented.
That said, still not a perfect movie.
If anything, it's a very impressive one that shows us Jolie is capable of making a good movie, if not a great one. But for now, First They Killed My Father will have to stay in the group of the former, especially with the final hour. See, what happens about halfway through, is that when the story does escalate into becoming something far more violent and action-packed, it feels different; we still see everything through the eyes of Loung, but the movie's pace picks up and it's a tad jarring.
Rather than remaining a quiet, almost meditative flick, everything's all ramped-up, with blood, guts, limbs, bombs, and weapons flying everywhere. It's still somewhat effective, because it never takes us away from the true tragedy of what actually happened, but it does feel like a different movie entirely and because of that, it can't help but feel a little messy. It took me out of the film a bit and had me forgetting about the previous hour I just saw, where a director was truly soaking in the material, not getting in the way, and not being too over-the-top about it.
That all changes, unfortunately, and shows that we're still a bit away from getting Jolie's masterpiece. Maybe someday very, very soon.
Consensus: Artfully and surprisingly tastefully directed, First They Killed My Father is a dramatic and moving improvement on Jolie's past flicks, but also keeps her a slight bit away from achieving true greatness.
7.5 / 10
Photos Courtesy of: Netflix