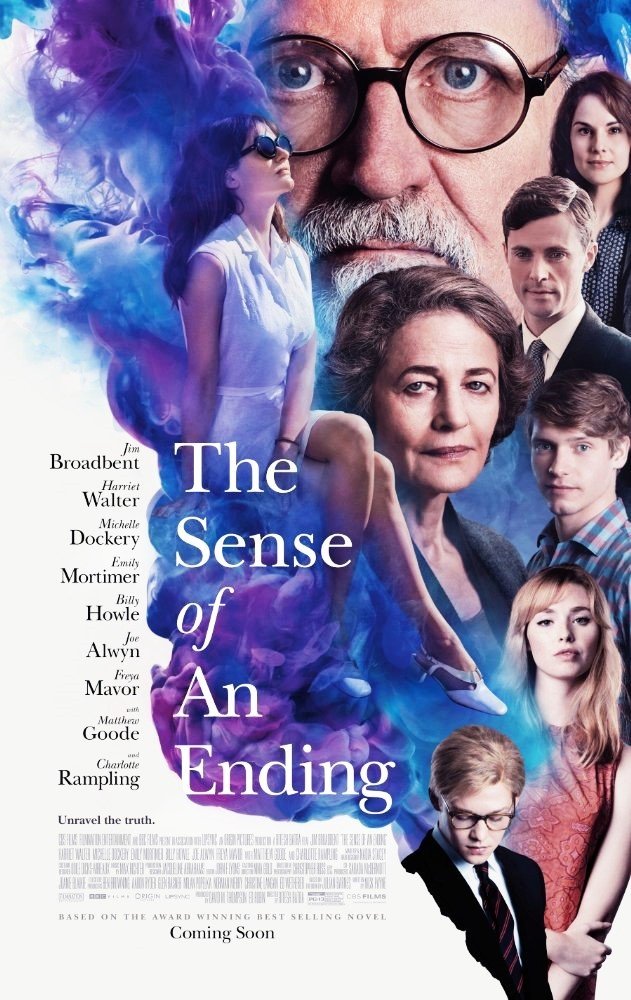 Life sort of sucks.
Settling into his old age, Tony Webster (Jim Broadbent) is enjoying the riches and spoils of his life. He doesn't necessarily have many problems in his life, other than the fact that he's about to become a grandfather and still talks to his ex-wife (Harriet Walter). But now, Tony's life just got a tad more complicated when a letter and a diary has been addressed to him, but why? Well, Tony doesn't really know. However, what he does know is that the letter and diary is from the first love of his life, Veronica (Charlotte Rampling), who taught him all that he needed to know at a very early age. And Tony, trying his best, wants to reconnect with her, but she's just not having it. So now that Tony's thinking about his early life, he's reminded of college days, his romantic-life with Veronica, and other fellow people who aren't in his life anymore, like a good buddy named Adrien (Joe Alwyn) and Veronica's mother (Emily Mortimer), among many others who have come and gone throughout all of Tony's sometimes sad, but sometimes happy, life.
The Sense of an Ending flirts with the idea of being a lot darker than it actually is. At its heart, it's a story about death, depression, sadness, lost love, regret, and most of all, suicide. But at points, it still wants to be a rather silly, sometimes charming movie about this old grump of a man named Tony, who gets a flash from the past and is forced to remind himself just what he did. In a way, it's a rather uneven movie that Ritesh Batra does the best that he can do with.
But it mostly just all comes back to the performances, all of which are great and make the movie better.
Most importantly, Jim Broadbent in the lead role as Tony Webster, an old codger who can sometimes be cranky and a bit annoyed, but mostly, just means well. Broadbent is always great in these kinds of roles, but he gets the chance her to show the darkness and sadness behind the grumpiness, but without ever shying away from going deeper. There's a real pain in his eyes and it's hard not to feel for this old man, even when it does seem like he is, above all else, just a grump.
Charlotte Rampling is also great as Veronica, his first love who, after all of these years, still seems to harbor some hurt feelings. There's a real air of mystery behind her that constantly keeps her compelling, even when it seems like she's just a writer's convenience. Harriet Walter also has a nice supporting-role as Tony's ex-wife who he still gets along with and constantly hangs around. The movie could have made this weirder than it actually was, but it still works because Broadbent and Walter work well together and feel like an aging couple, who are tired of fighting and just want to be civil and remain friends. There's others who pop-up every so often here, but these are the three that mostly take up the movie and keep it moving, even when it seems to flash back and forth between the present and the past.
And while Batra is a good storyteller, at the end of it all, it's not hard to imagine: "Well, what the hell was the point?"
Were we being told this story of this man's coming-of-age to focus on the darker aspects of life, or how, one bad decision, can make permanent scars? Personally, I'm not sure. For me, I was happy to learn more about this man and the sometimes tragic life he had, but when all is said and done, that's all it is: Memories from an old man. It's like sitting down with one of your grandparents, finding out about where they come from and learning a little something, but still finding you moving on throughout your life, as if it didn't really change anything at all.
That's just me, though. Maybe I'm just an awful person.
Consensus: As dark as it gets, the Sense of an Ending never fully evens out to becoming a fully compelling drama, but mostly remains watchable because of the excellent performances given by everyone here.
6.5 / 10
Photos Courtesy of: aceshowbiz