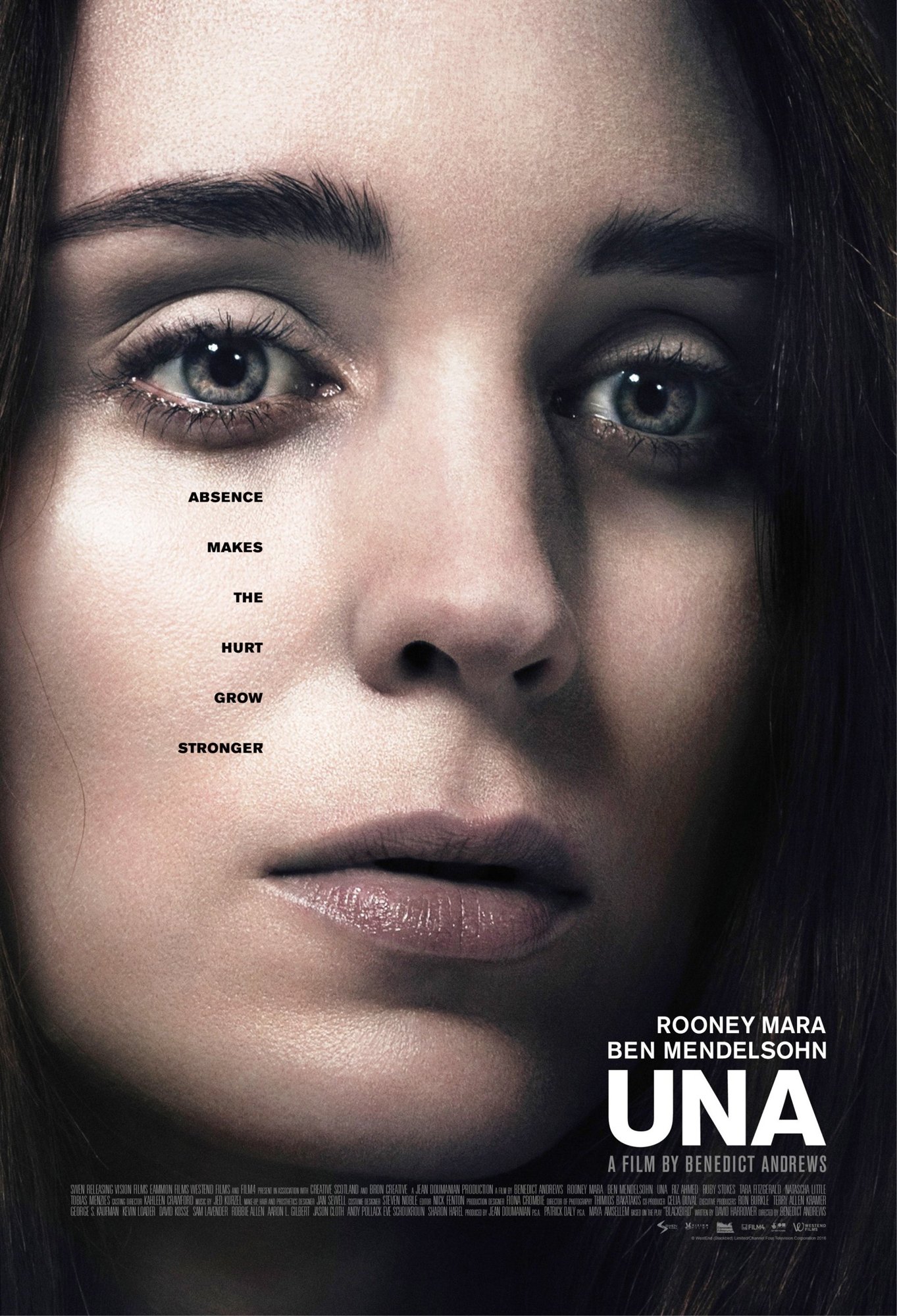 We'll always have Junior year.
Una (Rooney Mara) arrives at a warehouse one day, looking for an older man by the name of Ray (Ben Mendelsohn). But why? Turns out, the two had something of a relationship when she was 13 and it lead to him not only being incarcerated, but even let out, forced to become a sex-offender, and move on with a different life, name, and in another part of the country. However, he wasn't able to get away from Una, and on this one fateful day, where it seems like corporate has come in and promised to make cuts on certain employees, Ray doesn't really have much of any time for this. But it also gets him wondering if he still loves Una for the little girl that she was and the awfully ruined and disturbed one that she is today. After all, he's moved on and married, whereas she's a drug and sex-addict, who seems to be using it all to mask her pain. Will she ever get over him? Will he ever get over her?
The original play in which Una is based-off of, Blackbird, is a very interesting, riveting and smart piece of writing. It's all in one room, with literally only two characters, yelling and speaking to one another and never losing sight of the heart and humanity in the desperation of these two lives. It's why bringing the stage to the screen, can be a bit problematic.
Cause sure, while it would have been nice to have Mara and Mendelsohn in one room, doing the same thing that the play did, it's different here, as director Benedict Andrews has a lot more time and money to work with. Meaning, he now gets the opportunity to tell the story in different ways, go to different places, and do whatever he wants with it, so long as he keeps the heart and sadness of the original. And while he definitely gets a bit too ambitious, who cares?
The heart and the sadness is still there and that's all that matters.
Also what matters, is that we have two of the best actors working today, together and playing ridiculously challenging characters that we don't get to see too often on the big-screen. Though her British-accent is a little wary, Mara is great as the lonely, self-destructive and beautiful Una; there's always a huge frown on her face and you can never get past the fact that she's lived a hard life where she doesn't know if she's loved, or ever will be again. Though we get tons of flashbacks to help us see what happened with the supposed "relationship" she had with the much-older Ray, the movie didn't need it, as we can clearly see through the  long, winding and tearful eyes of Mara. It's one of her more disturbing and compelling performances, yet, because of the small-distribution of the film, many won't see it.
But they should. Not just for her, either, as Mendelsohn, as expected, gives another one of his great performances as a truly despicable, yet somehow, also somewhat sympathetic guy who knows the mistakes he's made and does what he can to get past it. The movie paints him in a challenging light, where we never know if he's truly just a dirt-bag, or a guy who actually fell deeply in love with a 13-year-old; by the end of the movie, we're still not sure. What we are sure of is that Mendelsohn, once again, gives us a person we love to have, but hate to love, and it's why it's always a treat seeing him on the big-screen.
Together, the two create something of a tragic relationship that the movie tries to move around and make more difficult with subplots about big corporations, scandals, courtrooms, and family-dramas, but at the center of it all, is these two and they are what's worth watching above all else. Andrews direction, mind you, should also be noted for the fact that the movie's quite sleek and beautiful, but in a rather gritty way that never lets you forget about the darkness surrounding each of these character's lives, whether they want to see it or not. The movie never lets us forget that, while we are seeing something of a love story, we are also seeing a story about two sad lives, who were once happy, in love, and together, were taken apart and had their lives ruined forever, because of it.
Is it a true love story? Honestly, who knows. And that's the small, unfortunate beauty of Una.
Consensus: Anchored by two amazing performances from Mendelsohn and Mara, Una's a sad, honest, and rather frank tale of love, tragedy, sex, pedophilia, and romance, that sometimes gets a bit too carried away with other subplots, but almost doesn't matter when the core-material is this compelling.
8 / 10
Photos Courtesy of: Indiewire