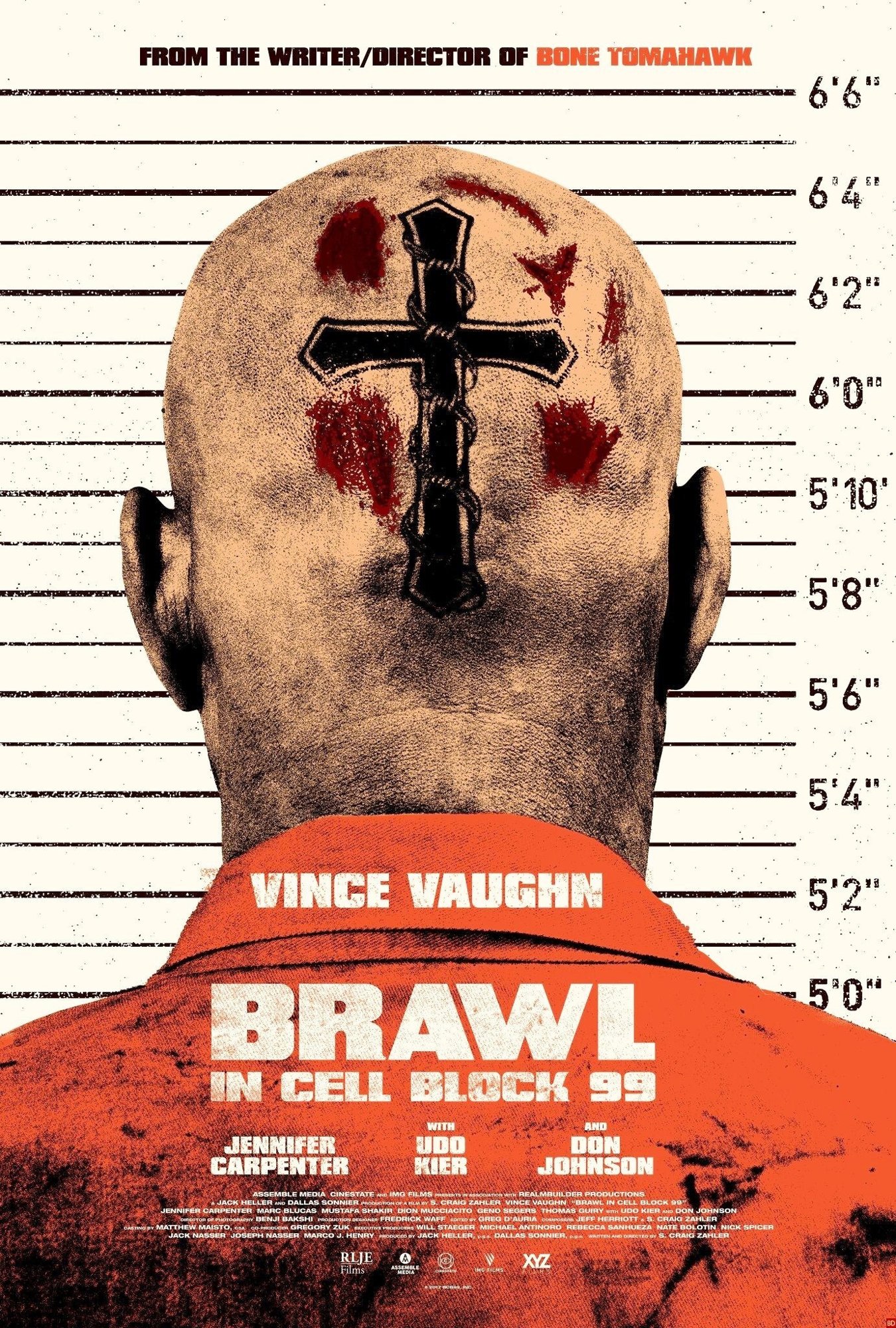 Bald truly is better.
Bradley Thomas (Vince Vaughn), a former boxer, loses his job as an auto mechanic and his marriage, which was already troubled in the first place, is about to expire. But as much as he wants to stay on straight-and-narrow, he can't help but be drawn back into the life working as a drug courier. While it brings him all sorts of riches and saves his marriage, it also comes about with some great villains who want nothing more than to get a head up on Bradley and his position. One night, a deal goes bad and he soon finds himself in a gunfight between police officers and his own ruthless allies. When everything's done, he's arrested, a few officers are shot and killed, and a few of his supposed fellow drug couriers were killed to. But in this case, it was by him. Those guys were very connected and they hear about this, so while Bradley's locked in the clink, they extract revenge the only way they can: By kidnapping his pregnant wife (Jennifer Carpenter) and forcing him to knock somebody off while in prison. Problem is, Bradley's got to do a whole lot in order to make sure that happens.
At two-hours-and-15-minutes, Brawl in Cell Block 99 overstays its welcome a teenie, tiny bit. There's a great hour or so dedicated to just sitting around, watching, and waiting for this Bradley character to eventually break bad and just let it all go. He does, after about an hour or so and while it's good that we at least got some of that to build character and give us a reason to care, it still feels like maybe, I don't know, perhaps, we didn't need that whole chunk of change in the first place. Maybe about 15 or 20 minutes would have been fine, but once again, I don't know.
Cause in reality, once we do get to jail and see Bradley imprisoned, it's an entirely different movie. It's still slow, it's still melodic, and it's still very, very quiet, but it's also a movie with a motive, and a much harsher, meaner, grittier, dirtier, and uglier tone than ever before. And it's at this point where it becomes clear why we needed that first hour or so: To make us think that we were in safe hands and not going to be rushed somewhere we didn't want to be.
After all, we're in the hands of S. Craig Zahler and it becomes very clear that this man is not to be messed with.
Like, at all.
And with Brawl in Cell Block 99, Zahler proves again why he's a very good director at taking his time and not really rushing into things because, well, when all you really want to do is throw people for a loop and give them absolutely vicious and disgusting pieces of violence, who cares how much time you have to wait for it? Cause even though it's long and a little meandering, Brawl in Cell Block 99 also features some of the most gruesome and disturbing acts of violence I have seen committed to film in quite some time, and what's even nuttier about it all is that it happens so quick, so matter-of-factly, and so disjointedly, that it's almost like it never happens. There's no stunt-doubles, no fancy editing, and no real special-effects – it's just limbs being hacked-off, bones being broken, and dudes being killed.
Sounds fun, right?
In a way, it sort of is. Zahler isn't afraid to drag us through this mud of misery, but at the same time, doesn't hold back on the darker, more sensational thrills that come with pulpy-flicks just like this. Does he have an agenda? Sort of. It's interesting that the first prison we see here is actually pretty chill, relaxed, and quiet, until we get to another prison and it literally looks an old, medieval castle, where dark underlings lurk in the shadows. Maybe Zahler has a bone to pick with the justice system and all its corrupt features?
Or maybe he's just not that deep, doesn't care, and wants to enjoy someone's head getting stomped in, almost to the point of where his eyeballs pop-out. Cause yeah, that happens. And yes, it is pretty rad, because mostly, it all feels worth it. The slow plodding and pacing of the movie eventually works out in the movie's favor, because it sets us up for all the blood, gore and violence of the later-half and it proves that Zahler, while very hard to get into immediately, ultimately gives the goods of what you want and expect.
Does that make him a perfect film-maker? Probably not. But it does make him effective and it makes me excited to see what he's cooking up next.
Same goes for Vince Vaughn who, after a few years of starting and stopping, seems poised for a dramatic comeback that he hasn't seen since the mid-to-late-90's. But what's odd about Vaughn's role here as Bradley Thomas, is that he's still a bit of a smart-ass and domineering – it's just way more different this time around. Rather than always speaking, ranting, raving, and improving until the cows come home, he's quiet, still, stern, stiff, and always intimidating. Sure, it helps that just in about every fight he gets into, he can kill every person within an inch of their lives, but it also helps that Vaughn himself creates this character that is not to be toyed with and gets a lot of mileage out of just standing there, looking tough, gruff, and all sorts of pissed-off. It has me hoping that there's a much brighter-future out there for Vaughn's career, even if the roles he takes are darker and less filled with goofs, gags, and sadly, Owen Wilson.
Wow.
Consensus: Though it could definitely afford to trim a little fat, Brawl in Cell Block 99 is a relentlessly brutal, bleak, and violent piece of pulp, that also serves as a rejuvenation in Vince Vaughn's career.
8 / 10
Photos Courtesy of: Indiewire