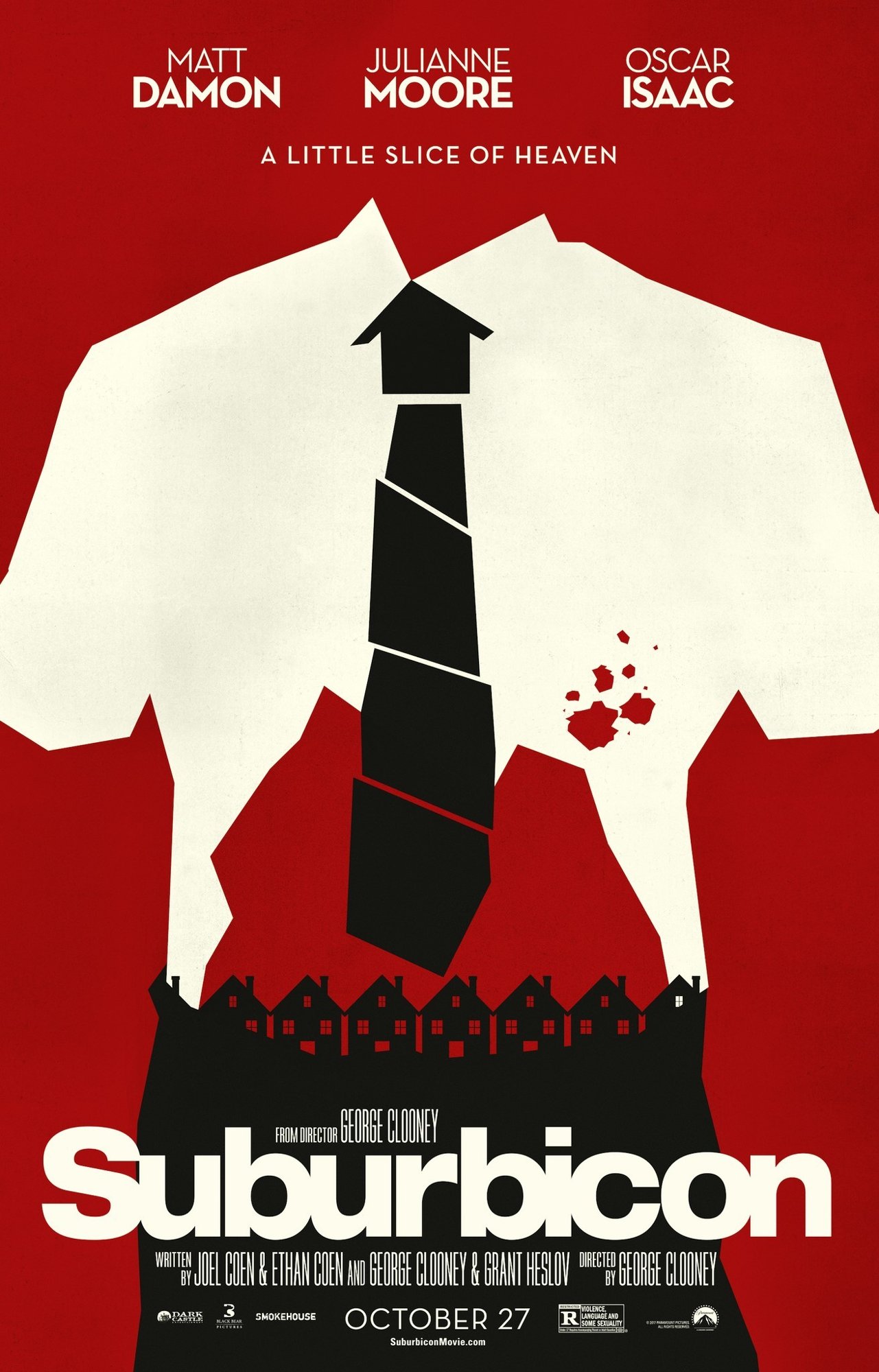 Racism and bigotry. Only in the late-50's, right?
It's the late-50's and everybody in America seems to be happy. In this particular case, it's Suburbicon, a small, yet quaint suburb where everyone is joyous, lovely, nice to one another, and oh yeah, very white. So much so that when a black family moves in, all hell breaks loose. But while this is all happening, there's the Lodge family who, in their own ways, have another tragedy to deal with. Gardner (Matt Damon) has just lost his wife to a duo of robbers and now has to bounce back, as does his son, Nicky (Noah Jupe), who doesn't quite know how evil and dastardly the world is just yet. However, he soon learns this fact of life when he finds out that not only is his father shacking up with his aunt (Julianne Moore), but that the two are planning on sending Nicky away to a boarding-school of sorts. But why? Nicky doesn't quite know yet, until those robbers start coming around and expecting more money – something that Gardner doesn't want to do, but at the same time, doesn't have much of a choice.
And oh yeah, there's a lot of racism on the side, too.
Deep in the center of Suburbicon is a really tight, lean, mean and relatively fun darkly-comedic thriller that feels exactly like a rip-off of the Coen's. Which is obviously purposeful because, for one, the Coen's wrote this, but also feel as if they're treading familiar waters, poking fun at suburbia, the hidden secrets we all tell ourselves, and just how one incident, can snowball into many, many more. It's typical Coen's and it works.
But then, there's all of the racist-stuff to go along with it and yeah, that's where Suburbicon falls apart. And it isn't that what director/co-writer George Clooney brings to the table isn't meaningful; this notion of the 50's that we all have is sweet and dough-eyed, yet, it was also very troubling, especially in terms of social-issues. Is this an altogether crazy and shocking surprise to anyone that's ever taken a history course, anywhere, at any time? Not really, and it's why Suburbicon, while well-intentioned, drops the ball.
Also, Clooney probably isn't the best director for this kind of tricky material, either.
After all, he's not the kind of director who's known for his subtlety, nor for his skill of blending together different genres, tones, and moods. Look at every movie he's directed, save for Good Night and Good Luck., and you can tell that they're taking on a lot and honestly, it's too much for George to chew. He does an admirable, serviceable job on all of those other flicks, but he seems to always get stuck in a hole where he doesn't know where to go with his movies, nor what he's actually trying to get across. He's just a messy director and while I want to give him credit for taking risks, he hardly ever sticks the landings.
And that's the case with Suburbicon, although, because he's working with a Coen brother's script, he's a lot better off. Whenever the movie isn't focusing on the social-issues about race and religion, it's actually kind of fun and a little twisted, but whenever it is, it's ham-fisted, obvious, and not all that surprising. What's weirder though, too, is that Clooney and co-writer Grant Heslov seem to be going for some kind of satire that gets so over-blown, so crazy, and so insane, it doesn't hold-up. It's as if Clooney didn't think he was getting his point across enough, so he had to literally bang us over the head with a hammer to make us woke.
Nobody's doubting that you're woke, George. Just shut up about it already and make a good movie.
But at the end of it all, what saves Suburbicon, aside from the Coen's side of the script, is the cast who all seem to be trying very hard to make this work. Matt Damon has a lot of heavy-lifting to do as Gardner Lodge, the dorky, seemingly square father of the family and has to show a darker, meaner side as the time goes on and it works. In a much tighter, much more focused movie, the performance would be better, but as it stands, it does what it needs to do and Damon's good. Julianne Moore's role is fine, too, although her character is a bit more silly and weird, which sort of fits, and sort of doesn't. Either way, after this and Kingsman, it's nice to see her playing around with some light and funny roles for a change.
But the real stand-out is probably Noah Jupe who, like with the rest of the cast, given a much more focused movie, could have really made miracles. Still, as the meek, mild and relatively sweet Nicky, who is starting to realize the whole world around him is crumbling, Jupe gets a lot of mileage out of simply standing in a scene and reminding us that he's a kid, after all. There's a certain sweetness to him that keeps some heart left in this movie, even when the rest of it seems to be getting wrapped in blood and guts. It's a role that has me excited for what he next on his plate, so long as hoping it's in a movie that gives him much more.
Oh, and Oscar Isaac is here for maybe two scenes and easily makes them the best.
Then again, when doesn't he do that?
Consensus: Try as he might, George Clooney just doesn't have the strongest chops to make Suburbicon, an already uneven and messy bit of satire, gel perfectly, but still gets by on some cheap thrills and a game cast.
6 / 10
Photos Courtesy of: Aceshowbiz