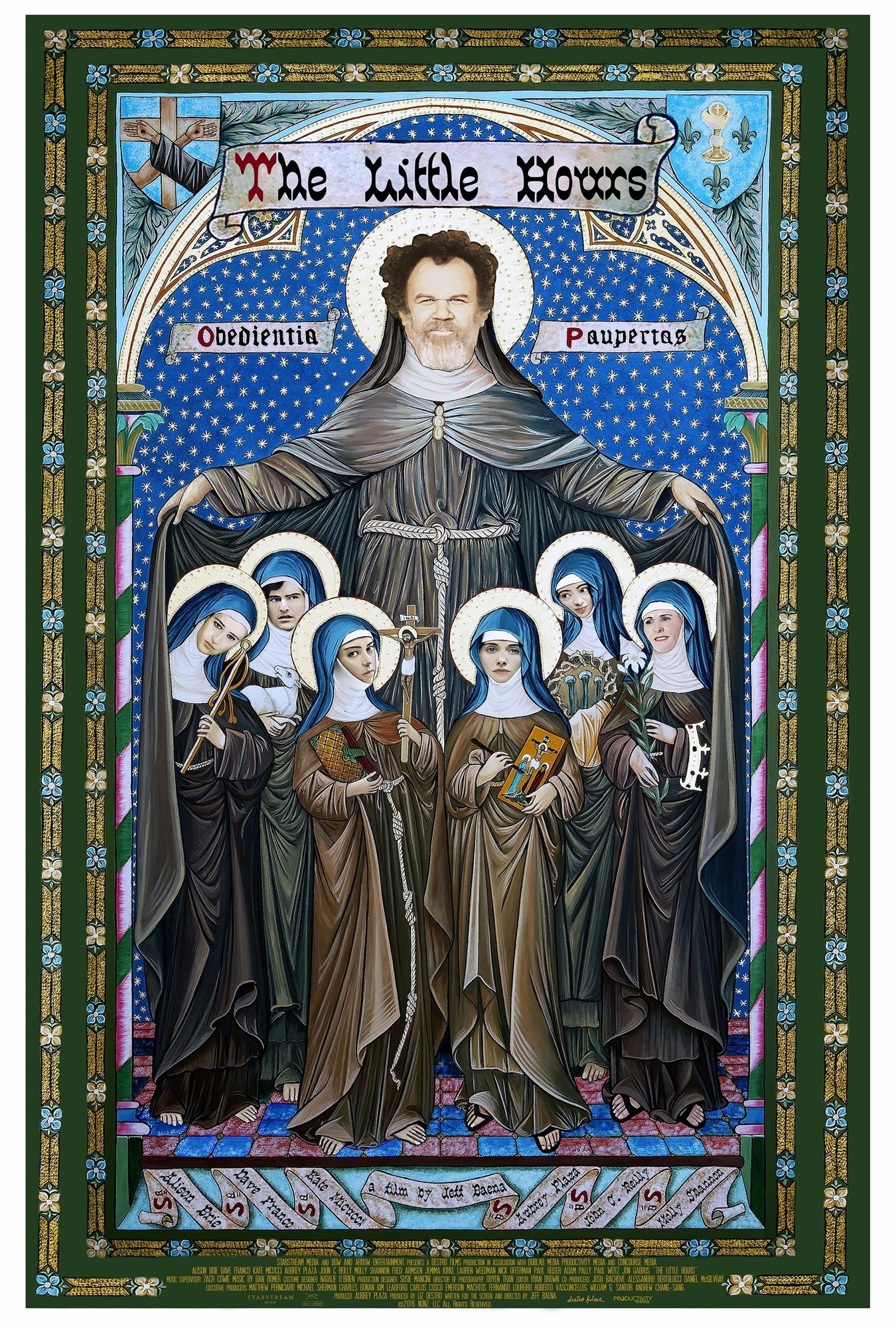 Let loose of Christianity. And your pants.
It's the Middle-Ages and, as expected, basically everything, everywhere, is run by religion. And in these times, nuns Alessandra (Alison Brie), Fernanda (Aubrey Plaza), and Ginevra (Kate Micucci) lead a simple, albeit sex-free life in their convent. Their days are spent chafing at monastic routine, spying on one another, and berating the estate's day laborer, who Fernanda, being the paranoid that she is, constantly thinks of him as being as a Jew. After a particularly vicious insult session drives the peasant away, Father Tommasso (John C. Reilly), who's harboring some dark and dirty secret of his own, brings on newly hired hand named Massetto (Dave Franco), a young servant forced into hiding by his angry lord (Nick Offerman), who caught him sleeping with his wife and is currently hunting him down. So, in order to stay safe and sound, and away from his lord, Massetto must stay deaf and dumb, and act as if he has no interest in any sort of proclivities. Even though, he, like everyone else at this convent, does and it eventually comes to front-fold when they all get a nice look at Massetto.
The Little Hours is basically a one-joke movie, in which it's the Middle-Ages and everyone speaks in a modern-day tone and dialogue, filled with curses, witticisms, sayings, and a lot of dead-pan. And as is the case with most one-joke movies, they can tend to get a little old and repetitive; see, it's not what the joke is about, as much as it's what you're able to do with it, how you're able to spin it, and make telling it, still seem somewhat fun and fresh. It's what the Little Hours is able to do for awhile, until it doesn't.
But man, what a cast.
Seriously.
Writer/director Jeff Baena hasn't been in the game for too long, but has already somehow been able to get a bunch of famous faces in his various movies, and the Little Hours is no exception. In fact, one of the main reasons why the movie works as well as it does, is because of how dedicated and willing this ensemble is to make this material work and funny. Everyone here is dead-pan and while there are some people that seem to be funnier than others, everyone is in on the joke and it works.
No one person in particular is funnier than the other, but one who stands-out, in my eyes, is Dave Franco, especially since what a lot of he has to do is physical and simply using his body, rather than saying everything. Franco's always been funny and a blast to watch on-screen, but here, we see his talent tested to where, instead of saying everything, he has to act it all out, through body-language. It's a gimmick-role, sort of, but it's one that's impressive because Franco seems to excel at this kind of stuff, even when he isn't talking.
And yeah, everybody else is pretty great, too, but does any of that need to be said?
What Baena does do well, except offer some funny bits and pieces of comedy, is that he does offer-up an interesting look at religion and sex, through the clearly comedic-eyes. Baena doesn't seem to be making a comment on Christianity, as a whole, and it's positive, as well as negative effects, on those who support and follow it, but he does seem to be showing that sometimes, age-old stipulations and rules, that take away certain freedoms, are wrong and should be broken. Sure, it's told to us in such a silly and raunchy manner, but it's effective and shows that Baena has more on his mind than just a bunch of funny people cursing, getting naked, and having sex.
Although, there's nothing wrong with that, either.
Consensus: Essentially a one-joke premise, the Little Hours grows to wear thin, but with a smart, funny cast who are all absolutely game, it gets on passable humor.
6 / 10
Photos Courtesy of: Aceshowbiz