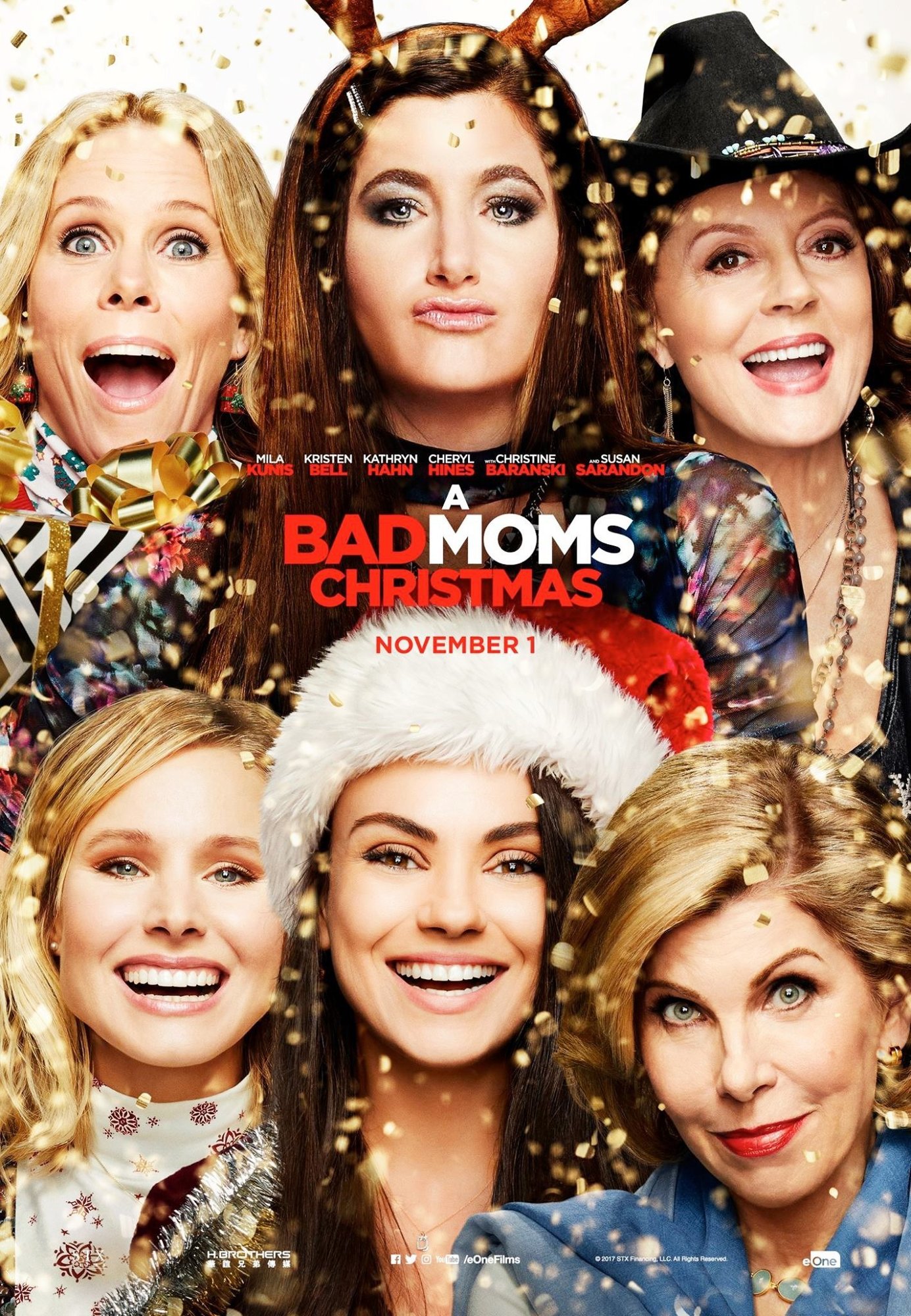 Make Christmas Bad Again.
Amy (Mila Kunis), Kiki (Kristen Bell), and Carol (Kathryn Hahn) are all moms who deserve a little bit of a break. But the holidays don't necessarily mean that, so the next few days or so, they're spending, slaving away, looking for presents, putting up decorations, and most importantly, making all sorts of food. It's a pain, but it's the kind of things that moms do to ensure that the holidays go by smoothly. However, if all that wasn't enough, each mom her their own mother come around, to hopefully, make things better. This doesn't happen, of course. Amy's mother, Ruth (Christine Baranski), is a stickler and constantly nags at Amy for this Christmas not being as memorable as it should be, despite Amy's desperate try for it to be as such; Kiki's mother, Sandy (Cheryl Hines), loves her so much that she can't seem to grasp any sense of a comfort-zone; and Carol's, Isis (Susan Sarandon), when not gambling, drinking, smoking, and sexing her life away, is usually around to just ask for money, which Carol doesn't want to do, ever, but always ends up doing anyway.
Yup. This holiday-season is going to be fun.
The original Bad Moms was a quite surprise. While it looked stupid, over-the-top, broad, and ridiculously white, it was also a pretty funny comedy that had a slight bit of something smart to say and, oh yeah, also paid tribute to moms everywhere. Although it was written and directed by two dudes, Jon Lucas and Scott Moore, it felt like the kind of movie that was made for women, by women, and with smart, interesting women, even if that middle-portion wasn't entirely true. It's very rare that we actually get movies made exactly for women, let alone comedies, or better yet, let alone good movies in general, and it's why Bad Moms, while not exactly perfect, got by on pure-charm.
And same goes for A Bad Moms Christmas, which is odd considering that it was made so quick, you'd automatically think of a botched rush-job, but it doesn't come off that way. Instead, the familiarity with these characters, their lives, and their personalities, helps the story move by at a rapid-pace, without ever seeming to settle down. Jokes fly, with a good portion of them landing, and the others, not, but most of all, it's all quick, funny, and pretty damn entertaining.
Is it as surprising as the first? Not really.
In a way, you know what you're going to get with A Bad Moms Christmas and because of that, everything works a lot better. We expect tons of raunch, non-stop montages of these moms doing bad-stuff, and eventually, lessons to be learned. It's all conventional stuff, but with a R-rated raunchy-comedy that's actually raunchy and funny enough to register as such, it's all fine. Maybe it's with the holidays coming up, I'm a lot more lenient to movies such as this, where the sap and endearing whiteness is able to seen from a mile away, but hey, so be it.
Or maybe, it's just that this ensemble is so much fun to watch, it hardly even matters. As with the first movie, everybody here who shows up, gets an opportunity to be funny and at least bring something to the table, not seeming like window-dressing for an already polished movie. Of course, as we know from the first, Kunis, Bell, and especially, Hahn, are all funny and exciting to watch, but it's the older moms like Baranski, Hines, and Sarandon who really excel. While they're all playing their types, the types have some heart and humanity behind them that it doesn't really matter; also, it's nice that the movie gives each and everyone of them a chance to not only shine in their own scenes, but together, being one of the very few movies featuring three women, all over the age of 50, to just sit down, talk about their lives, and not once make a joke about Viagra.
Okay, they talk about sex, but who cares? They're moms! They're allowed to do whatever they want!
Consensus: As much as it's like the first, for better and for worse, A Bad Moms Christmas brings back all of the fun, likable characters from the first, as well as the silly, over-the-top raunchy humor, too.
6.5 / 10
Photos Courtesy of: Aceshowbiz