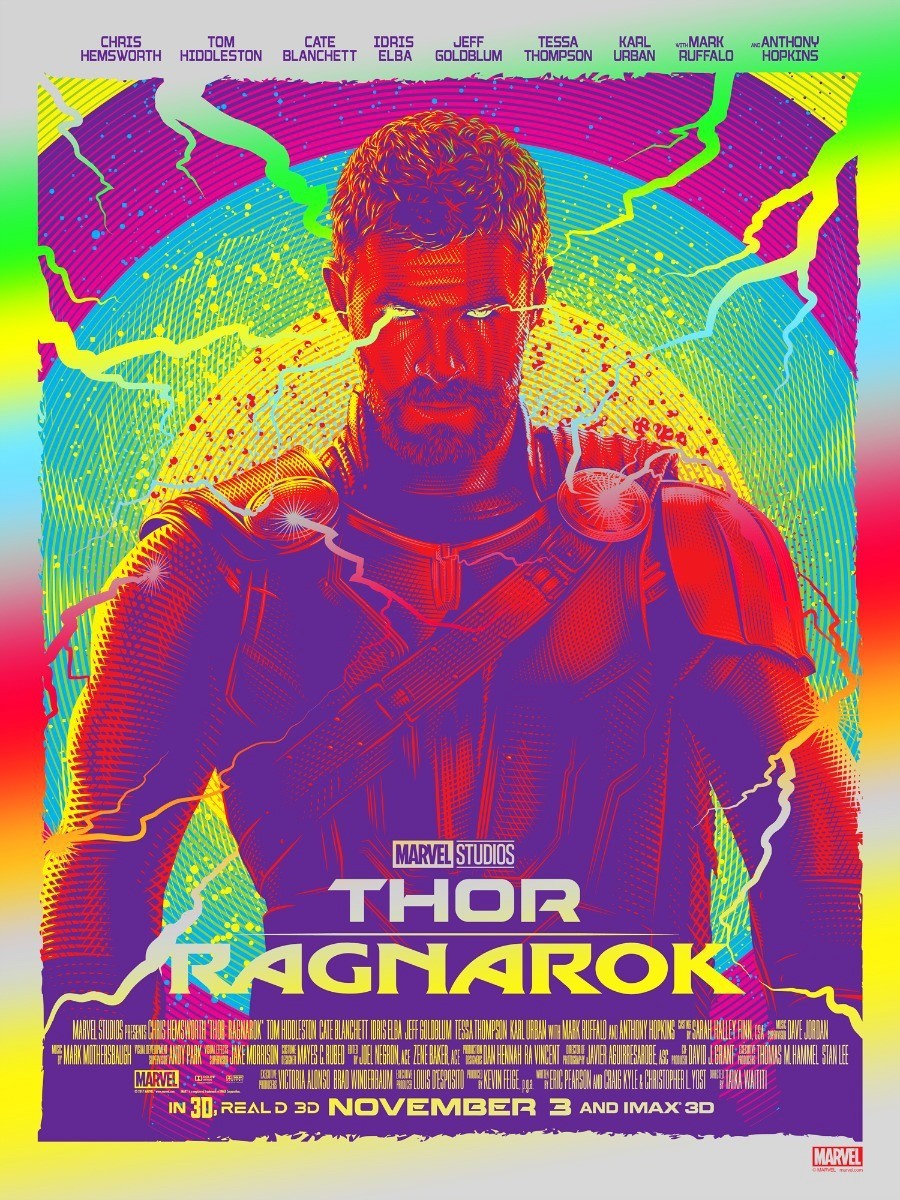 Who gave Kevin Feige acid?
The God of Thunder, also known as Thor (Chris Hemsworth), after finding out that he and his evil adopted-brother, Loki (Tom Hiddleston), have an evil older sister, Hela (Cate Blanchett) that they never knew a thing about, is sent away to an awful planet where all of the universe's trash and undesirables are dropped off and sometimes, even sold. Thor becomes one of those items and is forced to face-off against an old pal of his, Hulk (Mark Ruffalo), who, after leaving the rest of the Avengers to fend for themselves over two years ago, has been hulking out, beating the crap out of all sorts of foes. But Thor thinks that he can get through to Hulk and, hopefully, bring him back to Asgard, so that they can take down Hela, as powerful as she may be. Of course, though, Thor's going to need some more help than just a Hulk. This leads him to Valkyrie (Tessa Thompson), a bad-ass bounty hunter who gives a Thor a run for his money, in terms of fighting and drinking, but also in the ways of the heart.
Ragnarok is probably one of the weirder Marvel movies out there, which I don't say lightly. The first Guardians of the Galaxy and even to a certain extent, the sequel, were both so incredibly odd and crazy, that they almost didn't feel like products of a huge corporation, made for the sole sake of mass-consumption. In ways, they were original and electrifying enough to stand on their own terms and not just be another installment to the already-expanded Marvel Universe that we hear way too much of.
But yes, Ragnarok comes pretty close to being even weirder and it's both great, as well as a little disappointing. It's great because it shows that even with a character like Thor who, in all respects, may be the least interesting Avenger of the bunch, can actually have his story told and go to crazy lengths that we don't expect. Due to Ragnarok being set in the galaxy, where everything is already nutty and wild, director Taika Waititi, who is already an inspired-choice, gets the opportunity to go as far and as deep into this insanity as he wants.
Which is great and all because the movie's funny.
Like, really funny.
And it's why the one-half of Ragnarok works so well; it's not afraid to be silly, weird and meandering, even when we know that there's a story to be told and a much bigger-universe out there. Most of the humor and fun of the movie comes from just making fun of these characters, their characteristics, and how exactly they're all just a bunch of comic-book characters, literally made to function as fully-dimensional human beings. It's a joke in the sense that it's not really a joke, because it's all taken seriously and still gives us glimpses of actual character-development, but man, it can be so funny to watch.
But then, the other-half of Ragnarok, the one that takes primarily on Ragnarok, is a bit of a bummer. And it's not like bits and pieces of this half aren't interesting and/or fun to watch – watching Cate Blanchett vamp and go way over-the-top is more than worth the price of admission – but it's so slow and expository, it just feels like a bit of a drag. All we really want to do is get back to Thor, Hulk, and whatever the hell Jeff Goldbum is, because they're where the real party is at.
However, you also can't fault the movie all that much because they sort of get this idea real quick and decide to keep things with Thor for a good portion. It makes sense why we have all of this villain-building, but it could have done better. That, and also, the Thor-stuff is just so much fun that we almost never want to leave it.
It's just a weird and crazily fun time. Something I don't say too often when it comes to Marvel movies.
Consensus: Not afraid to get a little weird and silly, Ragnarok proves why we deserve to see Thor's story again, with a great bit of fun, exciting supporting-players to keep things always entertaining.
7.5 / 10
Photos Courtesy of: Aceshowbiz