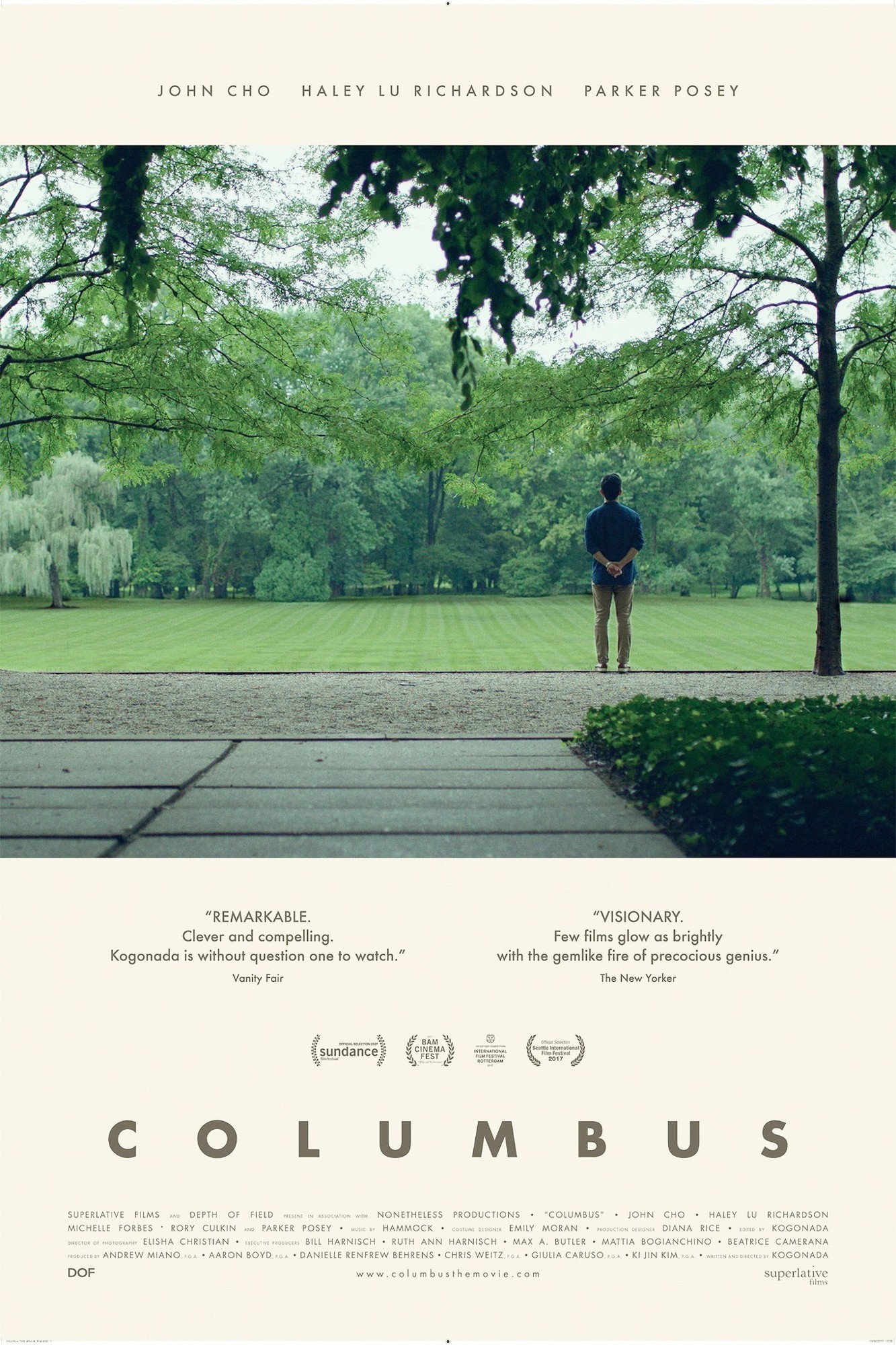 Life is architecture. That works, right?
Casey (Haley Lu Richardson) is a recent high school graduate, is at a bit of a stand-still in her life. She wants to go out to college, work on architecture, study, and make a name for herself, but ever since her dad left, her mother (Michelle Forbes) has been having some issues with staying sober. So it's what keeps Casey at home, working at the local library, and occasionally, flirting with her coworker (Rory Culkin). But then her life changes a bit when Jin (John Cho), enters town. His father, a renowned architecture scholar, falls ill and is forced to stay in the hospital, making Jin to come back home and figure out what the next step is. He, like Casey, is in a bit of a rut and together, the two strike up something of a friendship that starts off as admiration for one another, but then, turns into something far more sweet. But not in the way you'd wholly expect.
Columbus is one of those rare movies that isn't afraid to take its time, literally plant a camera down, just keep shooting, and use absolute silence. It's the kind of movie that's perfect for when you have an empty home all to yourself, because there's hardly a score (and when it does play, it's beautiful) and just a bunch of characters walking, talking, and gawking at the beautiful buildings all around them. If that sounds too boring for you, then yeah, Columbus is just not going to work.
It's a smart, interesting, and relatively touching character-study that should be seen.
But hey, if it's not your bag, then it's not your bag. So be it.
Regardless, Columbus brings us a smart and fresh voice in writer/director Kogonada who, thankfully, makes the smart decision to not get all that pretentious with the material. Sure, it's about architecture and certain people's love for it, but the movie's much more about taking advantage of the life you have, the opportunities you get, and figuring out just where you want to go next. Architecture is used as a gorgeous backdrop, but really, it's less about the buildings, shapes, sizes, and colors, and much more about the actual humans who build them and live in them.
And with that said, it's a pretty great ensemble. Haley Lu Richardson shows us that she's one of the more interesting younger-actresses out there who, despite her beautiful looks, is also able to really give off the vibes that she's just another ordinary, young, and confused girl in this world. The movie smartly doesn't make her decision to leave all about a romantic love-interest, but her dedication to her mother and the fact that she has no clue just how to go about moving out and doing something with her life. She's not whiny and sad – in fact, she's quite settled and pleased – but she also wants to go somewhere, anywhere that's possible.
It's a lovely role that reminds me of a young Winona Ryder. I hope that Richardson's career turns out the same way, without the shoplifting incident.
But then, there's John Cho who is also very interesting here, not because he plays a man at his crossroads, but because he's actually in a drama, given a role that's worthy of his talents. Cho's got great delivery where he always seems like the smartest guy in the room and will call you out immediately, but also shows that there's plenty of insecurity to him. The relationship he and Richardson's character has, seems like it's going to get weird and creepy, but actually turns into something beautiful that's not just shocking to us, but to them, too. It's sweet and mannered and never once does it seem like it's going to go over the line.
That's not just good acting, either – that's just good writing.
Remember the name "Kogonada", people.
Consensus: Mannered and a little slow, Columbus may seem like it's taking too much time to get going, but it's sort of the point and it helps the performances work so much more.
8 / 10
Photos Courtesy of: Superlative Films