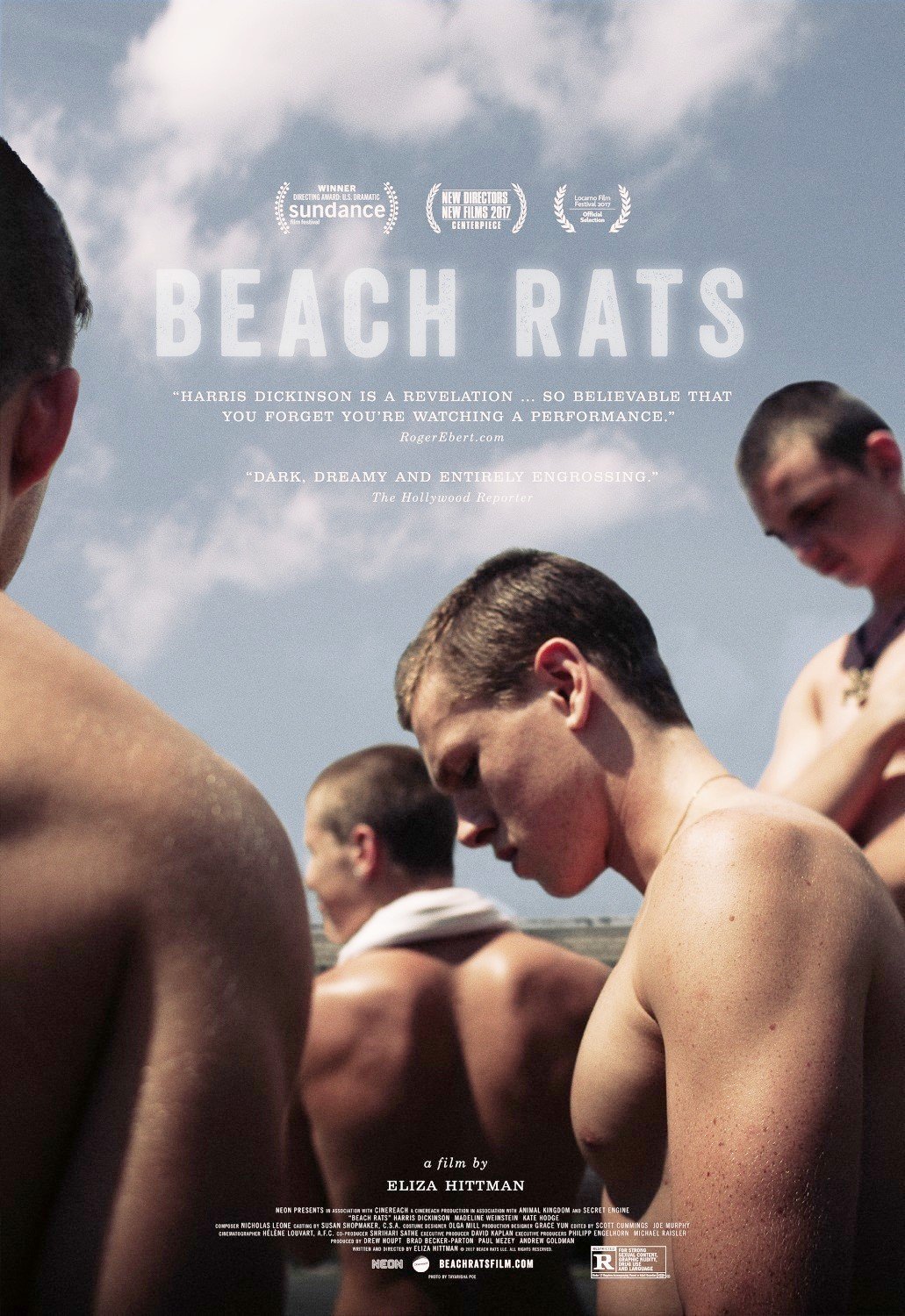 Some places are still behind with the times.
Frankie (Harris Dickinson) is just another young teenager, living in Brooklyn, with his mom, his sister, and his dying father, aimlessly getting by another summer. He spends most of his time with his friends, drinking, smoking, running around, playing hand-ball, and generally just doing whatever it is young guys do nowadays. Frankie also has something of a girlfriend (Madeline Weinstein), who he doesn't quite know if he wants to make into something more seriously, or just keep doing whatever it is that he's doing. Cause whenever no one is looking and he's all by himself, Frankie also likes to go on men-only chat-rooms, find men, talk to them, meet up with them, and oh yeah, hook up. It's something that Frankie is still confused about, but it's also something that he's doing his best to keep to himself, particularly because his friends would probably hate him and his girlfriend would break up with him. But honestly, Frankie doesn't know what he wants yet.
As she did with her first movie (It Felt Like Love), Eliza Hittman perfectly captures the teenager's gaze, where everything surrounding you is big, bright, beautiful, shocking, and surprising. While her direction is definitely aimless and in ways, a little meandering, it's worked for her so far because she's getting us inside the heads of these young characters, who don't really know or understand the world quite around them just yet, but look and listen to everything with amateurish eyes and ears. It's a brave directorial-style to work with, but especially so since this is her second flick so far and shows that she's got a niche and going to stick to it.
Does it help that her story is a little wonky?
Probably not, but Hittman's able to get past that, cause Beach Rats is less about the story, the twists, and the turns, as much as it's about the mood, the look, and the overall feel. The constant images flowing past our eyes, while carefully crafted and put together, also feel a little random, but work; putting is closer in the mind-set of it being summer, where anything and everything is possible. It's a moody flick, for sure, but it's the kind of mood that has you longing for youth, while also hating youth, too.
So yeah, it works like that.
But no matter what happens with the story, Harris Dickinson is pretty great and it's through him that Hittman is able to get the most mileage out of this movie. Dickinson, despite being British, fits into this role perfectly; he's hunky, chiseled, handsome, and ridiculously masculine, just like the guys around him. But he's also rather sweet and sensitive, and Dickinson shows us a real raw and sympathetic edge to a character who could have easily been conventional and boring. Rather than just turning out to being the self-loathing guy gay who acts out violently because he doesn't want to like what he likes, he turns into a much more sad character who doesn't know what he wants to be and is constantly being told to look, or be in one way that he can't quite relate to just yet.
It's a smart direction from Hittman, but an even smarter performance from Dickinson, because they both cancel each other out. We never know exactly what he's thinking, or what's going through his head, but his body-language shows it all. Hittman seems to love and respect this character, warts and all, and it helps us see him for just another lonely, confused, and rather depressed kid who's constantly having to hang out with all of these rough, tough dudes, when in reality, he just wants to be himself.
Damn. Growing up sucks. But being young is even worse. Glad I'm past that.
Consensus: Not much of a real story, Beach Rats plays out more like a compelling mood-piece, capturing youth, angst, and self-identity, with a great performance from Harris Dickinson in the lead.
7 / 10
Photos Courtesy of: NEON