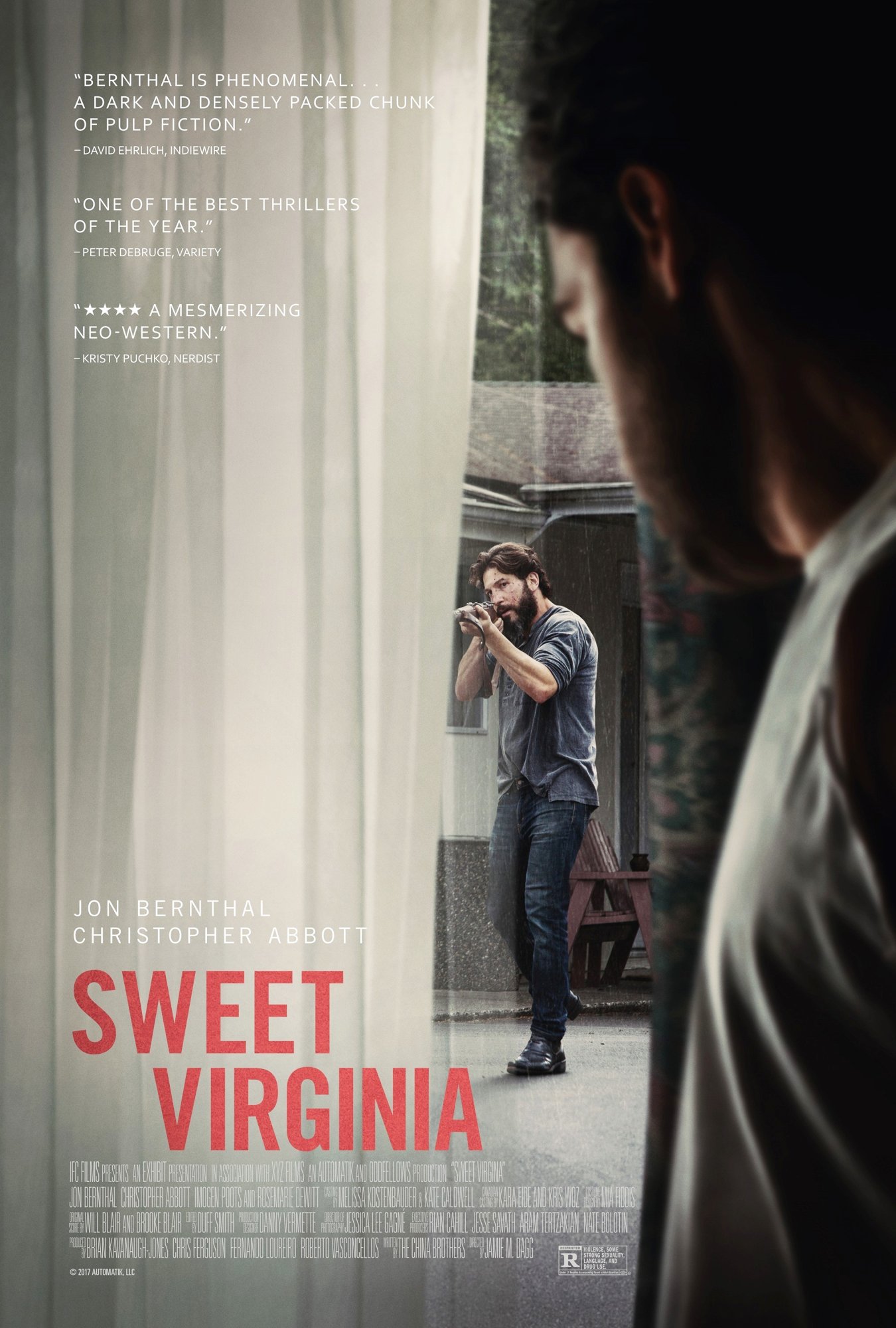 Wow. Virginia's an angry place. Who'da thunk it?
Sam (Jon Bernthal) is an ex-rodeo rider who has seen his better years go by. After a career-ending injury, he's been managing the Sweet Virginia hotel, where instead of riding on top of bulls, he's riding on top of guests for being too loud or not paying. It's a sad life he lives, but if there is one glimmer of hope, it's Bernadette (Rosemarie Dewitt), who he wants to be more serious with, despite the fact that she's married. But their lives begin to change when her brother (Jonathan Tucker) is randomly killed, leaving her and his wife (Imogen Poots) left with the bulk of the estate to deal with. And to add a little bit of sizzle to their lives, in walks Elwood (Christopher Abbott), a guest at the hotel who takes a liking to Sam, in a rather creepy way. But who is this guy really? Is he behind any of this? Or, is he just a lonely traveler, navigating throughout the world on his own, without a care in the world?
It's interesting that Sweet Virginia came out the same weekend the Punisher was released on Netflix, as they both feature Jon Bernthal in a lead role, but both also display two different sides of him. In the Punisher, he's a mad, sad, and scary man with a rough past, and an even rougher set of skills that he uses to kill people in some of the most disturbing, heinous ways imaginable. In Sweet Virginia, Bernthal plays a sad man with a rough past, but he's also a lot sweeter and more gentle than Frank Castle; whereas Castle wold much prefer to break the bones of those who do him wrong, Sam would like to just hash it out and see if the issue can be solved.
It's a neat contrast that highlights why Bernthal is such a good actor, because he's able to be both likable and charming, but also a tad bit dangerous. Which is to say that Bernthal is quite good here, but he's not the main-draw – it's really Christopher Abbott's insanely crazy role as the unhinged and wildly unpredictable Elwood, a character who keeps Sweet Virginia shaking at its core. It such an effective performance that when everything seems all sweet, happy and simple, you can't help but forget that somewhere out there, lurking in the shadows, is this genuine nut-ball who isn't afraid to do, or say, whatever comes next to him.
Once again, it's another sure sign that Abbott is slowly becoming one of our better actors.
Which is why Sweet Virginia, as good as the cast may be, can sometimes seem like it's depending on them just a tad too much. The story is there and while it's definitely about these small, sad lives in this equally as sad, small town, it just never becomes as tense as it should. There comes a point where we sort of see it going where it has to go and while it may want to shock and surprise, it doesn't really do that. It's more of an interesting character-study that also happens to feature a bunch of blood, violence, guns, and crime.
That said, the performances are still more than enough reason to sit around and watch everything that happens. We get to learn more about them, who they are, what makes them tick, and just why they have a movie about them. Dewitt's Bernadette, while she could have easily come-off like a cheap floozy, cheating on her husband, taking advantage of the depressed Sam, actually turns out to be a genuine person who wants a love in her life that's meaningful for once. Even Imogen Poots widow character, although unlikable, is still fascinating in her reasons why. We grow to learn more about these characters as time goes on and although the plot may come second, that's quite alright with these performers.
Consensus: With a solid cast, including a terrific stand-out from Abbott, Sweet Virginia works best as a slow, contained and rather tense character-study.
6.5 / 10
Photos Courtesy of: IFC Films