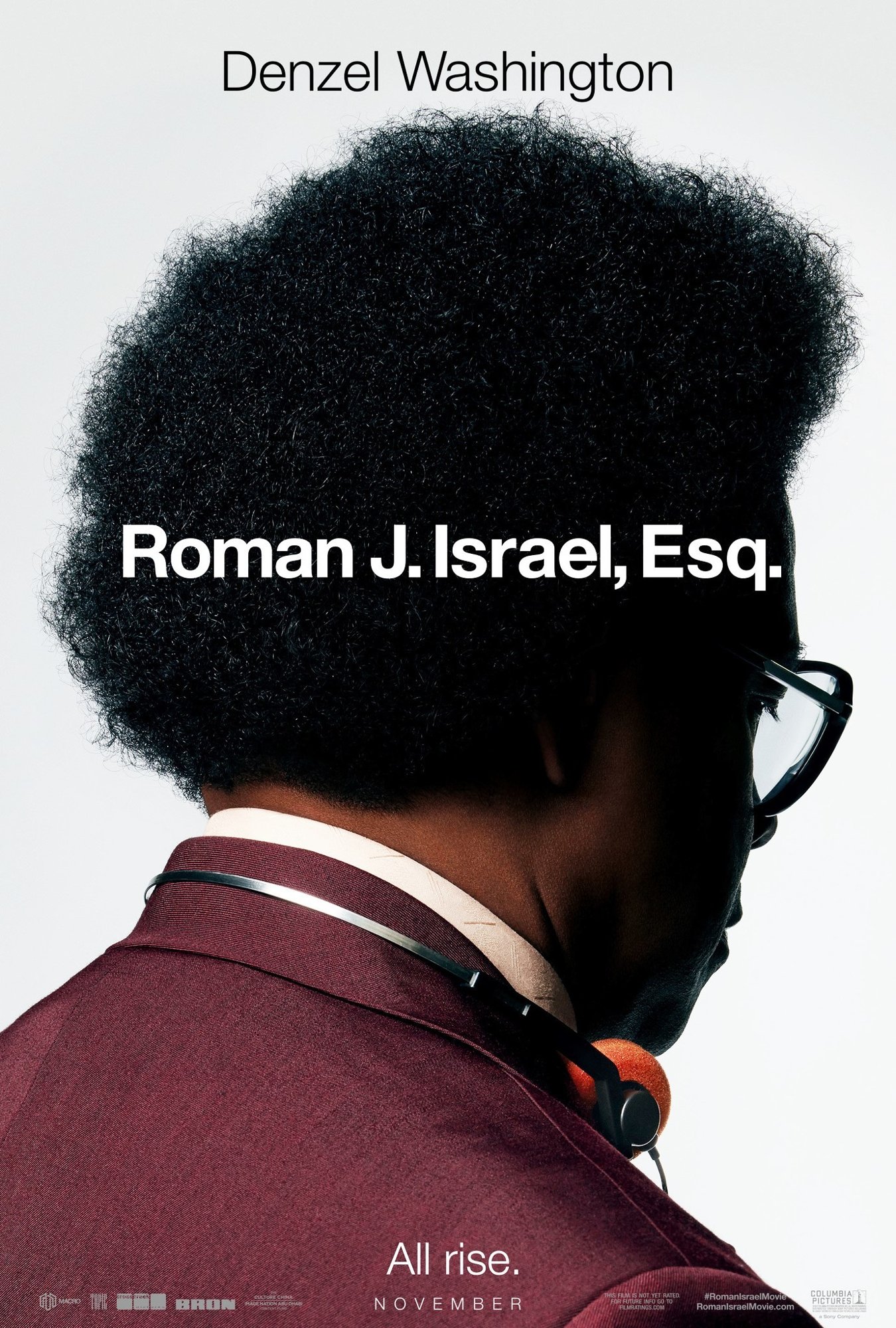 Don't let the system get you down. Even though it eventually will.
Roman J. Israel, Esq. (Denzel Washington) is a defense attorney living in Los Angeles who, despite his pure and inner-genius, doesn't really know how to deal with other people. It's why his mentor, for the most part, handles the clients and all that jazz, whereas Roman handles all of the paperwork, the stats, and so on and so forth. It's what's made them both successful over the years, while also allowing them to stay true to themselves as strong-willed, independent, and powerful black men trying to prove injustice within the system. However, that all changes when Roman's mentor dies, the firm is sold, and Roman is left without a job. That is, until corporate lawyer, George Pierce (Colin Farrell) shows up, likes what he sees in Roman, and decides that he wants him there for his firm, but obviously doing what he did before: Handling paper-work, stats, and all that jazz. It's what Roman does best and because he's at a much better firm, he's making a lot more money, which also means that there's a lot more temptation to do the wrong thing and get swept up in all of the fame, fortune, success, and most of all, corruption.
Roman J. Israel, Esq. is a few different movies rolled into one and jammed in altogether, they don't really work. One is a character-study about a guy, who is essentially "on the spectrum", trying to get by in a world that doesn't know what to make of him. Another is a formulaic, crime-thriller about a lawyer and his shady-dealings. And lastly, the other is about an older black man, trying to stay true to himself and the cause, even while it seems like the world around him could care less about him or what he's fighting for.
Through all of the mess, however, Washington remains a shining glimmer of hope. Not only does Washington take this role on, head first, but he makes Israel's constant quirks and trademarks, interesting. We get the feeling that this man's had an issue with people all of his life, but when it started, why he's still like that, and what he does on any normal day, is very interesting to watch. We get a sense that Israel's a very sad man who wants to do what is right, but at the same time, can't really make sense of how dark and evil the world can truly get. He's almost like a child; loud, a little bratty, rude, and despite dealing with some awful crimes, from even more awful people, a little naive about how awful the world is.
It's a terrific performance that is, unfortunately, trapped in a movie that, like Israel himself, doesn't always know what to make of itself.
That said, writer/director Dan Gilroy knows how to make this material, for the most part, work. You can tell that Gilroy wants to go deep into the mean and dirty corruption of the justice-system, but also wants to discuss race-relations, how a certain SJW can also lose themselves to a system that sucks them all up and spits them back out, while also not forgetting about Israel himself. The movie, for lack of a better word, isn't dull; Gilroy keeps things moving and compelling, even when he himself seems to be spiraling a tad out of control. Had the movie featured one or two dull subplots, then yeah, it would have been a problem, but they all do remain worth watching and paying attention to it.
It's just that, once again, in the context of the rest of the movie, it just doesn't fully come together. Washington, Farrell, and Carmen Ejogo, all remain great and help the material jump off of the screen, but Gilroy also gets a bit carried away, going down different avenues for his story, then back-peddling to his original story, when it's almost too late. It reminds me of that episode of Community when Abed was looking for a B-story to fulfill the whole episode, but rather than finding one, the A-story just continued and was interesting enough, therefore, making the B-story, inessential. That's how Israel feels: It's in search of more stories, more plots, and more conflicts, when really, one is enough.
One is all it needed.
Consensus: With all the different strands of plot going on, Roman J. Israel, Esq. can't help but feel jumbled and stuffed, but also gets by on being a compelling look at the justice-system, as well as an interesting character-study on its titled-character, played to perfection by a charming Washington.
6.5 / 10
Photos Courtesy of: Sony Pictures