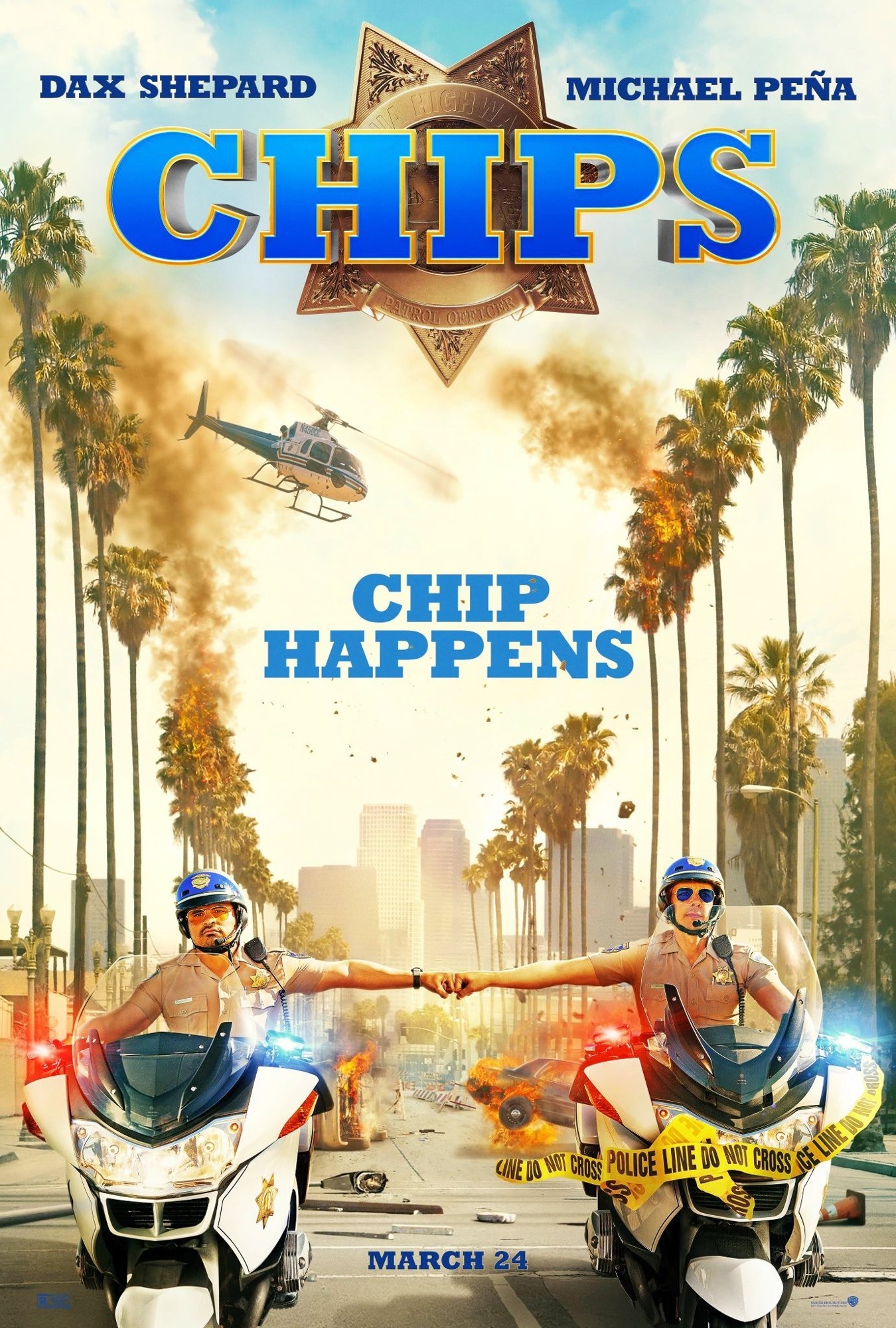 Cause idiot cops can still be funny in 2017, right?
Jon Baker (Dax Shepard) and Frank "Ponch" Poncherello (Michael Peña) have just joined the California Highway Patrol in Los Angeles, but for very different reasons. Baker is a former motorbike rider who's trying to put his life and marriage back together, whereas Poncherello is a cocky, undercover FBI agent who's investigating a multi-million dollar heist that may or may not actually be an inside job. The two are somewhat of opposites, with Baker being the far more touchy-feely of the two and even though they don't seem to necessarily understand one another just yet, they know one thing is certain: They absolutely have to nab the bad guys. But in order to do that, they're going to have to do some straight-up detective-work, that may or may not also include a whole lot of faith and trust between the two being exchanged. Baker's ready for that, but Ponch, when he isn't having all sorts of hot sex with the ladies, isn't.
Hollywood's got the bright idea that what the world needs right now are more and more of R-rated reboots of old-school TV shows. Whether the actual shows themselves were good, bad, or even memorable in the slightest, it doesn't matter – if they've got some form of nostalgia attached to them, Hollywood's going to take it over and bring it back to the mainstream, but with naughtier, louder, and much more current jokes. And Hollywood can't be blamed for this either, because with the success of 21 Jump Street, both commercially and critically, it's no shock that Baywatch and eventually, CHIPS were next on the list.
Did either of them need to be? Probably not. Especially CHIPS, though, and it's fairly obvious in the first ten minutes that this is going to be a misguided affair. Writer/director/star Dax Shepard, for some odd reason, may seem to have a love and passion for the original show growing up, because taking on triple-duty just doesn't work for him. What should have been a joyous moment in his life and career, honestly may have been a little too much to deal with, as the direction itself, while loud, bright and big, equals up to nothing. His script is even worse with jokes just not connecting at all, or bordering on mean and offensive, and his performance, while somewhat charming, also feels like it's him just doing the usual act we've seen from him, time and time again. And it's a shame, too, because Shepard's an actually likable guy who seems genuinely talented.
Why he wanted to make this movie so bad, is beyond me and it shows.
Sure, there's a few jokes every so often that connect, but not really as they're just the bottom of the barrel. There's too much gay-panic jokes that are trying to poke fun at the idea of gay-panic itself, but still seem to make fun of the idea of two men being close and intimate; women are clearly hated here with barely any female character being a nice person; the central-conflict and supposed villains never make any sense, nor do they ever seem existent; and oh yeah, everyone else feels wasted and somewhat bored. It's nice to see a great and underappreciated talent like Michael Peña get a lead role in a major motion-picture for once, but even he's saddled with a boring character who's main purpose to serve to the plot is that he forges no connections with anyone around him, sleeps around, is a bit of a jerk, and oh yeah, doesn't like touching dudes.
It's hack comedy for someone who isn't a hack and it makes it all the more disappointing to watch this go down. Cause even at 100 minutes, the movie feels at least three-hours longer than that, with a plot that never comes together, character's that feel false, and most importantly, comedy that's just not funny. The only person here to blame is Dax Shepard, since this seems to be his baby, and it's sad.
Let's hope that he wakes up and does learn a little bit from this.
Consensus: Frequently unfunny and mean-spirited, CHIPS features an A-list cast and crew and saddles them with hack-jokes, a weak-story, and no reason for existing, except to hopefully make some nostalgia-money. And hell, it couldn't even do that correctly.
2 / 10
Photos Courtesy of: Warner Bros. Pictures