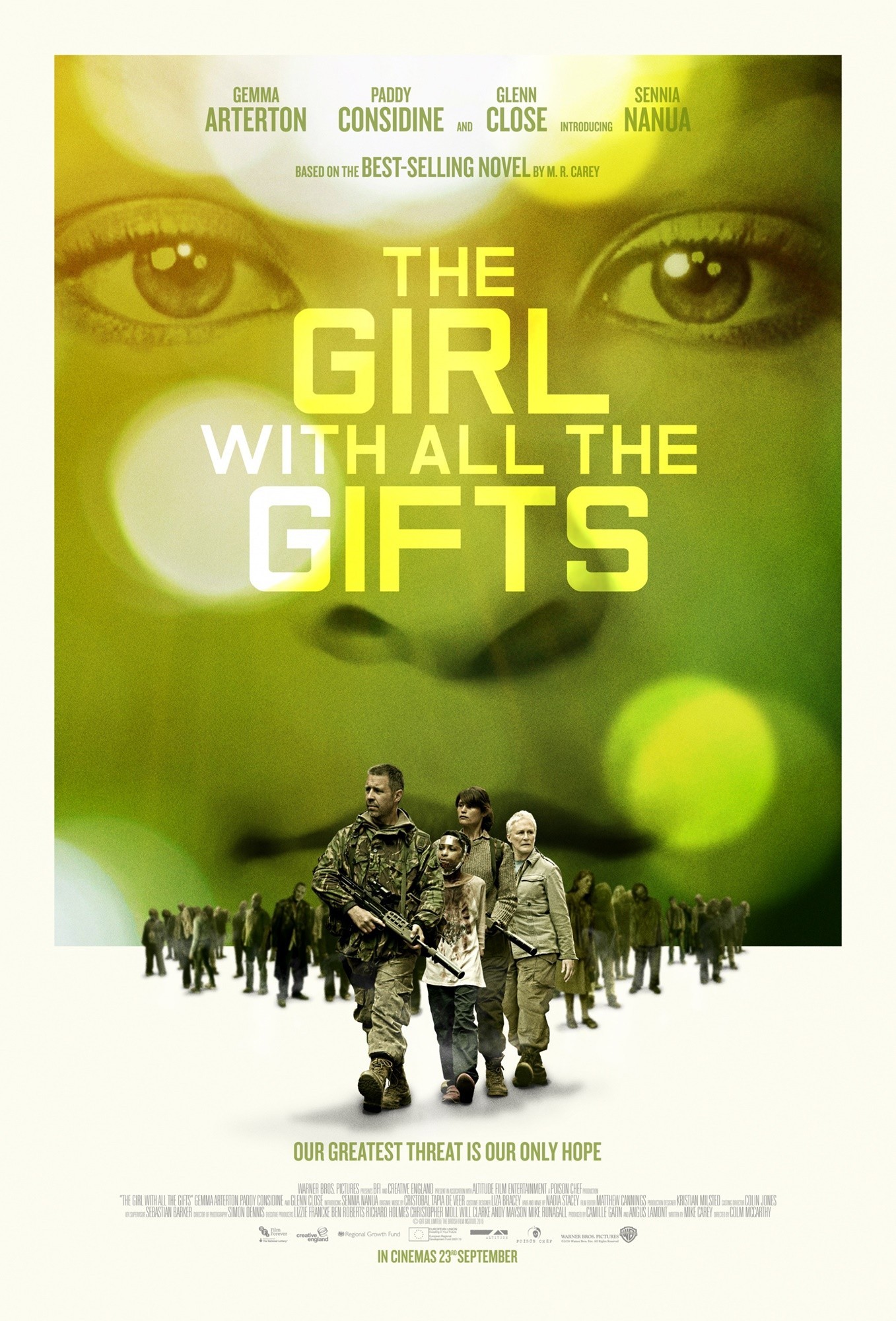 2017 proves that we may just need an apocalypse.
In the future, a strange fungus has changed nearly everyone into a thoughtless, flesh-eating monster. When a scientist (Glenn Close) and a teacher (Gemma Arterton) find a girl named Melanie (Sennia Nanua) who seems to be immune to the fungus, they all begin a journey to save humanity. Problem is, the outside world is quite dangerous and always ready to chow down on human-flesh.
With all of the zombies shows and movies out there, you'd think that we wouldn't really need something like the Girl With All the Gifts. After all, it's a lot like the Last of Us and already doesn't feel like it's going to go beyond just being about a bunch of unlikable people trying to survive in a post-apacolyptic world, where everyone and everything are flesh-eating zombies. It sounds conventional, formulaic, and downright cliche, but the way it all plays out, surprisingly, proves otherwise.
In fact, it almost comes close to greatness. Very close, indeed.
But still, it's a movie that deserves to be seen above all of the other zombie offerings because it doesn't ever seem to forget to be, first and foremost, scary. What the Walking Dead, Z Nation, and all those other zombie bits of pop-culture seem to miss out on is that they aren't really scary; they focus more on characters and hope that their lives hanging in the balance will be enough. They don't really work on mood, or actually having you fearful of what's going to come out at us, as well as the characters, next.
Director Colm McCarthy's style works on that and puts us right into a dark, twisted, scary, and absolutely depressing world, highly reminiscent of the same post-apocalypse pictured in 28 Days Later. There's zombies roaming everywhere, they're fast, they're angry, they're hungry, and oh yeah, they're scary. McCarthy always puts us in the dark of where the plot may go next, so that even if we don't entirely care for these characters, we're still interested in seeing where we are taken, what other mysteries of this disease are going to be unlocked, and whether anybody's going to make it out of this thing alive.
That said, the characters themselves, as limited as they may be, are interesting enough to where they do warrant enough attention to them. Gemma Arterton's Helen is sweet and sympathetic, but you never know whether to fully trust her to do the right thing or not; same goes for Paddy Considine's Eddie, who we actually start to hate, but soon understand and sympathize with because, well, he's been through a whole lot; Glenn Close plays the Dr. Caldwell who cares a lot about her research, but also doesn't fall into the convention of being the scientist who loses her head when the going gets dangerous; and Sennia Nanua, as Melanie, is perfect here. She's both cute and sweet, but also incredibly dangerous, too and it's hard to ever fully get close to this character, which is on-purpose. She is, after all, still a girl, but she does have a undying passion and love for the taste of human-flesh and it's always easy to forget, especially when she's going on and on about fairy-tales and bed-time stories.
It's perfect casting and hopefully, a sure sign that Nanua will be going on to bigger and better things.
That said, as solid as the movie is for the first hour or so, it does kind of blow off the rails by the last-act, which is easy to see coming, but still feels a tad disappointing. It seems like with most zombie-flicks of this nature, it's hard to stay so subtle and repressed that you can't help yourselves but to let a little loose with all of the blood, the gore, the violence, the twists, and the turns by the end, but so be it. Maybe times will change. Maybe not.
Oh well.
Consensus: With plenty of shocks, scares, blood, guts, gore, and great performances, the Girl With All the Gifts helps freshen-up the zombie sub-genre a bit, but also falls short of being a brand new classic. Darn.
7.5 / 10
Photos Courtesy of: Saban Films