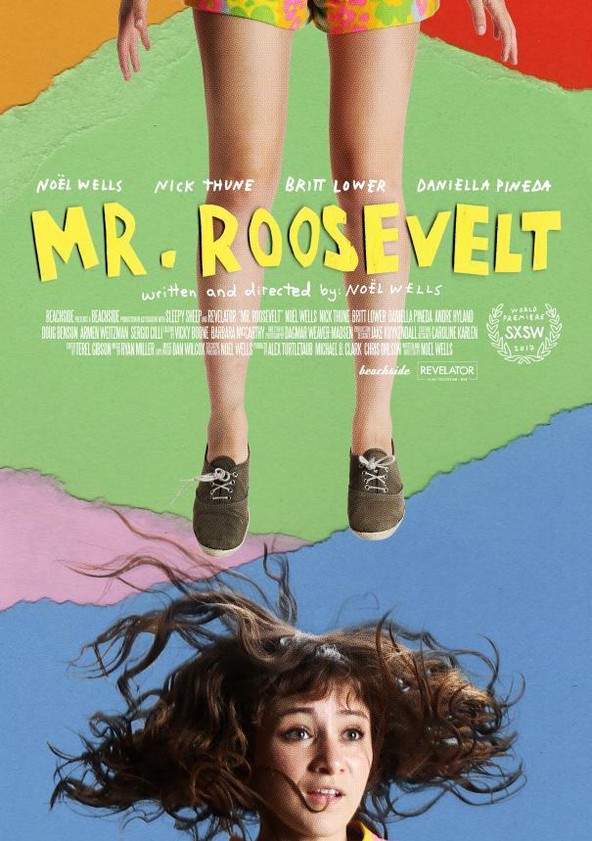 Felines have a way of bringing friends and family together.
Emily (Noël Wells) is a comedian who's trying to make it big in L.A., but in all honesty, it's just not totally working out. The gigs aren't really coming through and the ones that do, well, let's just say that they're not the best to put on a reel. And to make matters worse for Emily, she receives a call that her cat, Mr. Roosevelt, is ill and dying, back at home, in Texas, with her ex-boyfriend (Nick Thune), and his current girlfriend (Britt Lower). Immediately, Emily gets on the next flight home and realizes that she doesn't really want to go back to L.A. just yet; instead, she'd much rather find herself again, even if that also means having to live in the same house as her ex-boyfriend and his girlfriend. Not the best situation by any means, but they all try to make it work, even if Emily can't get past being stuck in life and not really understanding just where the hell to go, or how to get there.
Basically, it's another coming-of-ager about a person, in their 30's, trying to figure out what the hell they want to do.
And so yeah, we've got a lot of Mr. Roosevelt over the past few years, but there's an authenticity, heart, emotion, and above all else, a sense of humor that makes it a step above some of the other more annoying, millennial entries. Writer/director/star Noël Wells seems like she's coming from the heart here and really has us understand just who this person is, right from the very second we get to meet here; while we don't really know too much about her other than that she's young, stuck, and a tad confused, it's not that hard to sympathize with her, either. Wells herself is also so lovely and charming that really, making this character unlikable would have been incredibly hard to do.
After all, it's Wells' film both behind and in front of the camera, and it shows. Mr. Roosevelt feels like a labor-of-love from everyone involved, with the budget not seeming all that high, the script not being all that ambitious, and perhaps the only real technical-feat of all is that it was shot on 16 mm film. But still, somehow it feels a slight step above what we're used to seeing with these kinds of dramedies and for that, it not only stands as an impressive debut, but a solid character-study of a woman who is a lot like all of us.
We're just not as likable as Wells, obviously.
But this isn't just Wells film, first and foremost, and she shows that, as a director, she isn't afraid to let the camera focus on someone else. Nick Thune plays her ex-boyfriend who seems like a bit of an unlikable wimp, who then proves to be much more interesting as the film progresses; Britt Lower, as usual, is likable and charming, even though she's playing this somewhat unlikable character; Daniella Pineda plays Emily's newfound-friend from home that is basically the comedic sidekick, but with a little more to her; and yeah, there's so many other lovely characters, it's hard to really list them all down.
Just know that Mr. Roosevelt is a good time, with good people, and a good message about finding yourself, not trying too hard to do just that, and not really getting all worked up about it not coming to you right away. It may not be a game-changer in the slightest, but for Wells' career behind the camera, it's a sure sign of things to come. Even if the more she directs, means the more she stays away from Master of None, sadly.
Oh well. Can't have all the pleasures of the world, I guess.
Consensus: Mr. Roosevelt is, yet again, another coming-of-age dramedy about a 30-year-old realizing their full-potential, but with a solid amount of heart, humor, and charming performances, it works a lot more than some of those nauseating experiences.
7.5 / 10
Photos Courtesy of: Paladin Films