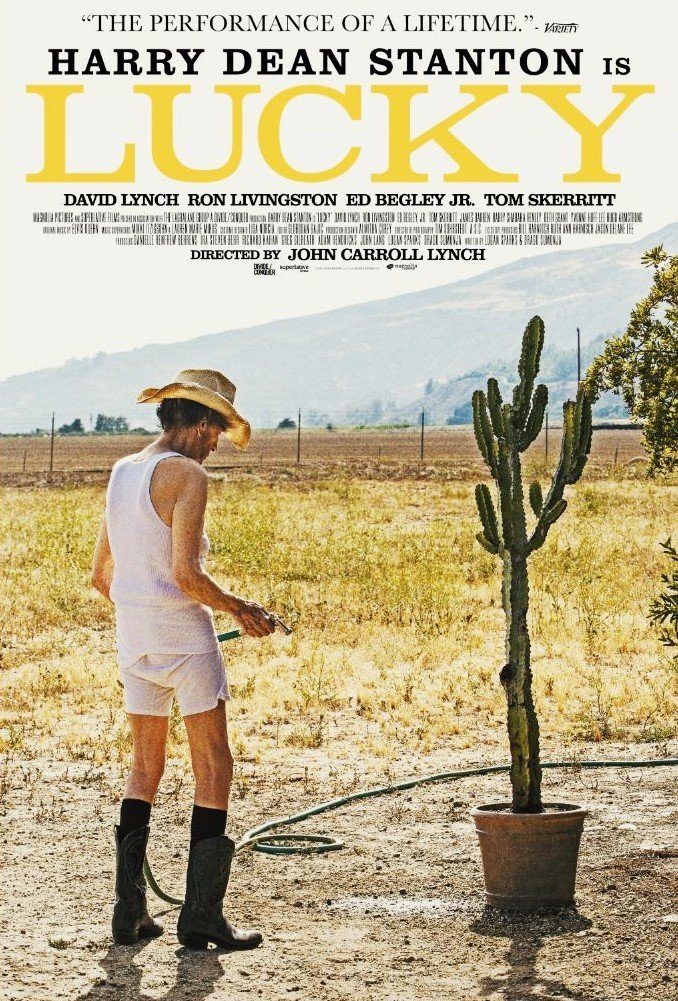 Realism truly is "a thing".
Lucky (Harry Dean Stanton) is 90 years old and believe it or not, feels fine. He can't move his body like he used to and sure, it's a little creaky every so often, but for the most part, he's getting by just fine. He spends most of his days doing the same things, like waking up and getting a coffee. Then, he watches game shows on TV and tests his knowledge. And then, lastly, he ends up at the local bar, where he wants to smoke, but doesn't. Instead, he sits around and waits for someone to have a stimulating conversation with him, whatever it may be, or about whatever.
Lucky doesn't have much of a plot and that's actually fine. All it really needs is a solid bit of characters, good performances, and a sweet sense of time and place and it gets by just fine. Making his directorial debut, legendary character actor John Carroll Lynch seems to know how to let a story like this play itself out; he takes his time enough to where some could say it's "boring" and "slow", but really, it's just languid and it fits with everyone and everything else here.
Especially the one, the only and the late Harry Dean Stanton himself.
And yes, it's pretty crazy to watch this movie and realize that this would end up becoming Stanton's swan song, but it feels so incredibly fitting. Stanton himself has never really gotten the chance to have a movie all to himself and it seems like, even at age 90, he was due; the role doesn't really challenge him, or stretch the talents we know him for, but it doesn't necessarily have to, either. All it has to do is offer us another great glimpse of the never-ending and charming talents of Stanton, why he was great, why it was always nice to have him around, and why, above all else, he will be missed.
And yes, like I said, Stanton's pretty great here. He's charming, wise, and seems like he's years above everyone else that he meets. But the movie is smart in that it isn't just about Lucky and his life, as it's also about the people he runs into on a daily-basis, most of whom put up with him and have been doing so for quite some time. Some will be happy to see David Lynch show up in a cooky-role as a guy looking for his tortoise, others will be happy to see Ron Livingston show up as a life-insurer with a huge mustache, and others, like myself, will be happy to see a nice little Alien reunion between Stanton and Tom Skerritt, in one of the movie's sweeter scenes.
But the movie isn't just about one character over the rest – it's about all of them and it's why it's so sweet.
Carroll Lynch and co-writers Drago Sumonja and Logan Sparks seem to understand how to get the heart of this tale, but never playing their hand too much. Some may not see this as having much of a point, or better yet, not really being about much other than just a bunch of old people talking and yammering on about things that can kind of seem random, but it really isn't. It's about watching life pass you by, understanding that reality, moving on, and doing whatever the hell you can to make the best of it while you have it. It sounds cheesy, in retrospect, but Lucky, the movie, as well as the character, aren't and it's why it's a small joy of a movie.
And it's why we'll forever miss the talents of Harry Dean Stanton.
Consensus: Sweet and sultry, Lucky is the kind of small and oddly charming movie that works best because of its time, attention, care, and solid performances, especially from the late, great Harry Dean Stanton.
7.5 / 10
Photos Courtesy of: Magnolia Pictures