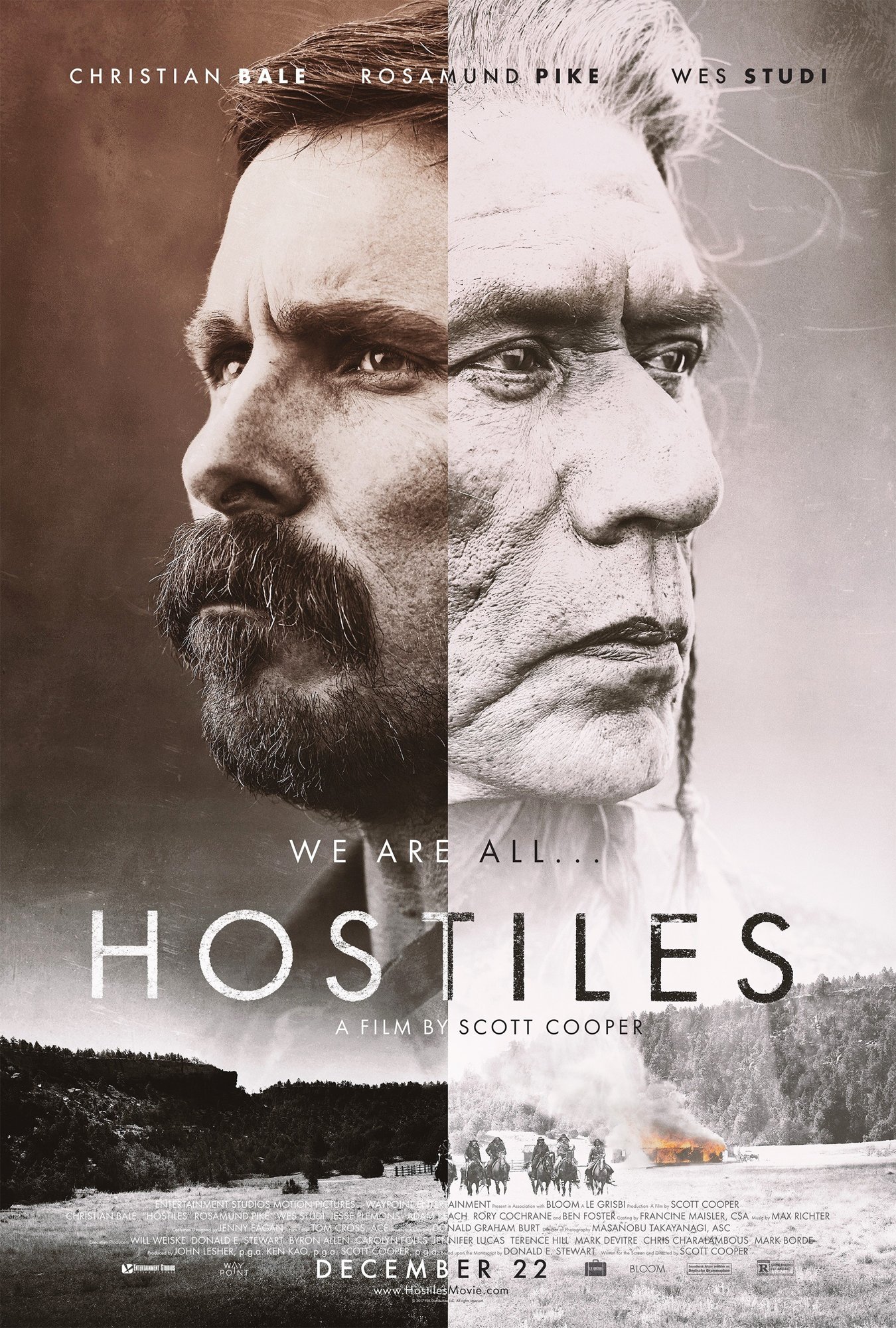 Wish I could say we treat Native Americans any better.
It's 1892 and legendary Army Capt. Joseph Blocker (Christian Bale) is coming closer and closer to retiring once and for all. He's seen and done a lot of crap that would take its toll on any man in his own right, and for Blocker, who is no doubt messed-up in the head, he's done. But, asked by his superiors, there's one last mission for him to take out and it's one he reluctantly agrees to on the basis of self-respect: Escort a dying Cheyenne war chief (Wes Studi) and his family back to their tribal land. Why does he not want to do it? Well, it's the near-end of 19th century and let's just say that Native Americans weren't all that loved by practically anyone in the deep and dirty West. But still, orders are orders, which means Blocker, along with a great deal of his most trusted-soldiers, embark on a journey from Fort Berringer, N.M., to the grasslands of Montana. On the way, they encounter a young widow (Rosamund Pike) whose family was killed on the plains. But that would only turn out to be one small surprise, on a journey that would soon bring many, many more to come.
Hostiles is the rare kind of Western that isn't really a Western, at least not in the general sense. There's not much gun-play, there's not all that many trips to small towns, or even really that much conflict. It's a movie that plays by its own rules and moves to the beat of its own drum, which is cool in a sense, but when it's actually playing out on-screen, shocker, it's kind of a bummer.
Like a huge bummer.
And coming from director Scott Cooper, it's a bit of a disappointment, because even though he doesn't have the best track-record around, he's still a solid enough director to keep things interesting, even when they're not. In Hostiles, the story is moving at such a slow, languid pace, it almost feels like it's going to end up everywhere, but nowhere, even if we're already told a clear-objective up front. Sure, it's admirable that Cooper's trying to make the anti-Western, in that there's not many conventions and the movie's much more about grief, sadness, and depression, but when you're movie's a little over two hours and feels like it's about three, it's a bit of a problem.
Which isn't to say that there isn't a lot of good stuff to find in Hostiles, cause like with Cooper's other flicks, there's always a few great sequences every so often. The only issue is that they're strung along this rather long and melodic movie that never picks itself up. It can, often times, be gruesome, intense, and a little dramatic, but these scenes, how few there are, happen about ever ten minutes or so – the rest of the time is spent watching as these characters travel from one spot to another, all to a slow-tune. That may work for some people who are expecting a whole heck of a lot different from their Westerns, and usually I'm in that boat, but here, it just didn't get me as involved as I would have liked.
The only real benefit to this direction is that there's more attention on the performances, all of which are great, including Christian Bale in a shockingly un-showy role.
For one, it's nice to see Bale dial things down, almost to the point of where he's practically a mute. But his silence works well for a character who, we're told early on, was a bit of a reckless savage in his war days and has done all sorts of hurtful, dangerous, and downright violent things. He gets celebrated and praised as a "hero", but you can tell, just by looking into Bale's eyes throughout the whole thing, that there's something truly messed-up about him and the movie, as well as Bale himself, are both very subtle about that. It's the kind of performance that saves a movie, because it makes you interested in seeing what happens next, if not especially to the rest of the movie, but to him.
And the rest of this ensemble is pretty good, too, although, it's such a huge ensemble, there's only so much love and praise that can go around. Rosamund Pike, like Bale, plays her role very grounded and quiet, to a devastating affect; Rory Cochrane has some truly powerful moments as a fellow-soldier of Bale's who may be just as messed-up as he, if not more; and Ben Foster, about halfway through, shows up to be crazy and almost steals the show. The only disappointment of this cast is that the Native Americans here (Adam Beach, Wes Studi, Q'Orianka Kilcher), don't really have all that much development to them, except that their stoic and in-touch with their spiritual side, or something. Maybe that was the point, but it seemed like a waste to just have them around, not give them much to do, and that act as if the movie truly cares about them at the end.
After all, it's kind of their story, isn't it? When will Hollywood ever learn?
Consensus: With such a slow-pace, Hostiles can take awhile to get used to, but with such a great cast, including a spectacularly subtle Bale, it's hard to fully not be interested in.
6.5 / 10
Photos Courtesy of: Entertainment Studios Motion Pictures