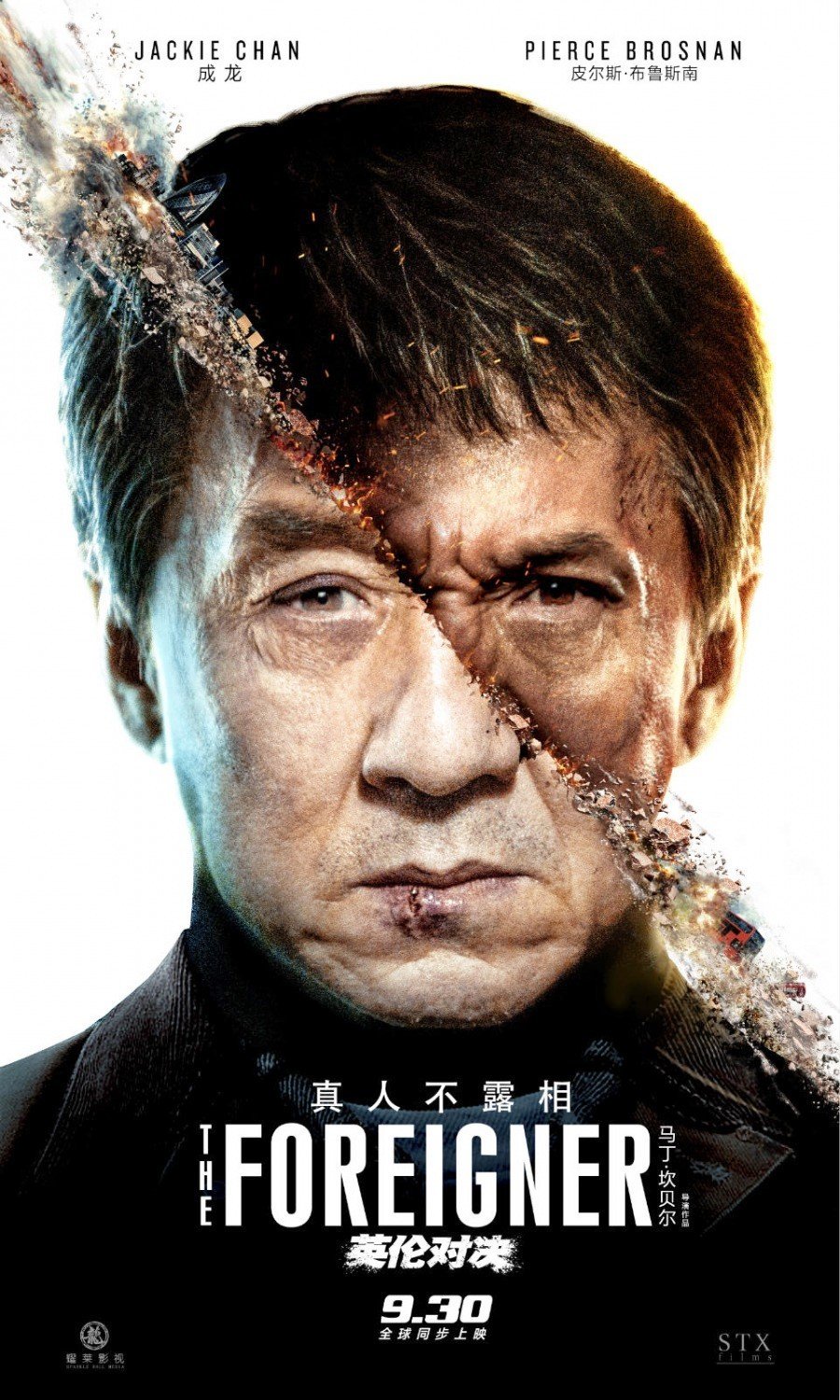 Who needs a green card when you can kick every citizen's ass?
Quan (Jackie Chan) is a humble and quiet British citizen who keeps to himself. Mostly it's due to the fact that he's lived such a hard life already, he wants to live out his remaining years in total peace and harmony. That all changes, however, when his daughter is killed in a near-by explosion, supposedly set-up as a terrorist attack that wasn't meant to be as devastating as it was. Quan's not happy about this, obviously, so he decides to set out and find answers anyway and anywhere that he can, by any means necessary. His trail of tears leads him to Liam Hennessy (Pierce Brosnan), a former IRA member turned politician who claims that he no longer has ties to the terrorist organization. But Quan knows better and doesn't believe this for one second and decides to take matters into his own hands.
The Foreigner is a whole bunch of thrillers, rolled-up and spat out into one. It's a Hong-Kong action-thriller; it's a conspiracy thriller; it's a dramatic thriller about loss, regret, and family; it's a small bit of an espionage thriller; and oh yeah, it's a bit of a pulpy, rather over-the-top thriller, too. All of them are fine, no doubt, but put together, it's a tad bit of a mess.
But coming from director Martin Campbell, it's a fine, fun, and old-school mess that feels like it was made with class and precision, even though it never plays out that way. Campbell knows a thing or two about these kinds of thrillers, and while there's maybe one too many strands of plot to fully work as one, cohesive whole, Campbell himself never seems to want to be bored. He keeps everything moving and at a somewhat lively pace, that even when it seems like we're harping on one plot for too long, he moves right on to the next one, in hopes that we don't take notice of how it doesn't really fit together all that well.
Like a true pro, that Martin Campbell.
But what's perhaps most interesting about the Foreigner is how it takes two of the world's most recognizable action-stars of yesteryear, and puts them in roles that you don't least expect to see them in. Pierce Brosnan, in what seems like forever, is playing an all-out, full-on bad guy and it's a great sight; he's angry, sporting an Irish-accent, and constantly seeming like his eyes are going to bulge out of his skull. It's the kind of hammy and over-the-top role that would normally kill any actor, but Brosnan is such a class-act, he seems like he's just genuinely having a ball and not caring who knows it.
Same goes for Chan, although, it's fair to say that if you've ever tracked down any of his Hong-Kong martial-arts films that don't star Owen Wilson, or Chris Tucker, then you know he's capable of playing these darker characters, with shadier morals than we expect. But as usual, Chan's good in the role, because it's less about him jumping, diving, and ass-kicking (which he can still sort of do, even at 65), but more about the sadness deep inside of the eyes. And you can see it all and it's a sign that even though he may not be able to do the stunts anymore, Chan still has some acting-muscles to stretch and work-out with.
But really, nostalgia is the real reason why the Foreigner works as well as it does.
The action, the twists, and the turns are all fine and make this movie a lot better than it has to be, but watching Chan and Brosnan up on the screen, shouting at one another without having to resort to fist-a-cuffs, feels like a nice diversion from everything else in the world. With so many thrillers turning into crazy, over-bloated messes, it's nice to get one that's lean, mean, and a little nasty.
It's still a mess, but hey, they can't all be winners.
Consensus: With an old-hat direction from Martin Campbell, the Foreigner feels like a solid throwback to the thrillers of yesteryear, with Brosnan and Chan putting in great work, and measuring up and beyond the rather convoluted and silly script.
6 / 10
Photos Courtesy of: STX Films