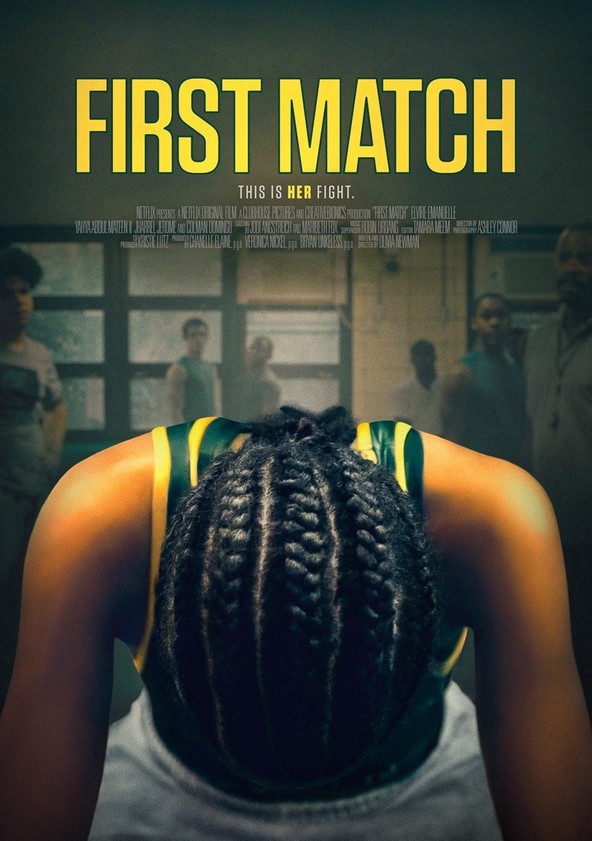 Fight the daddy issues away.
Mo (Elvire Emanuelle) has had a pretty rough upbringing. Raised in foster care ever since her dad (Yahya Abdul-Mateen II) got locked up, she hasn't necessarily gotten along with every parental guardian. She likes to scream, fight, bicker, and let everyone know what's on her mind, which is good for getting her point across and standing her ground, but it also rubs a lot of people the wrong way which is also why she doesn't have many friends, except for Omari (Jharrel Jerome). But Mo finally finds a way to channel all of that anger in professional wrestling, where she learns on how to lock, hold, and grab other people. And believe it or not, she's quite good, leading her high school to a crap-ton of victories, gaining new friends, getting along with her most recent foster-care mother, and even getting looked at by a few colleges. However, that all begins to change when her daddy is released from prison and Mo has to decide what's more important: The team, or her family?
After the disappointing Roxanne, Roxanne last weekend, I came to realize that perhaps coming-of-agers about young women growing up on the rough streets of NYC, while must-needed to be made and seen by the whole world, weren't always the best movies. That one was slow, meandering, and just downright boring, feeling as if it didn't have much of a story aside from all of the rapping and baby-mama drama. But that's why First Match feels like something of a breath of fresh air; it's quick, light-on-its-feet and a whole lot more dramatic, but never for once feeling as if it doesn't know what it wants to do, where it wants to go, or what it wants to say.
Does that mean it's not formulaic? No, because it is. But it's good formula that writer/director Olivia Newman doesn't try too hard to reinvent or change that much. What Newman shows best is that as long as you have enough heart and passion in the writing, sometimes, it doesn't matter how simple the stories are – they just need that the killer right-hook (and in this case, literally), to do the job and draw you in closer.
That's what First Match does and it's why it's a small-gem that Netflix needs to distribute more of.
But really, First Match also offers us a possible star-in-the-making with Elvire Emanuelle, as the young, smart, sassy, and brutally honest Mo. What's interesting about Mo and what the writing tells us about her, is that even though she's wise-beyond-her-years and seems like she has all the answers, the truth is, she doesn't; the screaming, the arguing, and the animosity she holds towards everything and everyone, is literally all because she hates the hand that she's been dealt. However, rather than accepting it, asking for help, and moving on, she turns on everyone around her, which makes her a fascinating character to watch and see grow, even when she decides that the world's not such an awful place to live in (for the most part, that is), and the people around her do genuinely care and love her. I've never seen Emanuelle before, but with this kind of ripe and raw performance, I hope to see a whole lot more of her.
Please.
Consensus: While simple and a bit by-the-numbers, except with a wrestling-angle, First Match is the kind of small, character-driven coming-of-ager that benefits from a lot of heart and most importantly, a solid cast.
7.5 / 10
Photos Courtesy of: Netflix