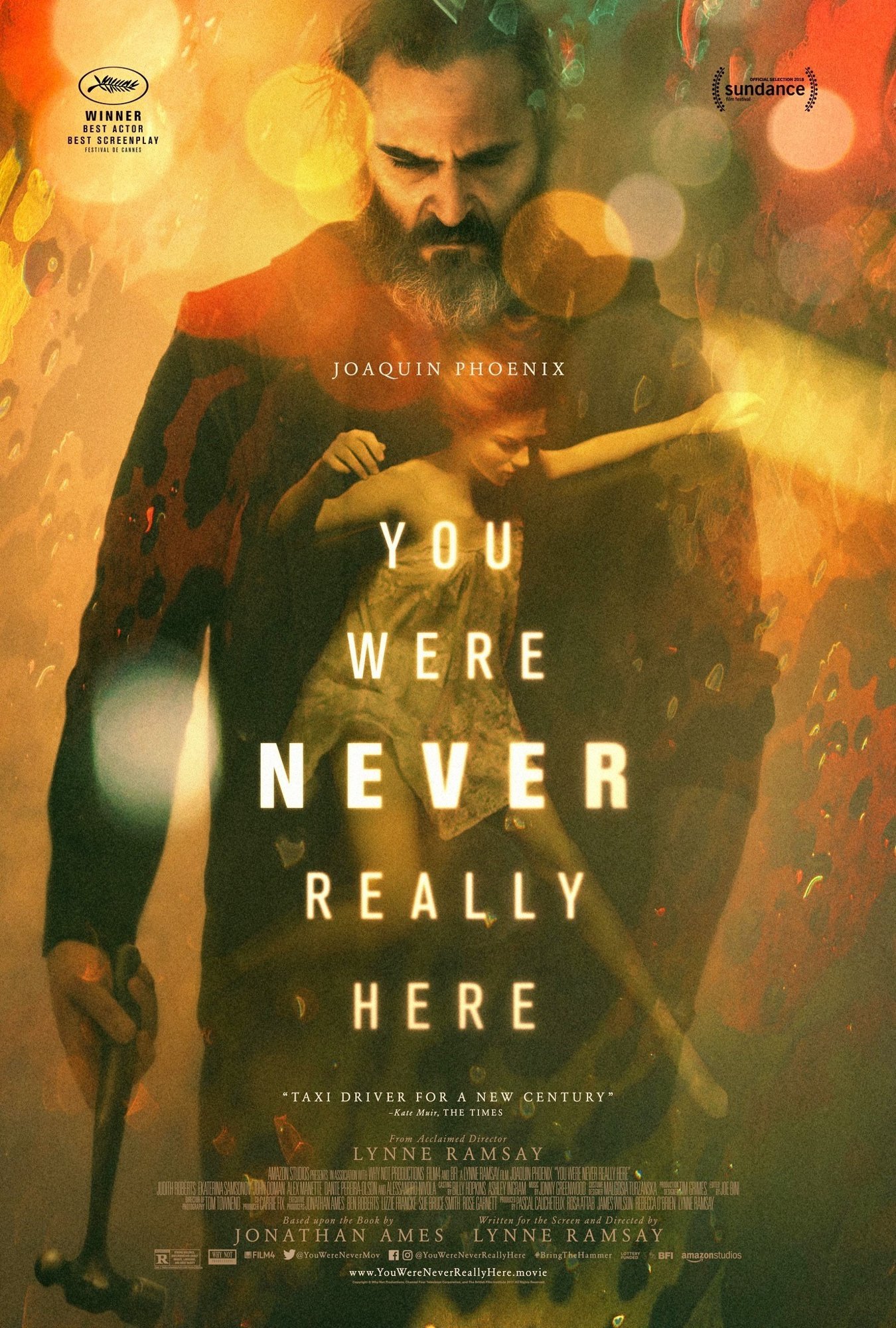 So that's what you use a hammer for?
Joe (Joaquin Phoenix) is a contract killer who has all sorts of demons inside of him. A war veteran and an awful childhood, he normally has hallucinations, daydreams, and nightmares about downright awful stuff and it's beginning to take a toll on his work. The one good thing about all of that is that he's about to get out of the business of killing people, but he's just got one more job to do so. The job: Save a Senator's daughter who has been sold into sex slavery and get rid of the bad guys who have hold of her. Joe has no problem with this, but he soon realizes that the job's a whole lot more complicated than he expected and it's what leads to some disastrous circumstances, some of which Joe isn't ready to expect.
You Were Never Really Here seems like a typical crime-thriller, in the same vein as Taken, but with Lynne Ramsay behind the camera, it's much, much different. It's the kind of movie that takes all of the brutality seen in those kinds of movies, doubles-down on them, shows the psychological affects, and never lets us forget that we are absolutely seeing awfully graphic and disturbing deaths on-the-screen. It's sort of like last year's Logan, where we finally saw blood whenever Wolverine stuck his claws into someone's face, as opposed to just seeing the action and violence, but for some reason, no blood.
You Were Never Really Here is like the grown-up version, in that sense, of Taken. But it's also so much more than just being bloodier and violent.
Ramsay has shown with her movies that she has an eye for beauty and detail, and even though You Were Never Really Here lands in some disgusting and ugly places, Ramsay always finds some beauty deep down inside. The whole movie takes place in the dark, dirty and gritty streets of NYC, that's not always near Times Square, or Manhattan, but instead, in shady alleyways, small apartments, and grimy hotel-rooms. And even the way it's shot, on crisp-looking film mind you, makes you think of the 70's thrillers it's clearly reminiscent of, where the streets were as nasty and as dangerous as you could get.
And I don't know why it took so long for them to finally collaborate, but Joaquin Phoenix and Ramsay make a great time. Her style is a mostly improvisational one, where instead crafting scenes deliberately, she mostly just places her camera down and allows us to watch as the scene goes from crazy, to absolutely insane. Phoenix's acting is a lot like that and it's why You Were Never Really Here, even in the small, quiet and subtle moments, is filled with tension and an air of uneasiness, because we never fully know where the movie's going to go, nor do we really know what Phoenix's Joe is all about. We trust him to do the right thing, but at what cost and how far he will go, we're not exactly sure of and it's what makes his performance the most compelling to keep us watching and interested in the 89-minutes we have here with him.
Consensus: Dark, brutal, gritty, and grimy, You Were Never Really Here is another violent, revenge-thriller, that also benefits from the beautiful direction of Lynne Ramsay and great performance from Phoenix.
8.5 / 10
Photos Courtesy of: Amazon Studios