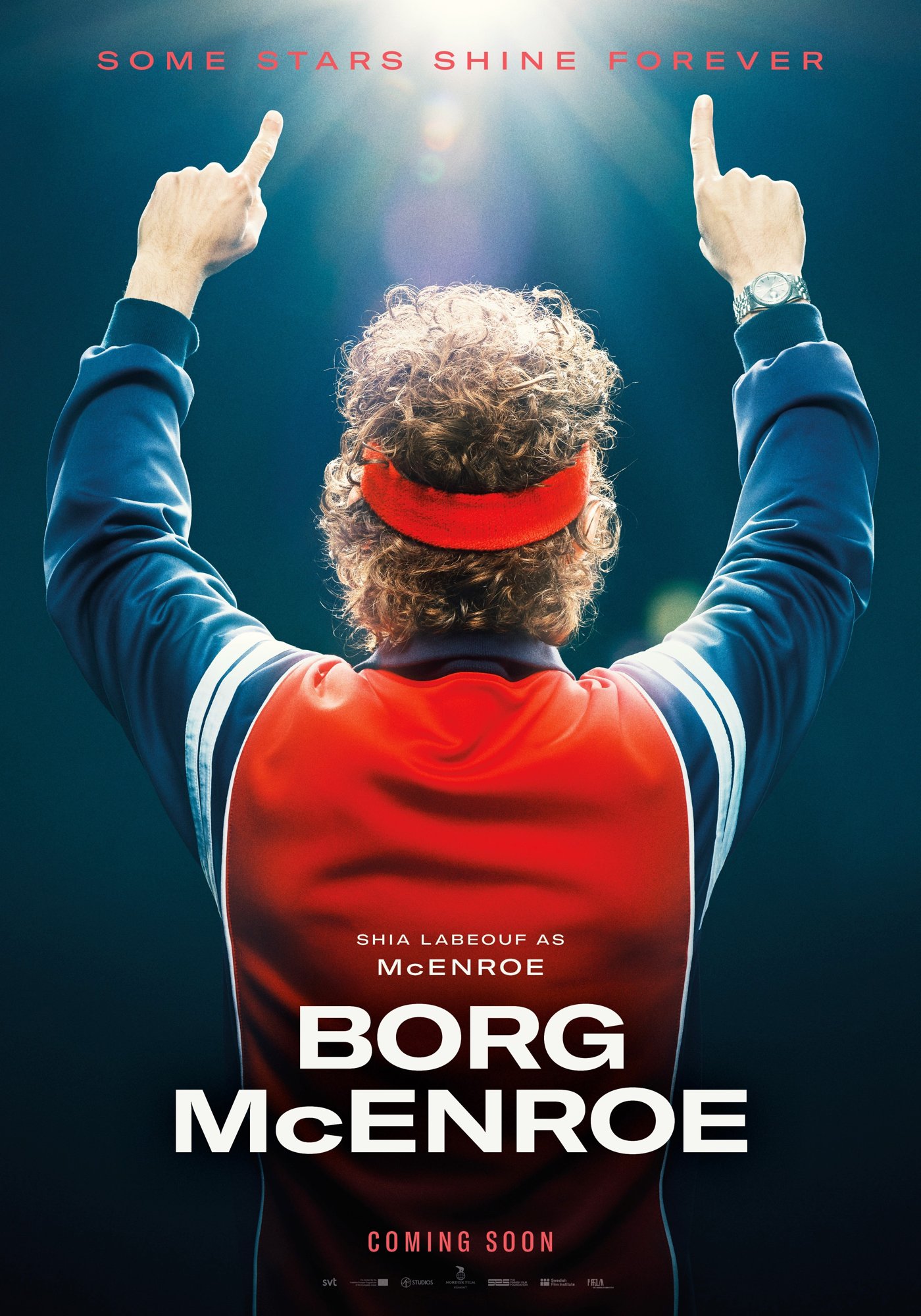 Finally, tennis has its Ali/Frazier. Or Tyson/Holyfield's ear.
It's the summer of 1980, and Björn Borg (Sverrir Gudnason) is the top tennis player in the world, dominating the sport both on and off the court. He's loved by any and all, and his wholesome, earnest and quiet personality is seen as a good representation of what the tennis world wants to be seen as. On the other side of the spectrum is John McEnroe (Shia LaBeouf), a young, brash, angry, loud, and sometimes violent representation of what the tennis world doesn't want to look like. Together, the two find themselves in a race to win Wimbledon, but also, to ensure that they figure each other out enough to give the other a real show. For McEnroe, he's tired of being put in the shadow of Borg, whereas with Borg, he's tired of having any shadow whatsoever and mostly just wants to chill out, relax, and live a quiet life – something that can't happen when you're one of the greatest, most recognized tennis players in the world.
Borg vs. McEnroe works mostly when it gets to the final showdown because we know it's going to happen, it's been promised to us from the first very shot and hell, even the title, and it's also great to finally see these two clash of personalities on the same court together. But it also works so well because the movie's fun, exciting, and unpredictable, even for those who know how the match ends and what lessons are to be learned. Director Janus Metz Pedersen does a solid job of keeping the sports at-bay, while also realizing that there's something of a human element driving these stories and this match as a whole.
However, it's just a shame that the only human he cared to focus on was Borg himself.
Although Gudnason is fine as Borg, there's something about the man's persona and overall sense of being that makes him just, well, dull. Maybe that's the point; maybe because he's hounded by literally everyone around him, he has no reason to really stand-out from the crowd or have much of a personality. Perhaps it's also because the real life Borg was like this, was dealing with all sorts of pressure, and really didn't have to worry about his loud personality to get him over with folks – it was all about his skills and technique. Which is fine, because that's how the real Borg was, but it doesn't make him all that much of a compelling lead character, but instead, much more of a solid counterpart to have a in a two-hander.
And yes, you'd think that's what this movie is, but it kind of isn't. Sure, McEnroe gets a lot of focus, but it's mostly Borg's and it makes the small, subdued scenes we have with him, feel incredibly out-of-place next to McEnroe's loud, over-the-top, and highly-charged ones. Of course, this is due to the personality of the real McEnroe himself, as well as LaBeouf's great performance, but it's hard not to notice these issues while watching; we want more of McEnroe because he's the guy we're supposed to love to hate, whereas with Borg, he's the guy we're supposed to love because, well, we're told to.
If anything, that just makes us want to hate him even more.
But it's really the interesting dynamic between these two that makes it work and puts Borg vs. McEnroe a step above most sports-dramas of this same nature. Could it have worked better as a documentary? Possibly. But as a big, ambitious, and starry-reenactment, it does just fine.
Consensus: As far as most sports-dramas go, Borg vs. McEnroe does a nice job in making you care, but mostly settles too much on Gudnason's somewhat dull Borg and not enough on LaBeouf's wildly entertaining and unpredictable McEnroe.
6.5 / 10
Photos Courtesy of: NEON