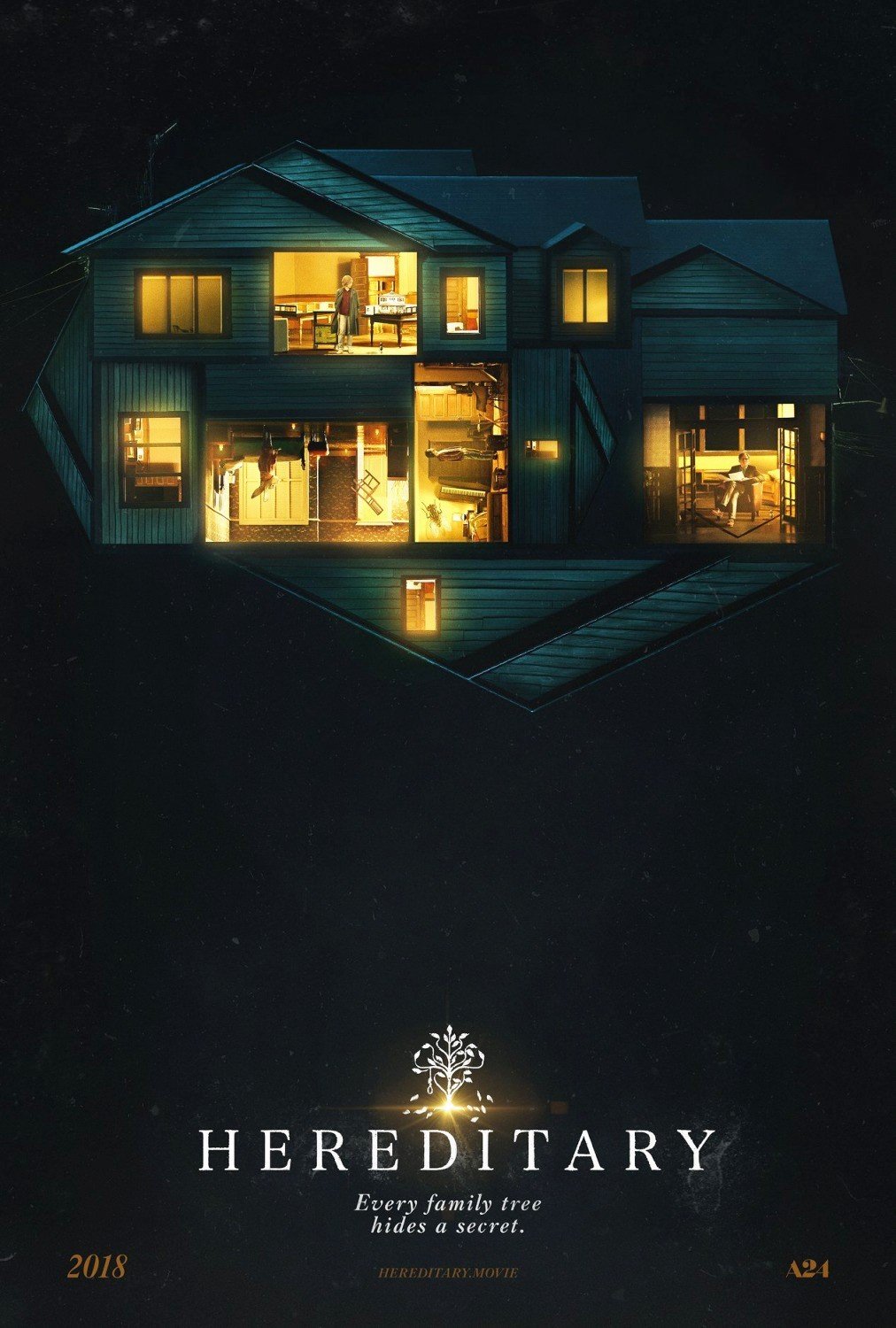 Families are weird in general. Who needs one?
After Annie Graham (Toni Collette)'s mother dies, she's sort of left without any real happiness. She didn't quite get along with her mother, had a really weird relationship, and most of all, didn't quite want to get along with her. Now that she's gone and away from this world, Annie doesn't know how to feel. Happy? Sad? A little bit of both? Regardless, her family is here for her to get better as the time goes on, with her husband Steve (Gabriel Byrne) proving to be there for her no matter what; her daughter Charlie (Milly Shapiro) proving to be the rock she's always wanted; and her son Peter (Alex Wolff), well, still giving her grief about who knows what. But as time goes on, she begins to realize that there's something odd about her mother's history that may affect her current family-situation and not for the good, either.
As per usual, it's hard to really talk too much about Hereditary without giving a little too much away and not being too vague. You want to write at great lengths about how creepy, unsettling, and weird it is, yet, you also want to say why it's all of these things and then some. But then again, you can't because you don't want to spoil a drop of it and not have your life threatened over it.
Yes, it happens.
But still, as it is, Hereditary is a very disturbing horror-flick that isn't what we're used to seeing from your typical horror-fare. It's a slow-burn in the greatest sense of the word, it moves at a snail-like pace, and doesn't always feature the kind of spooks and chills you'd expect from mainstream-fare. It reminded me a lot like It Follows, in that it was a scary movie because it knew how to get the audience all riled-up, but it also knew how to play around with expectations of what we normally expect scares to be.
In other words, there's no real jump-scares here with Hereditary and more often than not, there's just a constant building and block of dread and sadness. It's the kind of horror movie that won't get you all excited and cheering for something happening, but more or less, sinking into your seat as it continues to go on, the tension continues to mount, and the idea of not knowing just where the hell this story is going to end-up and why, settles in even more. Yeah, it's a pretty freaky ride, but it's know what you'd expect and it's one of the reasons why I dug it as much as I did.
It is also, above all else, a genuinely beautiful movie that writer/director Ari Aster seems to have created to perfection, even to the smallest, slightest bit of lighting. While horror movies aren't usually known for their inherent beauty because they're so busy focusing on the dark, the dirty and the grey, Hereditary is the rare movie that feels like it was mounted by people with a great deal of creativity and artistry, knowing what unsettles audiences by just a single image, and without really having to say much of anything.
In other words, if it's not nominated for any Best Cinematography award, I will be upset.
But what also sets Hereditary above the rest is that it does have fully-dimensional characters and tension between them that goes beyond just being about evil and demented ghosts and ghouls. Toni Collette gives one of her best performances as the matriarch of the family who never makes you feel easy for a single second. Clearly, even from the very beginning, she's a ticking time bomb that is ready to explode at any moment and when she does, you feel it and it makes you think of her character, as well as this family, in a different light. As with most horror movies, awards-attention kind of goes the way of the dodo come the season, but I truly do hope Collette gets some notice and praise for what she does here, playing a fully unhinged woman who is also relatable and honest enough to be considered a human-being nonetheless.
As for the movie as a whole? It's perfectly good and comes close to being great, however, certain issues keep it away from reaching the tip-top. It's the kind of horror movie that juggles a few different ideas and things at the same time, yet eventually, settles on one and it's probably the least interesting one of the bunch.
Said too much? Okay, I'll leave. Just know, the hype is well-deserved.
I think. I'm still processing.
Consensus: For all of its creepy antics, Hereditary remains a grueling, somewhat unsettling look at upsetting family-issues, but most of all, takes dread above all else.
8 / 10
Photos Courtesy of: A24