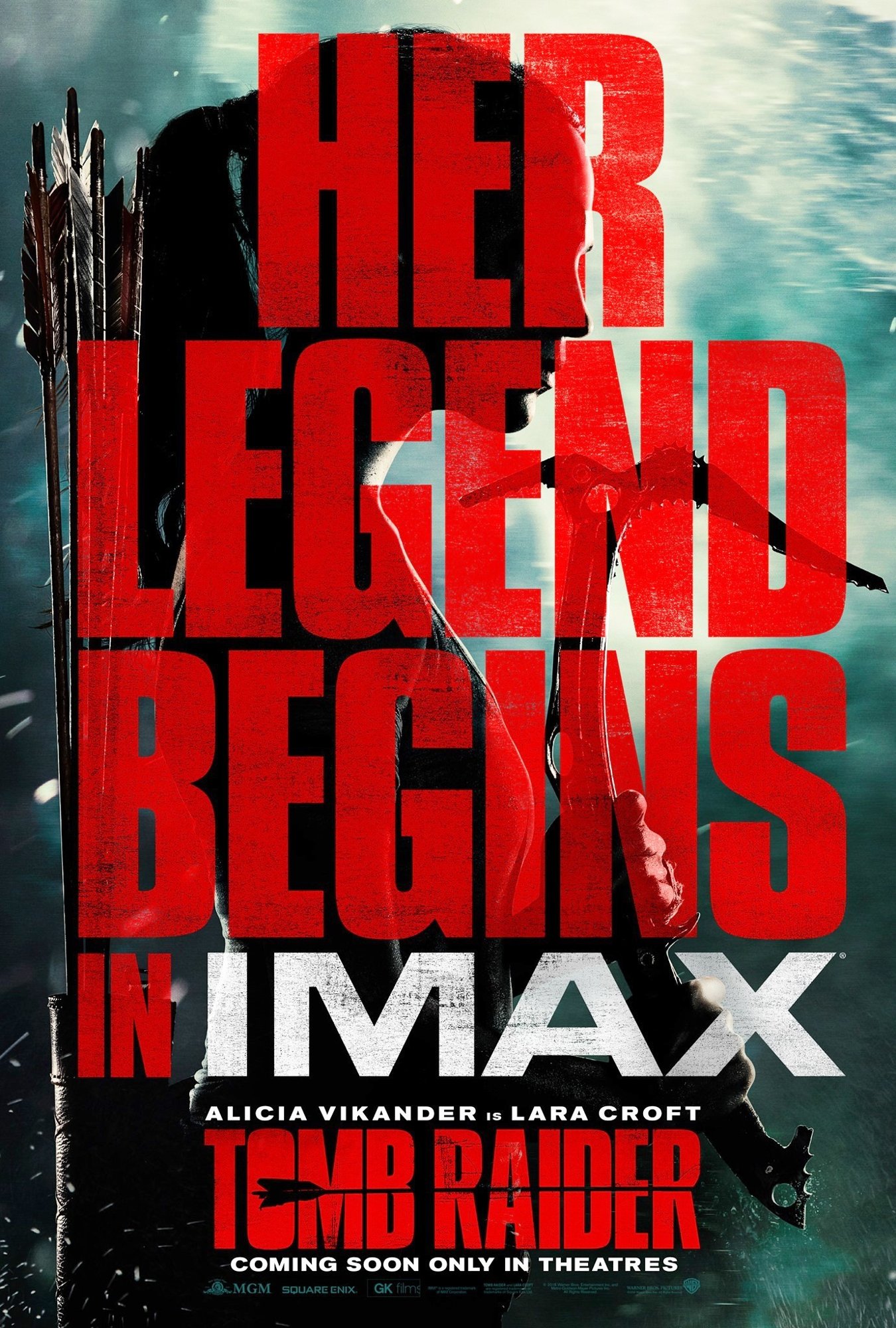 More sexism! Yay!
Lara Croft (Alicia Vikander) is just like any other 20-something living in London: She's young, full of spirit, sassy, and oh yeah, a bit of an ass-kicker. Literally. She also doesn't have much of an income to speak of but thankfully, that all changes when it turns out that her father 
(Dominic West) , who suddenly disappeared sailing the Sea of Blood in search of Yamatai, left her a fortune. Only issue is that he isn't dead, so now it's up to Lara and her newfound friend, Lu Ren (Daniel Wu), to not just find her dad, but also travel to an uninhabited island off the coast of Japan, and discover the tomb of Himiko, where they will hopefully live out the dream that Lara's father always had. Of course, however, they run into complications along the way and Lara wonders just what her legacy is all about.
Tomb Raider, or rather, the latest reboot, is doing something that none of these other dozens of video-game movies have done before and that's add a little bit of class to the proceedings. Sure, the budget's a bit bigger, the ensemble is a heck of a lot more respectful, and the film itself, while definitely goofy, is still a bit dirtier, grittier, and grounded than what we're used to getting. It feels like it was made by people who may actually care, or even if they don't, do a great job at hiding their passiveness.
That said, Tomb Raider is still far and away from being a great movie. But compared to what it's working against? In a way, it's almost a masterpiece.
But like I said, the bar is set very low and Tomb Raider just barely gets over said bar; it mostly all comes down to director Roar Uthaug for giving this movie a slightly more realistic-tone that makes it feel like Indiana Jones, but far more goofier. Which, in a way, is fine – it never takes its story too seriously, nor does it totally dumb itself down to help reach the non-gaming audience. It's making it just a pleasant ride for everyone, with as much of an effort as is possible, to wherever can at least be somewhat happy.
Is it still stupid? Yes, but it's not appallingly so, which isn't something I can say for the many other video-game movies out there. Cause even when it does eventually turn into a typical action-adventure story where there's a lot of jungles, mountains, caves, running and jumping, it never quite feels like a bore, as much as it feels like a been-there-seen-that, which of course, we have.

Then again, maybe that's the point?
I truly don't know. What I do know is that as an action-star, Alicia Vikander fits quite well in the role where she gets the opportunity to look tough and menacing, but also still remain likable all the way through. It's interesting that we live in a world where an arthouse-y actress can win an Oscar one day and automatically get offered lead-roles in big-budget, action-extravaganzas, but it's a world that I quite enjoy, as long as Vikander is willing to play in it.
Even others who show up like Walton Goggins, Dominic West, Nick Frost, Daniel Wu, Derek Jacobi (!), and Kristin Scott Thomas (!!) don't really feel like they're slumming, but showing up, giving it their all, collecting the paycheck, and moving on. It's cynical no matter which way you put it, but it's a business and as long as it doesn't entirely feel like such, then hey, it's all good. Still, I'll continue waiting for that great video-game to come one day.
Is it too late to reboot Max Payne, but the right way this time?
Consensus: Regardless of how goofy it gets, Tomb Raider remains a solid step above most other video-game movies with a grittier-tone and better acting, even if it still sometimes falls into the same pitfalls as other movies of its kind.

6 / 10
Photos Courtesy of: Warner Bros. Pictures