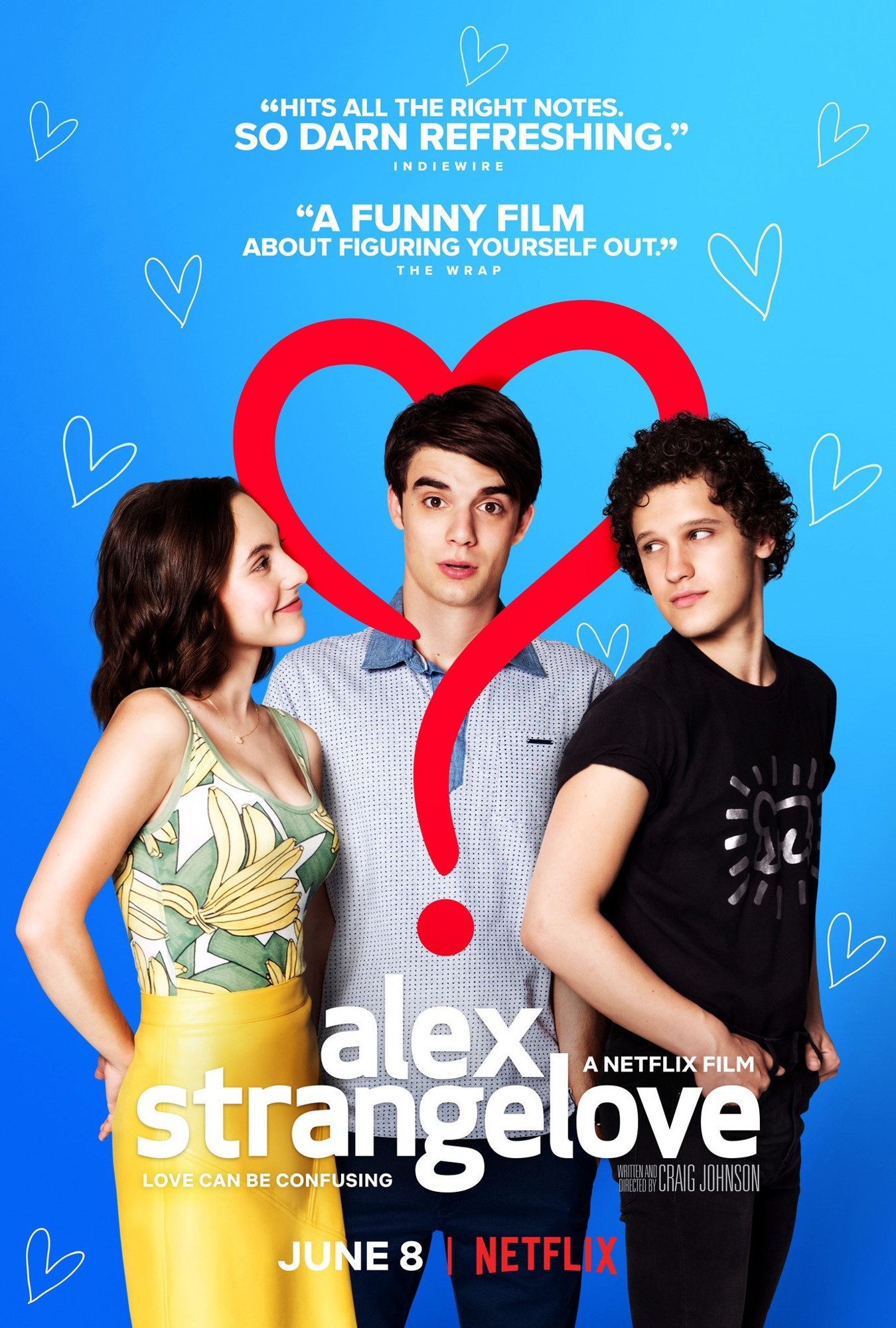 #MakeHighSchoolsGayAgain
Alex (Daniel Doheny) is a lot like other high-school kids his age in that he doesn't quite know where he wants to go in life, what he wants he to do, or hell, what he even likes. What he does know, however, is that he's in love with his girlfriend, Claire (Madeline Weinstein), and is also incredibly afraid to have sex with her. Which is odd considering that they've been going out for so long, but for some reason, they just haven't and are planning on doing it all very, very soon. But just as soon as Alex and Claire are about to get down and dirty like all teenagers do at a certain point, he meets Elliott (Antonio Marzial), a smart, and rather flamboyant young guy who Alex begins to obsess over almost immediately. And it gets him thinking: Is he gay? Is he bi? Does it matter as long as he's happy?
It's easy to see
 as the smaller, more indie-based take on the coming-out teen-dramedy that was Love, Simon and with good reason. It hits most of the same beats, it doesn't necessarily reinvent the wheel, and yeah, deals with love, sex, friendship, and growing up, just as that other movie did. Which isn't to take anything away from Alex Strangelove in the least bit, but it's somewhat hard not to expect a little something more out of something that's smaller and could have taken a ton of more risks.
Then again, it's charming and lovely enough to work, so who cares about what it didn't do, right?
Well, yeah. Writer/director Craig Johnson has tackled adolescent-sexuality before (True Adolescents) and it's interesting to see him play around with the conventions and the formula of the high-school flick. It hits the familiar beats, of course, but it also subversives them just enough that you feel like you're getting something that's a tad bit more original and not just spoon-feeding everything to its audience.

After all, it's a movie about coming out early on in life, in the 21st century, and being generally well-accepted by everyone around you. In fact, the only real conflict to be found in the movie wasn't whether or not his friends or family were going to accept Alex for being gay, but was whether or not he wanted to break his best-friend's heart and admit to who he really was. It shows that the conflict, while not always the case, can sometimes be inherent and not coming from an outside source, which is a positive sign to show that the world is changing and for the better.
Not always and not everywhere, of course, but hey, at least there's some progress, which makes it better than none.
As for the rest of what Strangelove has to offer, it's all perfectly fine and sweet. It's never too funny, never too dramatic, never too sexy, never too romantic, and certainly not too dark, but just the right amount of everything involved. It's not a game-changer in any sense, but it's a coming-out tale that feels honest, relevant and perfect for the times we're living. So yeah, who cares if it doesn't fully measure-up?
Consensus: 
Sweet and funny, Alex Strangelove takes a familiar formula and changes it around a bit, infusing a decent amount of heart to make it feel more honest.
7 / 10
Photos Courtesy of: Netflix