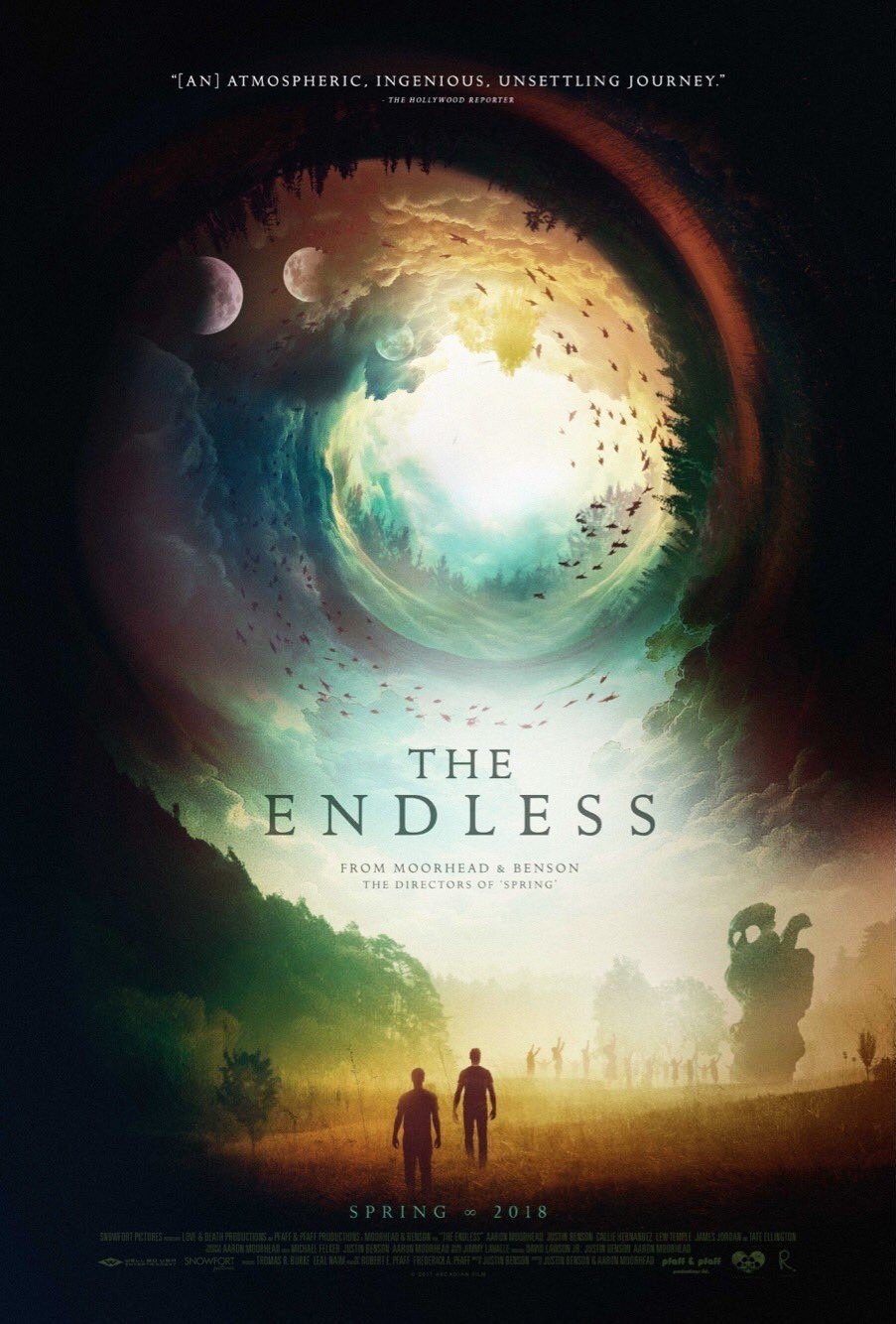 Time is just an illusion. Along with everything else.
Two brothers, Aaron and Justin (Aaron Moorehead and Justin Benson), receive a cryptic message inspiring them to revisit the UFO death cult they escaped a nearly a decade earlier. Hoping to find the closure that they couldn't from before, now that they're older, wiser, and hopefully, less impressionable and gullible, they decide to reconsider the cult's beliefs and check it back out. But when it turns out that the cult may have been right all along about what they're going on and on about, the brothers are stuck with a dilemma: Stay, or go? Better yet, if they want to go, are they allowed to? Or is it even humanly possible?
Aaron Moorehead and Justin Benson made quite a lovely little horror-flick a few years back called Spring, which literally came out of nowhere. It was smart, interesting, somewhat original, and definitely the kind of horror-flick made for people who don't care all that much about jumps, shocks, and scares. Sometimes, all they want is compelling characters, a reason to care, and something a little different than what they're so used to seeing from before.
Unfortunately, the Endless is not that kind of movie. Actually, scratch that, because it sort of is. But then again, it sort of isn't.
Let me explain: See, the Endless is a movie that definitely thrives on being weird and different from what we're so used to seeing with sci-fi/horror. But being weird and different isn't always a necessary quality; sometimes, you need a little something more like smart writing to go along with all of the creativity and originality. The Endless in and of itself has a solid plot that's ripe with all sorts of wacky and crazy ideas that could literally take itself anywhere it wants, but instead, really doesn't.
It doesn't just sit there as much as it gets continually confused about what it wants to say, where it wants to go, or what it even wants to be. It wants to be about an odd sci-fi flick about this time-paradox the brothers can't seem to get out of; it wants to be a family-drama about the strong bond between two brothers; and also, it wants to be a slightly creepy horror-flick about this cult who may or may not have sinister-intentions at-heart. It's a jumble of all these different things and it's never dull, it's just not nearly as cohesive as it should have been in order to work properly.
And it's a shame because you get the sense that these guys know what they're doing when it comes to blending together genres and tones. Because at its heart, the Endless is a bit of silly comedy that does deliver some well-timed, yet oddly-placed bits of humor. But when you put them together and in-place of the rest of the movie that wants to sometimes play it straight and serious, it doesn't fully make sense. You can't be both Back to the Future and Texas Chainsaw Massacre – sometimes, one has to go without the other and a change has to be made.
Sorry. I don't make these rules.
Consensus: While certainly not lacking in personality, sadly, the Endless loses itself with all of the wacky and wonderfully crazy ideas that it can't seem to get a firm grip on.
6 / 10
Photos Courtesy of: Well Go USA Entertainment