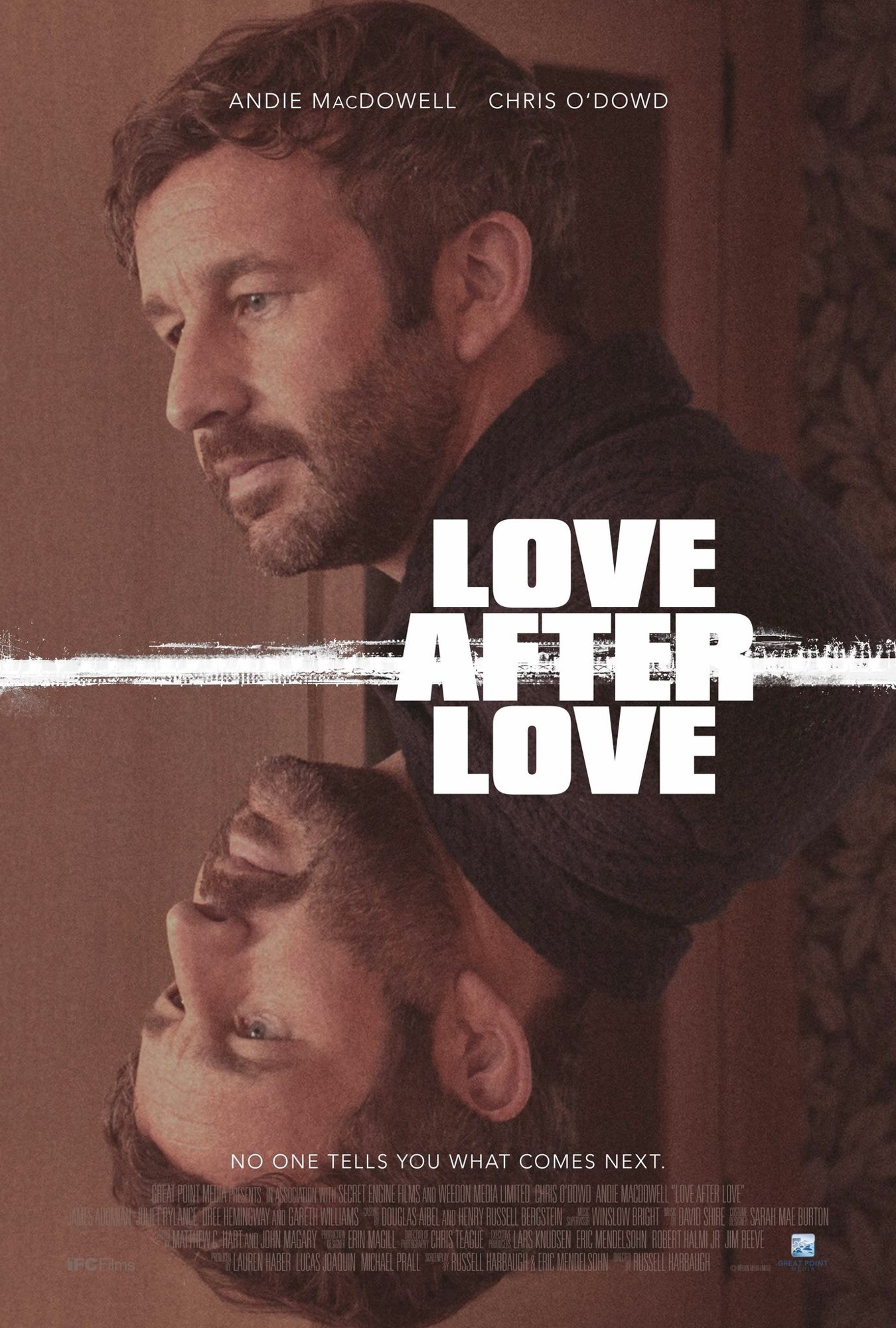 If this is what love is like, then yeah, I'm all good. Don't need it.
After the patriarch of the family suffers a stroke and not long after, dies, the wife (Andie Macdowell) and son (Chris O'Dowd) he left behind are left without much of any direction. Suzanne mostly tries to navigate through life, hooking up with gentleman her age, hoping that she can one day grab that spark once again, whereas Nicholas is trouble. He already breaks things off early with Rebecca (Juliet Rylance), to be with the younger Emilie (Dree Hemingway), yet, for some odd reason, he's not fully satisfied. Does any of this has to do with his father not being around? Or is it because he and his mother still harbor old feelings of resentment towards one another for their own self-destructive behavior?
Love After Love is mostly an actor's showcase if there was ever such a thing. Everyone here in this small, yet talented ensemble all bring a little something to these understated, sometimes thinly-written characters, giving us people we love to hate, yet somehow, can totally identify with. Writer/director Russell Harbaugh seems to know and understand that the best way for us to understand these unlikable characters a whole lot more is by actually getting us to identify with them, realize their faults, realize their strengths, and most of all, realize that they're human beings.
They feel real. They look real. And yes, they are real.
And like I said, the ensemble is definitely to thank for that.
While Andie Macdowell hasn't always been the biggest strength in most movies, she fits perfectly here as Suzanne, a rather lonely and depressed individual who, slowly but surely, begins to unravel and come out of her shell a bit, especially now since she has all of this newfound freedom to play around with. Macdowell does a lot of small, subtle things with the way her character carries herself from scene-to-scene, giving you the impression that she doesn't always know where she is, what she's doing, or even why, but there's always something compelling about her. We sympathize with her from the beginning, but watching her navigate through life, from man-to-man, looking for any sort of love she can find, is worth watching alone.
Then, you have O'Dowd's Nicholas, who truly steals the show. Already, we get the impression that he's a rather detestable fella who doesn't care to hold in his anger, bite his tongue when he should, and most importantly of all, keep his willy in his pants, but for some reason, we can't keep our eyes off of him. There's always something inherently about a character who is such a train-wreck and such a piece-of-crap that even when there's hardly anything redeemable about him, you still want to watch him as he continues to stoop lower and lower, until there's nowhere else to go. And O'Dowd, in perhaps his darkest-role yet, takes it and makes it all work wonderfully, not allowing us to see the O'Dowd we see and love in so many comedies.
Don't think I'll ever be able to watch the IT Crowd the same again. Damn.
Consensus: Love After Love remains a small, understated character-drama, that mostly benefits from a great cast who know what they're doing with anything small.
7.5 / 10
Photos Courtesy of: IFC Films