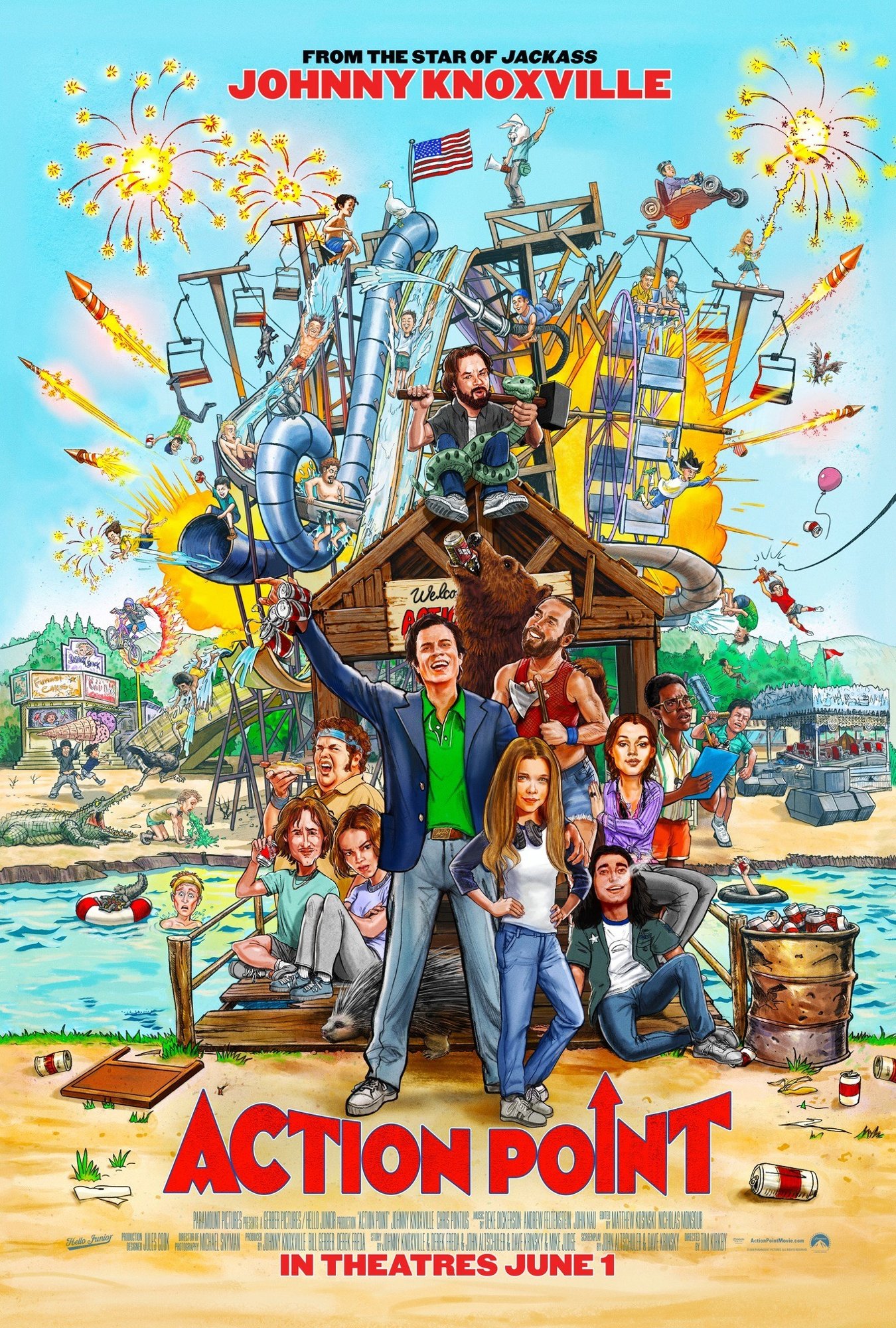 Six Flags is arguably better and more dangerous. Just saying.
D.C. (Johnny Knoxville) is a bit of a nut. He runs an amusement park called "Action Point", which advertises itself as being a place where there are no rules, the rides are dangerous, ill-equipped, and chances are, you're going to walk out of it injured. Parents hate it, politicians constantly berate it in the media, but the kids, the ones who matter most, love it and constantly go there, day-in and day-out. It's what makes D.C. famous and a little rich, but that all changes when he comes head-to-head with local corporations who want his park taken down and demolished so that safer, more conservative ones can take over. D.C. ain't having this and he'll do what he can to make sure Action Point stays alive and that the kids can finally have their final say. Oh, and also, he has to reconnect with his daughter, Boogie (Eleanor Worthington Cox), who he hasn't quite been the best of fathers to.
There's something sweet and endearingly charming about Action Point and how it's much more of a tribute to the late-70's, early-80's raunchy-comedies like Meatballs and Animal House, to name a few, that makes you want to like it. It reminds you of a simpler time when a lot of cursing, smoking, drinking, sex, and rebellion was all that you needed to laugh and have a good time, all away from the parents most likely. And had Action Point went down this road, then we would have something worth talking about and remembering.
But of course, it's a Johnny Knoxville movie which means that there has to be stunts and a lot of stupidity. And sure, that's exactly what Jackass is and there's nothing wrong with that; those movies still hold-up because of the sheer stupidity and the embrace of it all. However, with Action Point, the stunts don't really add much to anything here – Knoxville will fall, clearly be hurt from whatever lame-o stunt he just participated in, lay on the ground, moan for a short while, then there will be a cut, and he'll be back up on his feet in no time, as if nothing happened.
And "nothing happened", is probably what you could say about the rest of Action Point, honestly.
Cause really, that's the only real issue of the movie, is that it's just dull, boring and lifeless. There are a few inspired bits and pieces like with Chris Pontius playing Knoxville's weird and wacky sidekick, but really, he feels like he's not even acting – he may be just this weird and wacky. Knoxville, on the other hand, does what he can to salvage a pretty awful script and direction that tries to make him lovable and likable, much like Bad Grandpa did, but doesn't really capture of his inherent charm. Not to say that the guy isn't a good actor and can't make actual bits of comedy work, it's just that he feels bored here, one-note, and without much of a reason to really put much of an effort into it. All he has to do is hit his head, fall, break some bones, get concussed, and continue on.
It's a pretty sad existence for Knoxville honestly, and it's why he's probably still hankering for the next Jackass, even if, you know, nobody else really is.
But hey, maybe it'd be better than Action Point?
Consensus: While it means well, Action Point still doesn't offer any jokes, fun, or even enjoyment that could come with watching Johnny Knoxville run a self-destructive amusement park.
2 / 10
Photos Courtesy of: Paramount Pictures