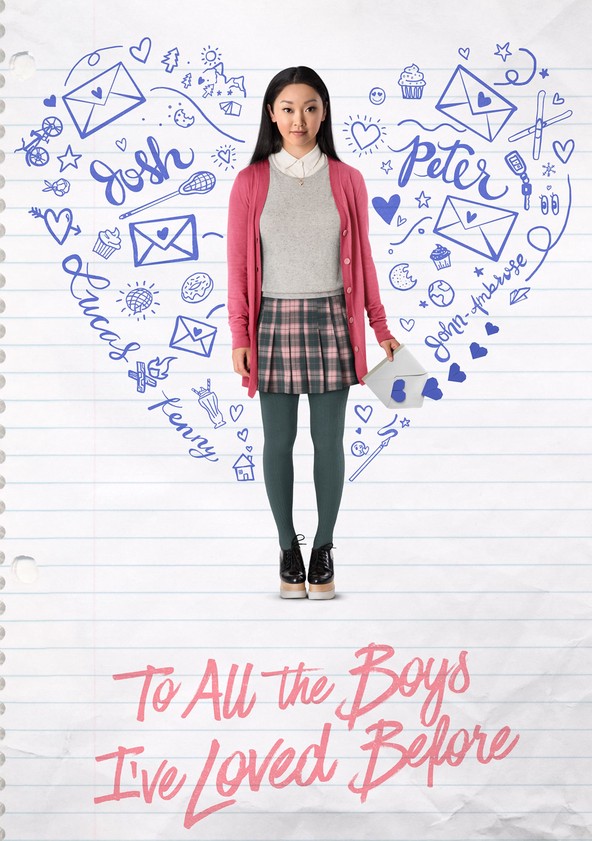 Long live Jake Ryan.
Lara Jean Song Covey (Lana Condor) is a high school junior and isn't nearly the most popular girl in high school. Hell, she's barely even known. Mostly, she keeps to herself, her one friend, and her two sisters, one older and one younger. It's not like she's truly living the best days of her lives, but she's fine with the way it is and doesn't really want that to change. That is, until she realizes that she may be head-over-heels with her sister's boyfriend, Josh (Israel Broussard), and doesn't know what quite to do with this. Does she capitalize on the fact that her sister is away at college and take her man? Or does she just let her love sit idly by and act as if it's not a thing? Well, as soon as her younger sister catches wind of her feelings, Josh receives a letter, letting him know of Lara's true feelings for him. But he's not the only one who receives a letter, as Peter (Noah Centineo), the high school jock who hasn't spoken to Lara Jean since their first kiss in 7th grade, gets one too and is equally just as shocked as Josh. However, he devises a plan: Act as if he and Lara Jean are going out, so that he can make his ex, as well as Josh jealous in the process.
What could possibly go wrong?
To All the Boys I've Loved Before lets it be known early on that it wears its John Hughes-influences on its sleeve and isn't going to make any excuses for it. And in a way, it's kind of admirable; rather than acting as if it's much better than all those other high school movies from yesteryear, it knows what it is, doesn't try to pretend to be anything it isn't, and moves on. Which works because, as a result, it's quite a charming little movie that, at the same time, offers literally no surprises.
Everything you expect to happens, guess what, happens. And even though there's some small twists on the rom-com formula every so often – like how Peter isn't a totally soulless d-bag – it mostly stays close to convention and doesn't try to reinvent the wheel. Most of the time, that's fine and as long as the proceedings stay sweet and charming, then who cares, right? And in the case of All the Boys I've Loved Before, everything stays sweet and charming, but once again, unsurprising.
Which makes me think: Should there be more here?
Director Susan Johnson takes this material that could have been easily cheesy and dated, yet still feels relevant to the tale of a young person coming-of-age late in their high school experience, realizing that they have more to offer, and most of all, looking at those around them a lot differently. Had the movie not been so focused on all of the romantic shenanigans of its protagonists, All the Boys I've Loved Before could have been a smart, almost alarming tale of allowing your high school years to flash by without really trying to do anything about it, but still can't help but be a movie about a girl trapped between two guys.
Not to say that there's anything wrong with the movie we get, but it does feel a bit like a cop-out, considering that there's the opportunity for some darker material to explore, but of course, the movie shies away from that almost immediately. Not that I blame it, honestly – this movie is made for the Netflix crowd, who will most likely want a fun, enjoyable little teen-flick and not something dark, daring, and frankly honest. But oh well.
Different strokes for different folks, I guess.
Consensus: Charming and sweet, All the Boys I've Loved Before works as an enjoyably light and frothy teen-flick, that also offers little-to-no surprises for those familiar with the genre.
6 / 10
Photos Courtesy of: Netflix