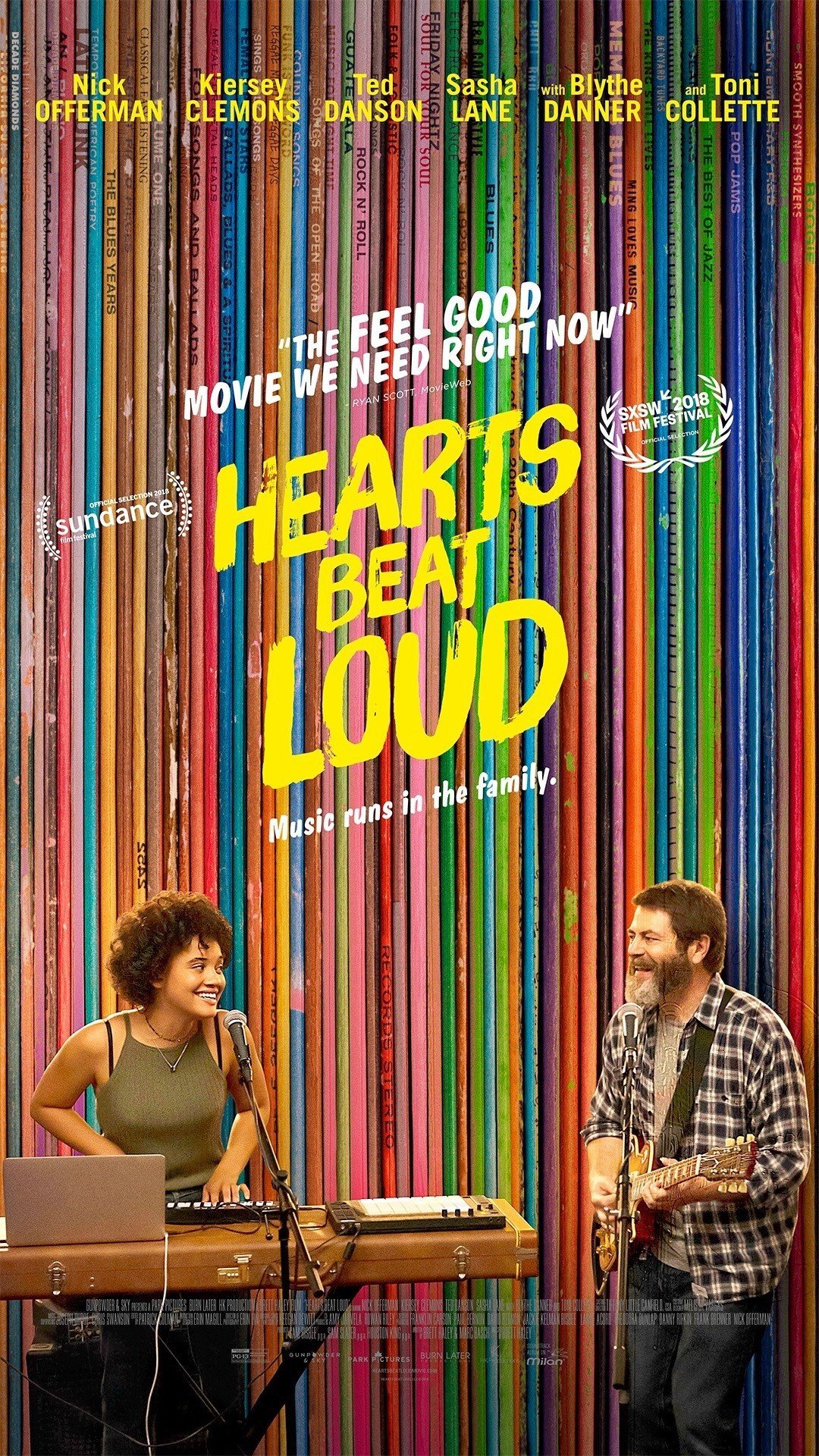 Sing a song. It makes the world go round?
In the hip and cool neighborhood of Red Hook, Frank (Nick Offerman) is just doing what he can to get by. His record-store hasn't been getting nearly the attention it used to, his love-life is practically down the drain, and he's up to his ears in debt. The only brightness to his rather dark life? Well, his daughter Sam (Kiersey Clemons), who is spending her last summer at home before she's off to med-school and where she will most likely be spending the next four years of her life. It's a reality that's been hitting Frank more and more recently, which also gets him wondering whether or not they should record some jams together, you know, just for fun. Well, they do and surprisingly, the song gets a lot of notice, leading Frank and Sam to sit and wonder what their next moves should be. Continue on with their lives as if it never happened? Or see if they can get that record-deal every musician always hopes and dreams of?
It's hard to hate a movie like Hearts Beat Loud because it's just so damn sweet, so charming and so heartfelt, you'd much rather give it a hug than anything else. Whereas writer/director Brett Haley's last film, the Hero, was a slow, downtrodden, sad, and somewhat boring character-study, Hearts Beat Loud is quicker, nicer, happier, and a lot more interesting because it features honest, well-written characters who feel like real people you'd actually meet on the streets of Brooklyn. They may not all be likable, or even lovable, but they're real and it's why Hearts Beat Loud rings true.
Not to mention that the song is pretty great, too.
But regardless, Hearts Beat Loud gets by on the fact that it actually has a little something to say about these characters and their relationships with one another. On the surface, Sam and Frank may seem like the most perfect father-daughter duo around, but they're still grieving and doing what they can to get by and connect like they used to. Their dynamic is a special one because they feel more of friends, as opposed to a parent-child relationship, making their decision to record some music all the more believable.
It also helps that Offerman and Clemons are pretty great, too. Offerman stretches his dramatic-skills more than ever here as Frank, a guy who's emotionally-scarred and clearly stunted. Through his small, yet telling scenes with Toni Collette's landlord character, we see a guy who's trying to get back on the saddle, so to speak, but also trying to rebuild something resembling his life. It's why the band makes so much sense for him and it's why we feel for him and sort of want this band to get off the ground, even if we know it would be totally irresponsible of him, especially as a parent.
And Clemons is good, too, playing Sam, the daughter who's got a lot of decisions to make on her plate. Cause along with college and the band, she's also falling in love, with a character named Rose (played by Sasha Lane), and it's quite sweet and beautiful to watch. It also helps create a genuine tension, pulling Sam one way, while her father pulls her the other and it keeps you guessing, all the way until the very end.
And you'll just have to see for yourself on that one, friends.
Consensus: Sweet, heartfelt, and well-acted, Hearts Beat Loud works as a dramedy of when it's time to give up, and a time of when it's time to grow up.
7.5 / 10
Photos Courtesy of: Gunpowder & Sky