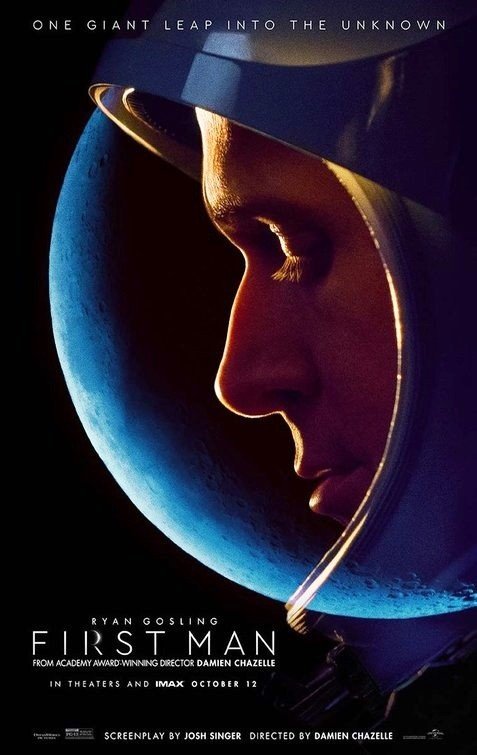 NEEDED. MORE. AMERICAN. FLAGS.
It's the early-60's and the U.S. is all about wanting to get into space. Why? Well, because the Soviets are making it pretty clear that they want the same thing and can probably do it before us, making the U.S. government more inspired than ever. The only problem is that they have to work out a lot of kinks beforehand, which also means that there's a lot of demands, sacrifices, and travesties to be had along the way. One such person who decides to go through all of this, knowing full well that he may not come back from this trip to the moon alive is Neil Armstrong (Ryan Gosling), a decent family-man with a loving wife (Claire Foy), a smart-head on his shoulders, and two kids to come back to. But as the deadline comes closer and the pressure for this trip begins to mount, Armstrong begins to wonder if this is what he should be doing, or even if he's going to make it out of this alive.
And the rest, they say, is history. Right?
First Man is a movie to admire, but not necessarily to adore or enjoy. Director Damien Chazelle takes on a relatively ordinary story that we've seen a thousand times before, yet paints it on such a large, bold, beautiful and extravagant canvas that it still somehow feels fresh and exciting. You can tell that the man has put a lot of thought and dedication into the look and feel of the movie, and how he's able to change from making First Man cold, clammy and claustrophobic, to suddenly, larger-than-life and out-of-this-world (literally).
But as a movie, yeah, it's pretty ordinary stuff, which shouldn't shock anyone whatsoever, as we pretty much all know this story by now. First Man isn't really going to be throwing many surprises at us left and right and, for the most part, doesn't do much to really bring much of anything new or thought-provoking to the table; even the promise of focusing on why the space-program may have been a bit of a sham for our society, is brushed-upon lightly and never talked about again. Cause even though we get a whole lot of space-stuff, we also get a lot of the small, subdued human-stuff, too, and yeah, it's just not nearly as interesting as you would hope.
Which is hardly a problem with Chazelle and writer Josh Singer, as this just comes with the territory.
Neil Armstrong, while obvious brave and heroic for staring death in the face like no other person before him, isn't the most compelling character to have a movie revolve around; Gosling is fine as the stern-faced Armstrong, but even he feels like he wants to break out of his shell a bit. Claire Foy gets some powerful moments as the constantly high-wired wife, Janet, but her mouthy American-accent never feels real and you can almost tell that Singer and Chazelle are struggling to give her some more importance to the story than just "Neil's wife", that eventually, you can tell when they're making stuff up.
Which is a problem for a movie like this.
But at the center of all the patriotism, the flag-stuff, the space-stuff, and the surprising amount of death and heartbreak, is the emotional-resonance between Neil and Janet and it's what keeps the movie together. First Man depicts what it would be like to be stuck in a loving relationship, where the one thing that your partner loves to do, could have them killed and they are able to say no about it happening in the first place, but absolutely don't want to. It's a movie that asks some hard questions about these astronauts, the sacrifices they made and what this mission meant for the world, but also, for themselves and why they needed this more than any flag or region of the Earth.
Consensus: Crowd-pleasing and dazzling, First Man provides an intricate and grounded look at the space-race, even if the material never fully gets off the ground. Yes. Pun intended.
7.5 / 10
Photos Courtesy of: Universal Pictures