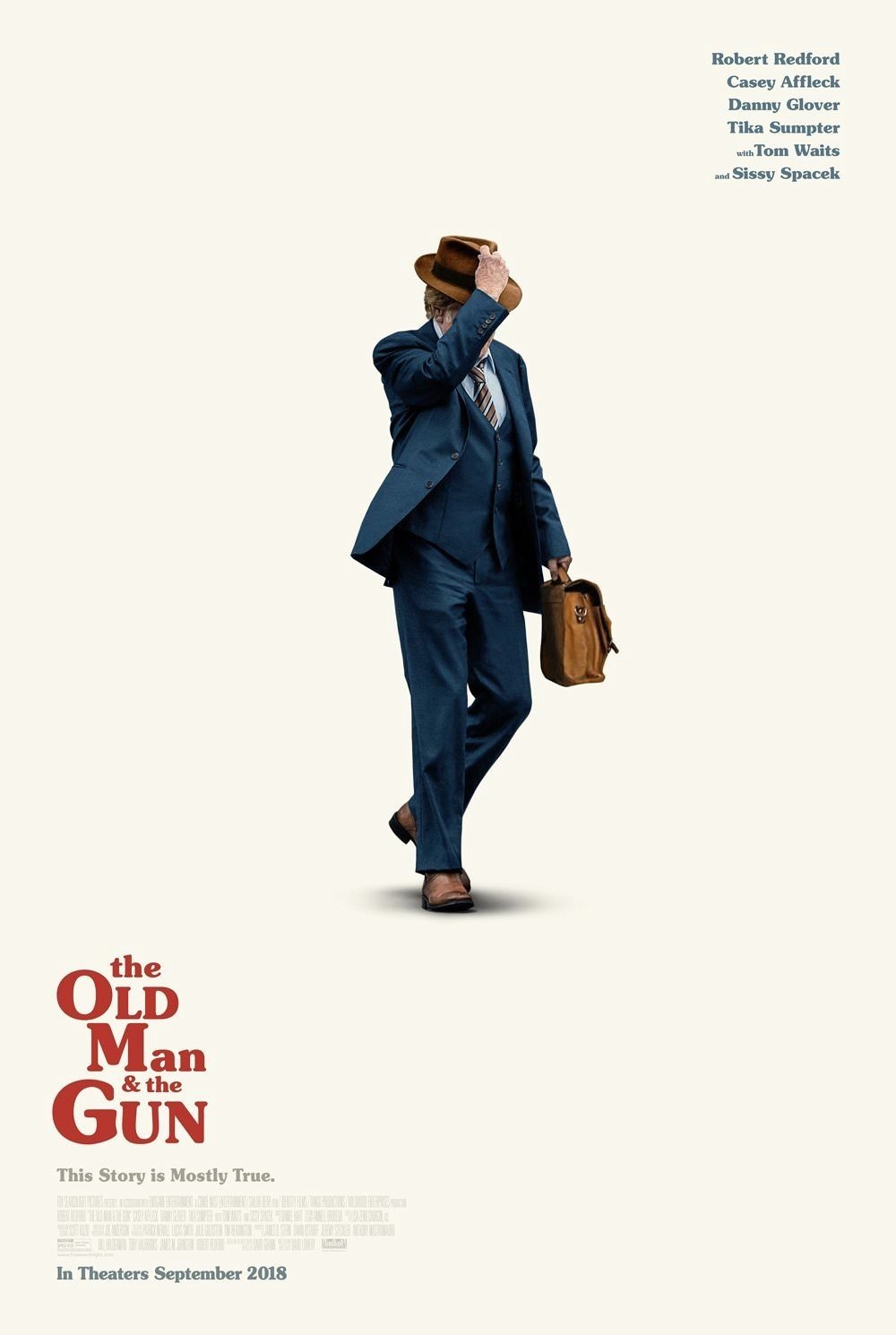 Farewell, old friend.
Forrest Tucker (Robert Redford) has spent most of his life robbing, running, shooting, conning, and escaping, and even at age 70, he shows no signs of slowing down. Along with his two confidantes (Tom Waits, Danny Glover), he has robbed dozens of banks, all without ever getting caught or even really alerting anyone in the bank; most of the time, he's always referred to as "a gentleman" and "always smiling". It's so baffling that even the cops are stooped, with the exception of one such detective, John Hunt (Casey Affleck), who makes it his mission to track down Forrest and find out where he's going to hit next. Meanwhile though, Forrest is actually trying to settle down a bit into a conservative, laid-back life with Jewel (Sissy Spacek), a woman who interests Forrest, even if she isn't totally as on-board with the whole bank-robbing stuff as he is.
Whether or not this is Redford's last at-go in front of the camera, it remains to be said: The Old Man & the Gun is still a solid crime-thriller. It feels a lot like a throwback to the solid, laid-back, chilled-out, and relaxed thrillers of yesteryear and it works well for the subject, who just so happens to be a 70-year-old man, who enjoys robbing banks. It's most definitely a movie for the crowd who appreciate more thought, as opposed to bang, for their buck, and even at barely 90-minutes, the Old Man & the Gun still feels like the perfect bow-tie to a career and to a story.
And it also features Robert Redford in, as per usual, a great performance that reminds us why he's always been such a legend of cinema. Although he's not necessarily stretching his limits as Forrest Tucker, Redford still brings a lot of charm, class, and gravitas to a role that could have easily been just a collection of his greatest-hits. Which is odd to say because I don't know if Redford's always had his own fair-share of greatest-hits; he's always been cool, cunning, stunning, and likable, so it's very hard for him not to be anything but, especially this late in his career.
But yes, as Forrest Tucker, Redford's quite good, and it's mostly because Lowery sees real development in this character; a kindred-spirit of sorts, who refuses to lie down and age gracefully. He constantly has to be doing something, no matter what it is, or where he's at – even in the smallest, most subdued, and sweetest scenes, there's always this sense that Redford's Forrest has that itch to get out into the world and cause some ruckus. While we soon find out that the ruckus makes Forrest more unlikable than we'd expected, there's still something lovable enough about him that makes you want to just throw all the bad stuff away and embrace him for what he is.
Which also just so happens to be a 70-year-old criminal.
And this all helps the Old Man & the Gun be so much more than just a typical little crime-flick. It's got plenty of heart, humor, and suspense, even when you least expect it to have any. Lowery doesn't seem to be really taking this story as seriously as you'd expect, and we're much better off for it because at the top, it's goofy and light, but at it's core, it's much sadder and more serious. It's a movie about aging, dying, and hoping to look back on the life that you had and being appreciate for what it was, regardless of what happened. It's the perfect movie that makes you laugh, cry, and lucky that we ever had someone like Robert Redford grace us with his presence.
Thank you, Rob. Until next time, though.
Consensus: Even with its leisurely-pace, the Old Man & the Gun makes its 90-minutes worth it with plenty of humor, heart, tension, and a solid send-off performance for a true legend of the screen.
8 / 10
Photos Courtesy of: Fox Searchlight Pictures