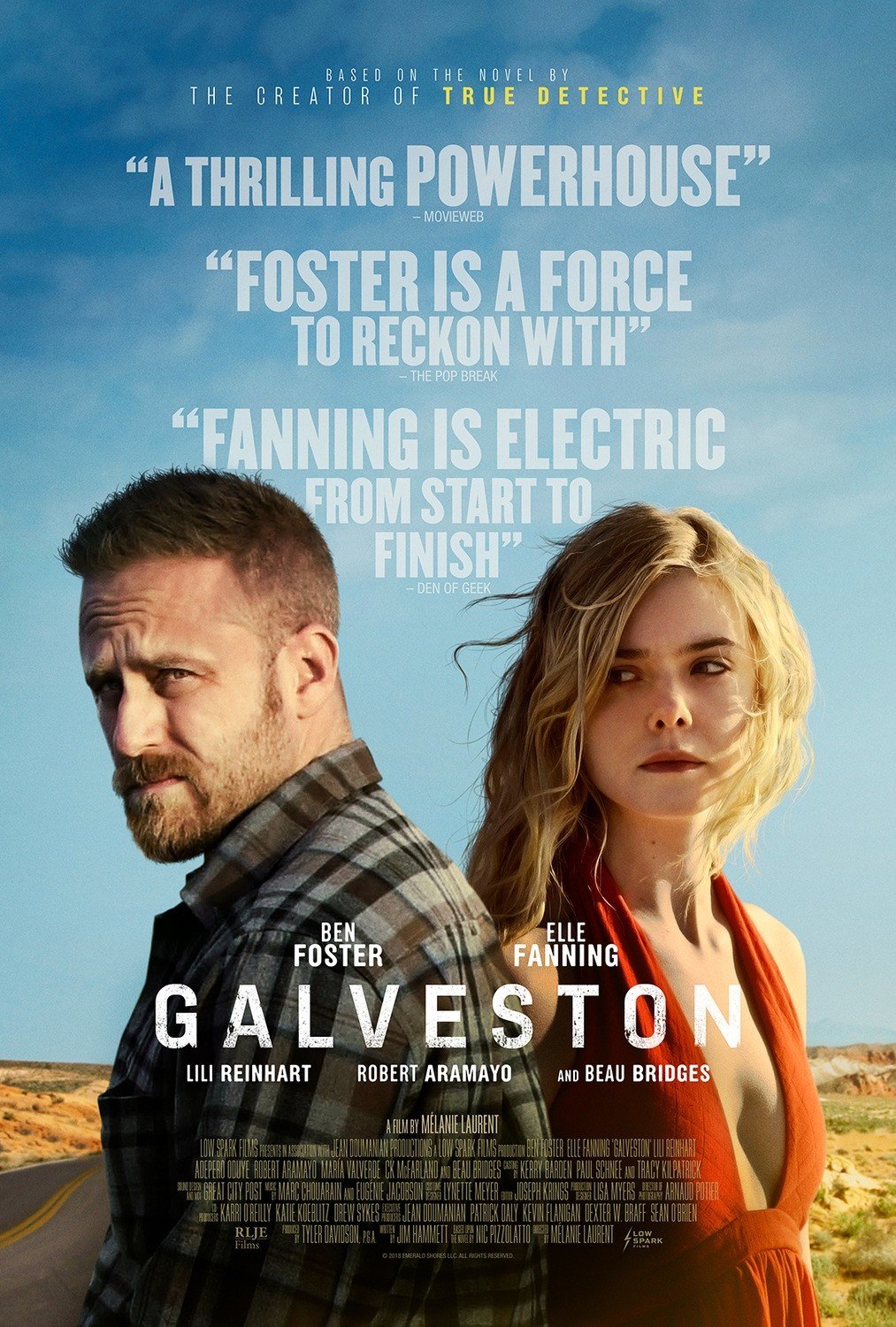 A life of crime is a pretty grim one. So try to be a little lighter.
Roy (Ben Foster) is a heavy-drinking, constantly-smoking, and slowly dying hit man for the mob who, after a plan sort of goes south, relies that he's been set-up. But before he kills his would-be assassins, he finds Rocky (Elle Fanning), a young prostitute that was bound, gagged and on the verge of death. However, Roy rescues her and takes her, as well as her little sister, on the road with him to Galveston, where he'll hopefully be able to provide sanctuary for these two, but also figure out how to extract revenge on his boss (Beau Bridges). But as expected, former demons come back to Roy and it leaves him wondering whether to give up the life of violence, or try it straight somewhere else in the world?
When it turned out that Jeremy Saulnier wasn't going to be directing every episode of True Detective season three, I'll admit that it brought a some pause. Mostly. that's because it seems like writer Nic Pizzolatto's style works best when he has someone there who can help and assist his vision. It happened with the first season with Cary Fukanagua, but it didn't happen with season two, which brings me, once again, to have some pause for season three.
And it's why Galveston works much better than it should, because Pizzolatto's script is in the hands of someone who knows what they're doing and is capable of bringing his vision to the big-screen, without complicating things too much. In this case, it's Mélanie Laurent, who seems to be making quite the name for herself behind the camera as of late and it's an interesting step for her; Galveston itself is an inspired-choice, where she gets to really dig in deep into a dark, cruel, gritty, and ruthless world of crime. It's the kind that Pizzolatto only seems to know how to talk about and develop and at times, it's so ruthlessly grim that it's almost parody.
Thankfully, as opposed to a TV show, Galveston is only an-hour-and-a-half.
That said, the brutality of the movie can sometimes work in its favor, once you get past the fact that you know there's not going to be a single joke found anywhere here. It's a movie where bad stuff happen to bad people, and even to good people, where there are no good guys, no bad guys, and everyone's just killing one another to get ahead. At the center, of course, we have this heartfelt redemption story of sorts with Ben Foster's Roy, but surprisingly, Laurent really excels in creating a mood of unease and tension whenever it seems like Roy and Rocky are a little too comfortable with their surroundings.
Of course, because this material's so obviously sad, it's hard to be surprised by the bad stuff that eventually happens, but Laurent finds enough ways to do her best. However, in the case of the script, it's just too much grim and depression – we know that bad stuff happens to bad/good people and there's not much more anyone can do about it. That may be true and an awfully cynical message, but sometimes, it doesn't totally work for an-hour-and-a-half supposed-thriller.
So yeah. We'll see how True Detective season three turns out. Not holding my breath too much.
Consensus: Awfully brutal and grim without much in the way of a light shining through, Galveston gets by on being a small, unrelenting thriller, but still feels trapped to formula.
6 / 10
Photos Courtesy of: RLJE Films